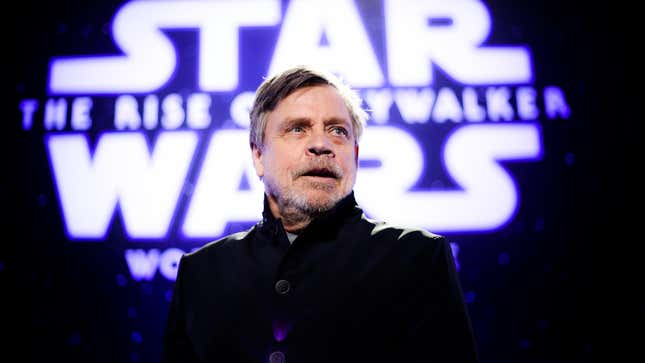 At Star Wars Celebration, Daisy Ridley appeared onstage to announce that she'll be starring in a new Star Wars movie set after the events of the Disney sequel trilogy about Rey's "attempt to rebuild the Jedi Order as a Jedi Master." But, despite inexplicably adopting his last name in the final scene of The Rise Of Skywalker, it doesn't sound like Rey will be getting any help from a Force Ghost version of her old teacher Luke—which seems to defeat the purpose of Force Ghosts and Rey taking his name and probably a few other things, but we're not here to second-guess Disney's Star Wars ideas (it's a Sunday, we're just going to roll with it for once).
Anthony Hopkins transcends human consciousness as an NFT
Speaking with The Hollywood Reporter about his role in the comedy routine adaptation/sequel The Machine, wherein he plays the father of comedian Bert Kreischer, Mark Hamill said that he doesn't "have any expectations" about returning to the Star Wars universe as a ghost for the new Rey movie. The frequently combative relationship between Luke and Rey in The Last Jedi was one of its many highlights, so losing a continuation of that (even a ghostly continuation) is a slight bummer. After all, everyone she might see as a mentor figure or a learned Jedi who she could bounce ideas off of is… dead.
Now, Star Wars fans should know not to read too far into any comments that Mark Hamill makes about a Star Wars movie that isn't out yet, since it got everyone in trouble when he misspoke about the "insecurities" he felt in the lead-up to The Last Jedi before (accurately) explaining that he actually thinks it's an "all-time GREAT" Star Wars movie, but that "expectations" comment is all Hamill had to say about the possibility of joining the Rey movie. He's very chatty in the rest of the interview, even when answering other questions, but this the only point where he doesn't have much to say. Take from that what you will. Or don't, it might mean nothing.
Buuuut, it is maybe worth pointing out that Mark Hamill didn't have to do anything the last time Luke Skywalker came back to the Star Wars universe, with Lucasfilm using an AI to make a robotic recreation of Hamill's voice when Luke appeared as a cartoon character in The Book Of Boba Fett. They could probably do that again and Hamill would still be telling the truth about not having any "expectations" about returning, since he wouldn't need to "return," but maybe Lucasfilm should wait and see if SAG-AFTRA has anything to say about AI versions of actors before pulling the trigger on anything.