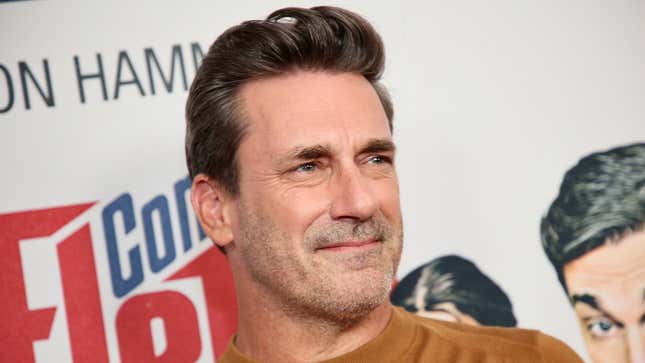 At long last, Jon Hamm stands to bring the word "chlamydia" to screens across the country: the actor has signed on to play bumbling sex-ed teacher Coach Carr in the upcoming big screen adaptation of Mean Girls: The Musical, per The Hollywood Reporter.
Jodie Sweetin on the appeal of holiday movies, "Fuller House" and Bob Saget
A brief timeline for those who may be saying, "wasn't Mean Girls already a movie?": Tina Fey's 2004 film was adapted into a stage musical with lyrics by Nell Benjamin that debuted on Broadway in 2017. Now, that musical is getting its own movie adaptation.
Hamm joins an already-stacked cast that includes Angourie Rice as Cady Heron and Reneé Rapp as Regina George (Rapp also played Regina in the stage musical fresh out of high school, which marked her Broadway debut.) Jenna Fischer and Busy Phillips play Ms. Heron and notorious "fun mom" Ms. George, respectively, while Fey and Tim Meadows will reprise their roles as Ms. Norbury and Principal Duvall. This is far from the first time Hamm has worked with Fey, as any 30 Rock fans will know well—Hamm played Liz Lemon's once-boyfriend Drew on the series, a man so handsomely foolish he ultimately ends up with hooks for hands.
Carr's character is a complicated one to revisit. In the original 2004 film, the character (played then by Dwayne Hill) is ultimately revealed to be having illicit affairs with two different underage students, Trang Pak and Sun Jin Dinh—simply speaking, that's statutory rape. In the years since the film's release, Carr's arc has been rightfully criticized for, well, the playing-pedophilia-for-laughs of it all. Thankfully, the coach has a comparatively minimal role in the musical, and one that doesn't involve crimes against minors. Rest easy, Hamm stans. (Hamm-aholics? Hamm Hocks? Hammographers? Hey, whatever floats the fan base's boat.)