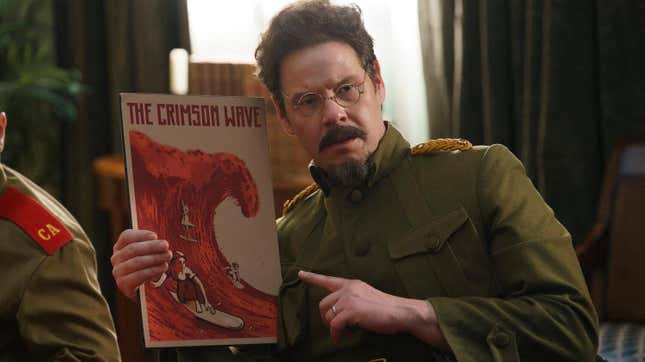 History has a way of repeating itself, and that gets old fast. But, at least when Mel Brooks is involved, history has star power.
Jodie Sweetin on the appeal of holiday movies, "Fuller House" and Bob Saget
For the first time since 1981, Mel Brooks is cracking open the history books with the long-delayed second part in his History Of The World series, and he's got two of every star in Hollywood to help him out. However, the trailer for History Of The World, Part II, released earlier today, isn't exactly the movie that Brooks promised at the end of History Of The World, Part I. Sadly, there's no "Hitler on Ice" or "Jews In Space" here. Instead, the series picks up where the last one left off, riffing on the crucifixion, the Russian revolution, Shakespeare's writers' room, and the Civil War.

Brooks is not doing it alone, either. This trailer is a who's who of the funniest people Hollywood has to offer. Wanda Sykes, Nick Kroll, and Ike Barenholtz lead a cast 5,000 years in the making that includes Jack Black, Lauren Lapkus, Taika Waititi, Danny Devito, Quinta Brunson, Josh Gad, Kumail Nanjiani, Johnny Knoxville, J.B. Smoove, Sarah Silverman, Jay Ellis, Emily Ratajkowski, Ronny Chieng, Tyler James Williams, Pamela Adlon, Jake Johnson, and Seth Rogen. Honestly, every frame of this trailer is filled with the funniest people in the history of the world, with new folks sticking out on every replay.
Outside of Broadway and books, it's been 30 years since Mel Brooks made a new anything. Since the release of 1995's Dracula: Dead And Loving It, Brooks moved his focus to Broadway, where his musical adaptation of The Producers became a landmark production that inspired a whole season of Curb Your Enthusiasm and a feature film adaptation. Still, any excuse to enjoy more work by one of the 20th century's greatest and most influential comedic voices is cause for celebration. Surprisingly, this escaped development hell before a Space Balls sequel.

History Of The World, Part II will air over four nights beginning on March 6 on Hulu.