As a performer, comedian/actor/writer Michael Ian Black plays an exaggerated version of himself: pompous, egotistical, and thoroughly self-involved. "Michael Ian Black" dates back to his days as a member of The State, the cultishly beloved sketch-comedy group that had a show on MTV in the mid-'90s. Black's character grew more exaggerated as a member of comedy trio Stella (which had a short-lived show on Comedy Central), and much more so on Michael And Michael Have Issues, another Comedy Central show where he and fellow State/Stella alumnus Michael Showalter were locked in an eternal war of passive-aggression.
Only in the past couple of years, coinciding with his stand-up career, has Black shared anything personal about his life. He still plays a version of "Michael Ian Black" in his act, but stories about his wife and children have provided a lot of material. That said, Black remains guarded, separating "his life" from his life.
That makes his book You're Not Doing It Right: Tales Of Marriage, Sex, Death, And Other Humiliations revelatory. Black's parents divorced when he was a child, and his mom came out as a lesbian; his father died of complications from a head injury (after being attacked) when Black was 12. The funds from a lengthy malpractice lawsuit established a trust fund for his younger sister, who has Down syndrome. Whereas Black has written several children's books, plus a comic-essay collection, My Custom Van: And 50 Other Mind-Blowing Essays That Will Blow Your Mind All Over Your Face, You're Not Doing It Right delves into his childhood, family life, romantic struggles, marriage, and parenthood. Black gives the stories a comic edge, but jokes play a supporting role—or, in some cases, none at all.
Fans looking for insight into his career will have to wait for another book; he barely discusses it, and even then, only in general terms. Black devotes most of the book to his relationship with his wife, Martha, from their tentative friendship and courtship to marriage and decision to have children. While discussing that relationship, Black is at his bluntest, almost bleak. In Chapter 12, "A Little Hard Work," he notes that he and his wife "discuss divorce the way other couples discuss vacation plans." "One of the unexpected joys of being married is the hours of fantasizing it allows me to do about how much better my life would be if I got divorced," he writes. Neither he nor his wife is necessarily the problem: It's "the simple fact that marriage sometimes sucks." Comedians have been saying that in various ways since Henny Youngman implored audiences "Take my wife—please," but Black transcends hackery with uncomfortable honesty. In "A Little Hard Work," he describes a particularly intense (though not uncommonly so) fight where Martha "played the divorce card, as she always does, within the first five minutes of our fight," to which he responded by screaming "Call a lawyer!" All this after their daughter tearfully implored them to stop. "No, we did not subsequently laugh about the whole silly fight and then make love," Black writes.
Black frequently paints an unflattering portrait of himself, particularly in Chapter 8, "Terrified Because It's Terrifying," where he relates inexplicably "acting like a total cock" to his pregnant wife. His intense fear and ambivalence about parenthood comes rushing to the surface thanks to Creed's parenthood anthem "Arms Wide Open," which Black hilariously notes, in all seriousness, "changed my life." (Not that the titans of moan-rock fixed everything—chapter 10 is called "I Hate My Baby.")
G/O Media may get a commission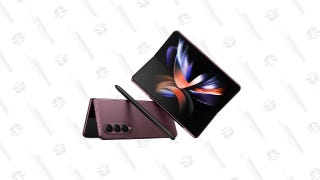 Save Up to $300
Galaxy Z Fold4
"Terrified Because It's Terrifying" is a microcosm of You're Not Doing It Right: funny, moving, sweet, and unfailingly honest, no matter how bad (or uncool) it makes Black look. Comedians have mined marriage for material since there have been comedians, but Black's deeply personal memoir succeeds by going beyond the jokes and into uncomfortable places.