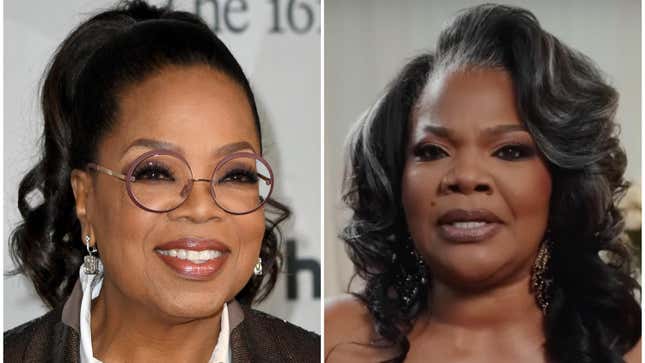 More than a decade later, the bad blood between Oprah Winfrey and Mo'Nique has not been resolved. The relationship went sour during the promotion of Precious, the film Winfrey produced for which Mo'Nique won the Academy Award for Best Supporting Actress. But while the comedian was eventually able to mend fences with Precious director Lee Daniels, the feud with Winfrey continues—and there's another crucial reason Mo'Nique "demands and expects" a public apology from the former talk show host.
In a new profile for The Hollywood Reporter, Mo'Nique relays her discomfort with an episode of The Oprah Winfrey Show that featured her family following her Oscar win. During press for Precious, Mo'Nique had disclosed she had been sexually abused by her brother. Winfrey informed Mo'Nique ahead of time that her "brother had called her and he wanted to come on the show to let her know how parents can watch out for predators," Mo'Nique told THR. "She then said, 'Do you want to come on the show, because he wants to apologize to you?' I said, 'Oprah, I don't want no part of that.'"
Though Mo'Nique gave "her blessing" for the episode, she was blindsided when it also featured her mother, father, and another brother, who downplayed her abuse. Mo'Nique claims Winfrey was well aware that she wasn't on speaking terms with her mother: "Then I see the show and I can tell that my mother is trying to make a dollar. I know my family." After it aired, however, she was unable to get in contact with Winfrey. "I reached out to everybody I could to try to get to Oprah. No. Nothing. It just went dead."
Mo'Nique ended up confronting Winfrey years later at a party for then-Oscar nominee Lupita Nyong'o. "Oprah Winfrey was sitting on my right. And then I turned to her and said, 'Now I need to talk to you.' There were some phenomenal Black women there. You could have heard a pin drop. I said, 'Since you didn't want to return my calls, for whatever reason, I'm going to say this right here,'" she recalls.
Winfrey apparently claimed that only the abuser had been invited and the rest had just shown up on the day of taping, which Mo'Nique "suspects was a lie." (In any case, Winfrey, a powerful television producer, certainly had some control over who ends up on camera.) "I'm going to look into your mother and father being on the show, because I didn't know anything about that," Winfrey allegedly told Mo'Nique a the party, adding "something like, 'If I've done anything to offend you, I apologize.'"
That sort of half-apology obviously didn't cut it for Mo'Nique, who still wants Winfrey to own up to the situation publicly. Her story also fits into recent reflection on The Oprah Winfrey Show and its impact on culture. While Winfrey is without a doubt the most influential television figure in recent history and an inspiration to many, Mo'Nique is not the first to accuse her of exploitation. In 2011, Ryan O'Neal expressed that he felt abandoned by Winfrey during the production of the OWN reality series Ryan & Tatum: The O'Neals; the producer was initially "very encouraging" but after one positive meeting they "never saw her again" (per ABC News). Similarly, some critics said Winfrey's 2014 Lindsay Lohan docuseries was exploiting the star.
Further, what one might call a lack of discernment in the guest stars invited on The Oprah Winfrey Show has had an even deeper impact on today's cultural and political climate. Controversial figures like Dr. Phil and recent senatorial candidate Dr. Oz got their start on Winfrey's show. For more than 20 seasons, the series not infrequently featured "junk science," giving a platform to concepts like Rhonda Byrne's The Secret or Jenny McCarthy's anti-vaccine beliefs.
Any long-running program will inevitably make mistakes or relay ideas that feel dated with the benefit of hindsight. Given how large The Oprah Winfrey Show still looms in the cultural lexicon, though, it makes sense for the host—who still wields significant power in her industry and beyond—to reckon with any harm the show might have perpetuated. The hurt she caused to Mo'Nique is as good a place as any to begin.