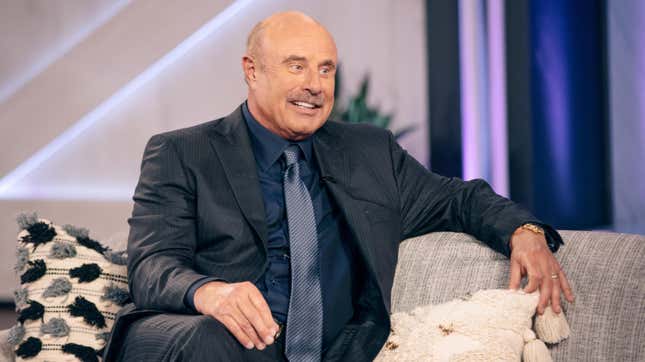 The doctor is out.

Dr. Phil, the long-running daytime television show in which a guy without a medical license yells at vulnerable people seeking help until he determines they're cured, is coming to an end. This spring, the series will wrap its 21 seasons on CBS, opening the door for another one of Oprah's grifter buddies to come in and fill the void.
Why Christian Bale just can't quit David O. Rusell
Phil McGraw, who stopped renewing his medical license in 2006, will continue to play pretend doctor on television in all likelihood. As Variety notes, he plans on announcing a "strategic primetime partnership" that will allow him "increase his impact on television and viewers" because he's "compelled to engage with a broader audience." McGraw says he has "grave concerns for the American family," which means he presumably wants more teens on his television show to yell at and diagnose.
Like his fellow Oprah university graduate, Dr. Oz, McGraw started wowing daytime television audiences in the late 90s. His first television special, where he says a young boy has more "characteristics of a serial killer" than Jeffrey Dahmer, was hailed as "incredibly irresponsible" by the National Alliance for the Mentally Ill.
"Dr. Phil's conduct is serious enough to warrant investigation by a relevant board of licensure," NAMI wrote in a statement at the time. "To the degree that he seemed to offer a definitive diagnosis, including a pharmacological assessment, without careful evaluation or referral, he also may be subject to legal sanctions for practicing medicine without a license."
After that, he started selling supplements, a sure sign of a good doctor, before paying a $10.5 million settlement over his discontinued Shape Up! diet plan in 2006. Over the next decade, he made stars of Danielle Bregoli, now known as Bhad Bhabie, who at the age of 13 became a celebrated meme with "cash me ousside." He suggested she go to Turn-About Ranch, a treatment facility endorsed by McGraw. In 2021, McGraw and CBS were sued for recommending Turn-About Ranch after another guest accused Turn-About staffers of sexual assault. Bregoli decided to come forward with her experience at the Ranch soon after.

"I was taken there against my will," Bregoli said in a video posted on her YouTube channel. "[They] come in the middle of the night, they don't tell [the kids] where they're going. They just take them, handcuff them, and put them in the car. It's basically like kidnapping."
Dr. Phil also leaves behind a legacy of a toxic workplace, which a BuzzFeed investigation describes as abusive, racist, and miserable. The report also states that testimony from seven employees relayed that "guests, who are often brought onto the show when they're already in a vulnerable state, are manipulated and treated unethically."
Before his big break on Oprah, McGraw was a jury consultant with his law firm Courtroom Science, Inc. His experiences would inspire the drama Bull, a show about a hardened lawyer starring Michael Weatherly, whom Eliza Dushku accused of sexual harassment. CBS paid Dushku a $9.5 million settlement, and the show continued for four more seasons.
Anyway, so long, Dr. Phil. Please stop "helping" people.