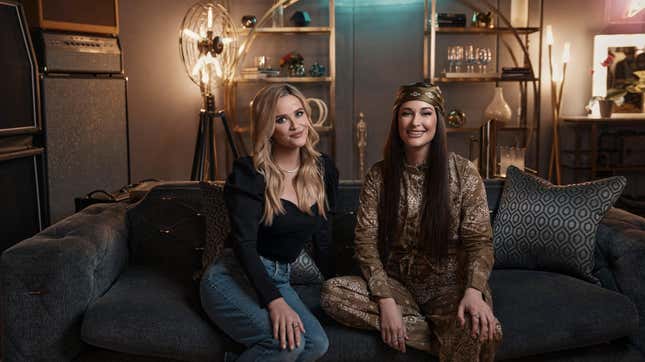 Apple TV+ has its own Nashville-based singing show now, and it's actually pretty good. My Kind Of Country, which premieres March 24, aims to set itself apart from other music competition shows with the diversity of talent represented on its stages: people from various backgrounds and countries all over the world, none of whom neatly fit into the mold of Modern Country Star. The most meaningful difference, though, is in the show's very design. It's a competition conceived of and hosted mainly by artists cut from shows like this who have gone on to achieve industry success beyond many artists who have won them.

"Andor" star Adria Arjona on Bix Caleen's Journey
Many forget, or never knew, that Kacey Musgraves, one of the show's executive producers, began her career as a contestant on Nashville Star, a singing competition show that ran from 2003 to 2008 on USA. Now a major artist, at the time she placed seventh. Two of the three celebrity scouts on My Kind Of Country, singer-songwriters Mickey Guyton and Jimmie Allen, each auditioned for American Idol early in their careers, but were cut before the voting stages. Both being Black country musicians performing in a majority white genre, Allen and Guyton found it difficult to gain industry acceptance at first, and third scout Orville Peck, a white South African performer, has had his own struggles as a theatrical, openly gay country musician. On this show, when Mickey Guyton tells an artist that she has been cut from the first round, "This is not the end of the road for you," she means it. As she later shares, this now successful musician "knows what it's like not to be cheered for." It's this spirit of shared humanity and mutual respect that makes My Kind Of Country something different, even special.
Yes, contestants are sent home. That feature remains. (It is a competition after all.) But while there, these artists get all kinds of musical treats, the first of which is the gift of Nashville, Music City itself. Rather than perform on some gimmicky soundstage for the duration of the competition, with "block buttons" and spinning chairs, each showcase is set at an iconic Nashville venue. They begin at the humble, intimate 5 Spot, established in 1796, the oldest bar in the city, and they work their way up to bigger spaces. Even their de facto practice spot is Dark Horse Studios, a place that looks like a cabin that grew up to be a haunted castle, where many famous records by Dolly Parton, Taylor Swift, and others came to life.
The workshops they complete on their way to the finale, each hosted by one of the three scouts, also hold nice little surprises for the contestants. In Jimmie Allen's workshop, the musicians get to collaborate with each other. (Actually, that seems stressful. And they're assigned covers that are either kind of obvious or kind of crappy. Maybe that's not a gift—or maybe it's, like, the socks or candle equivalent?) In Mickey Guyton's, they get to work with creative director Jemel McWilliams, who tries to help each artist bring out their personal best. It gets emotional, and people cry and have epiphanies and stuff. The lessons learned from these first two workshops are valuable and will likely last these musicians their entire careers.
The most generous opportunity afforded these contestants, however, comes in Orville Peck's visual storytelling workshop, in which a professional production designer helps to craft personalized sets based on each artist's original concept. One singer-songwriter even has them build him his own little Narnia, with the light from the bedroom and closet he left behind peeking out from the back corner of the space. (He got a Narnia, guys! It's woodsy and cute!) Even if they didn't get to take these sets home for fun and frolic, having them made is a rare thing for a working musician to get to experience who isn't at the highest echelons of the industry.
The show isn't quite perfect. At times, it does seem like the performers are being nudged in a commercial direction, and the diversity factor doesn't go quite as far as one might expect. (A non-binary artist named Ismay competes, but there are definitely trans country artists in Nashville. Where are they?) The contestants come from all over the globe … but mainly the U.S. and South Africa. (Orville Peck is from there and they seem to have a folk/country scene of at least Dolly Parton devotees, so it makes sense.) It's also worth noting that there are no femmes represented in the backing band supporting the contestants, and everyone on the audio end seems to be male. Representation in those behind-the-scenes but heavily creative roles is really important, but often goes unnoticed, so it isn't all that surprising. A wider recruiting net may have served them better, but ultimately they've created a show that seems to treat performers humanely and doesn't subject them to big public dismissals from the competition or any other engineered humiliations. And that's kind of them.
An important thing to remember about this show is that, if you find yourself particularly drawn to any of its performers, these are all working musicians with recordings available right now. Another welcome detail: When artists are sent home from the show, there is a moment before the end credits where a graphic card and voiceover pop up to promote their Apple Music profiles. If you'd like to do even more to support them, many of them are active on social media, and they definitely have merch you can buy. (In a very smart marketing move, the contestant Wandile wears his on the show.) Share their stuff, vote with your dollars and attention to make them into whatever kind of "star" you hope they can become. Some of them may end up perfectly happy on an indie or Americana label, some may decide to pursue a path beyond or adjacent to music. Some may be content to maintain their local audience, or hold down a day job and gig on weekends. All are valid, and this is the rare music competition that seems to recognize and honor that.
---
My Kind Of Country premieres March 24 on Apple TV+.