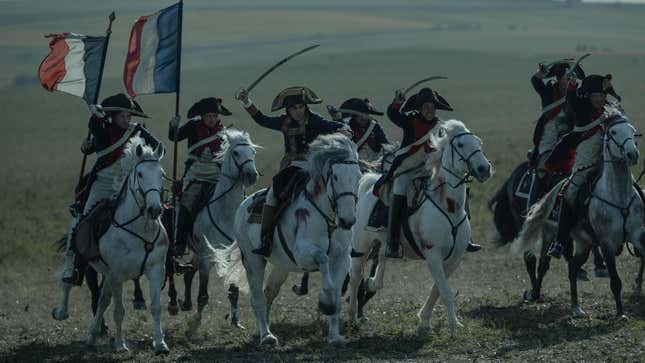 "I'm the first to admit when I make a mistake," Napoleon (Joaquin Phoenix) graciously states in the trailer for Ridley Scott's latest epic. "I simply never do." That's just the kind of guy ol' Napoleon is: an emperor; a lover; a tyrant; a legend; the subject of an ABBA song. Of course, Napoleon—which premieres in theaters November 22—is less "Waterloo" the song and more Waterloo the actual event, highlighting the grim realities of war in the conqueror's bloody rise to the top.
Joaquin Phoenix wigged out on Ridley Scott two weeks before shooting "Napoleon"
"The film is an original and personal look at Napoleon's origins and his swift, ruthless climb to emperor, viewed through the prism of his addictive and often volatile relationship with his wife and one true love, Josephine, played by Vanessa Kirby," reads a synopsis from Apple TV+. "The film captures Napoleon's famous battles, relentless ambition and astounding strategic mind as an extraordinary military leader and war visionary."
The trailer highlights a lot of what's famous about Napoleon: his ruthlessness, his quest for power, his passionate affair with his first wife. It doesn't highlight his most infamous quality: that of being the original short king. Joaquin Phoenix is a man of average height, and according to the Encyclopedia Britanica, so was Napoleon, apparently. But that doesn't stop Josephine from denouncing him as a "tiny little brute that is nothing without me."
Directed by Scott with a screenplay from David Scarpa (All The Money In The World), Napoleon also stars Tahar Rahim, Ben Miles, Ludivine Sagnier, Matthew Needham, Youssef Kerkour, Phil Cornwell, Edouard Philipponnat, Paul Rhys, John Hollingworth, Gavin Spokes, and Mark Bonnar. Additionally, the film boasts "some of the most dynamic practical battle sequences ever filmed," according to Apple TV+. This may mark the definitive modern Napoleon biopic—at least until Steven Spielberg finally gets that Stanley Kubrick-penned version off the ground.