Annihilation, director Alex Garland's follow-up to his sleeper sci-fi hit Ex Machina, is being praised as a new classic (at least, by early Twitter buzz—the film doesn't come out until February 23). But that's only part of the story: The film is also being accused of whitewashing by two activist groups, MANAA (Media Action Network For Asian Americans) and American Indians In Film And Television. Both say that the characters played by white actresses Natalie Portman and Jennifer Jason Leigh in the film are written as women of color—of "Asian heritage" and half Native American, respectively—in Authority, the sequel novel to Annihilation.
However, the situation may not be as straightforward as it seems. Garland says that he wrote the screenplay to the film based solely on an advance copy of Annihilation, which contains no physical descriptions of its characters; it even declines to give them names, calling them by their roles of "the biologist," "the psychologist," and so on. He has also said that he deliberately avoided learning details about the sequels—like Authority, where the characters' physical descriptions, including ethnic backgrounds, are given. (On the other hand, the information was out there: Authority was published in May 2014, three months after Annihilation.)
In a statement given to Deadline yesterday, Garland says he takes the problem of whitewashing seriously, but there was "nothing cynical or conspiratorial" about the casting of the film:
This is an awkward problem for me, because I think whitewashing is a serious and real issue, and I fully support the groups drawing attention to it.

But the characters in the novel I read and adapted were not given names or ethnicities. I cast the film reacting only to the actors I met in the casting process, or actors I had worked with before. There was no studio pressure to cast white. The casting choices were entirely mine.

As a middle-aged white man, I can believe I might at times be guilty of unconscious racism, in the way that potentially we all are. But there was nothing cynical or conspiratorial about the way I cast this movie.
Similarly, Natalie Portman—who leads a diverse cast that also includes Gina Rodriguez, Tessa Thompson, Sonoya Mizuno, Tuva Novotny, Oscar Isaac, and Benedict Wong, as well as Leigh—says about the controversy when asked by Yahoo! News: "Well, that does sound problematic, but I'm hearing it here first." She goes on to acknowledge a greater need for diversity in the film industry as a whole, saying:
We need more representation of Asians on film, of Hispanics on film, of blacks on film, women and particularly women of color, Native Americans — I mean, we just don't have enough representation. And also these categories like 'white' and 'nonwhite' — they're imagined classifications but have real-life consequences. … And I hope that begins to change, because I think everyone is becoming more conscious of it, which hopefully will make change.
G/O Media may get a commission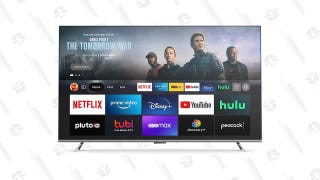 Save 46%
Fire TV 55" Omni Series 4K UHD Smart TV