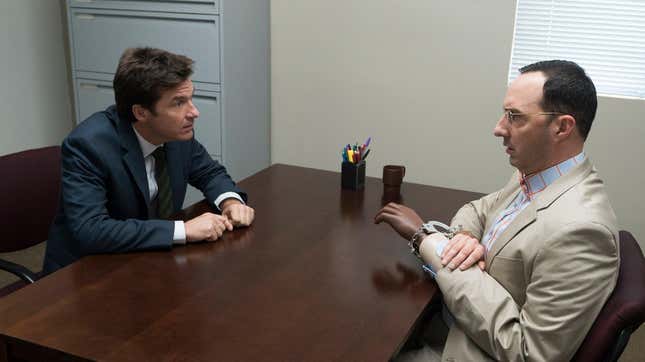 A rare moment of stability in the ever-tumultuous world of streaming content availability tonight, as Netflix announced—counter to previous reports, which broke last month—that it will be holding on to the streaming rights for Arrested Development for the foreseeable future.
Netflix plans to make you freeloaders finally cough up the dough
Previously, it had been reported that the licensing deal that kept the Mitch Hurwitz show—which was killed by Fox after three seasons, revived by Netflix, and then killed again—at the streamer was set to expire on March 14. But the series has just sort of…stayed up…for the last 10 days, and now Netflix has made it clear that it's re-established the deal. And, indeed, even strengthened it: Previously, the first three seasons of the series (i.e., the ones that ran on TV) had their streaming rights shared with Hulu, but now the series has become completely Netflix exclusive. Take that, Hulu!
If we're being honest, this all has more symbolic weight than anything else. Although Arrested Development was hugely influential in its initial run, launching and reinvigorating comedy careers, changing the way sitcoms were shot, and even helping to get eventual Avengers guys Joe and Anthony Russo off the ground, the series' reputation has dwindled significantly over the last 20 years—not least of which because of the Netflix seasons, which are a decidedly mixed bag of TV. They're also representative of an era when Netflix was the gallant savior that would ride in to save a beloved cult TV show by slapping a Netflix Originals label on the front of it—instead of the grim executioner bringing the axe down on its neck.
Netflix broke the news today with a GIF of the Bluth family partying, which is also pretty nostalgic, as far as meme content on the internet goes.