It's a peculiar time to attempt a biography of Joss Whedon: He only just turned 50 and is ostensibly at the apex of his career, a position it doesn't seem he will cede anytime soon. He achieved mainstream success with 2012's The Avengers, and is writing and directing 2015's Avengers: Age Of Ultron. Whedon's television writing career began with a stint on Roseanne in 1989, and he's been known and beloved—deeply beloved—to fans since Buffy The Vampire Slayer's run from 1996 to 2003. Author Amy Pascale never really addresses the question of "Why now?", so one is left with a rather cynical answer: because his success means there's enough people to buy a Joss Whedon biography.
The biography is sculpted in part out of interviews with Whedon himself and a number of his actors, writers, and directors. It's even prefaced with a meandering foreword by Nathan Fillion (Buffy, Firefly, Dr. Horrible's Sing-Along Blog, Much Ado About Nothing). The lack of juicy gossip won't likely bother any true Whedonites, and certainly a life as a writer/director in Hollywood brings enough drama in the form of sudden cancellations and fights with network execs. Still, Pascale is perhaps too straightforward, telling the simple, chronologically ordered tale of Whedon's life from his childhood through the production of Much Ado About Nothing and Agents Of S.H.I.E.L.D.
The book is a boon to moderate Whedon fans who weren't a part of the early fan communities of Buffy or Firefly, or who know him primarily through his recent directorial work on Avengers or writing work on The Cabin In The Woods. For those who have been Whedonites much longer, most of this biography will be old news, albeit old news collected into a single, readable volume. Pascale's prose is forthright though not particularly colorful, and readable if not always compelling. (The plus side of that, however, is that she doesn't fall prey to creating biographical drama out of thin air just for the sake of turning pages.) And some of that old news, even if it's easily available on the Internet, is expanded here into entire chapters and put into perspective; any casual Whedon fan knows that he owes his feminism to his mother, but Pascale contextualizes that with a brief bio of Lee Stearns herself, and of their family life. Whedon's father was also a TV writer, and Stearns was a teacher, political activist, and lover of Shakespeare—all of which become threads in Whedon's adult life.
Anybody who has followed Whedon's work for even a few years knows that he strikes a very particular kind of loyalty into the hearts of his fans. Pascale points out that in the late '90s, it was unusual for writers and directors to even have fans—much less ones as devoted as Whedon's. The nascent online communities, primitive by today's saturated standards, were trafficked by Buffy actors, writers, and even Whedon himself; Pascale reproduces some of those postings and talks to a few of the community members. It will seem sweetly familiar to readers who were part of a fan community 15 years ago—Buffy's or for another show at the time. Others may find these chapters a bit tedious in their detail.
G/O Media may get a commission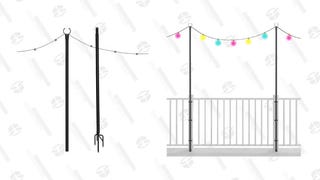 Up To 49% Off
Holiday Styling String Light Poles
Pascale gives proportionate weight to Whedon's biggest projects, focusing mostly on Buffy, Angel, and Firefly, but not ignoring Dollhouse, his work on comics, or projects that never came to fruition, like a Wonder Woman movie. She also spends a fair amount of time on Whedon's earlier writing career—Toy Story, Alien: Resurrection, he even wrote most of the dialogue for Speed—demonstrating that despite family connections, Whedon still had a frustrating and long climb to the top, and that his career is full of people taking chances on him. Pascale does a completely serviceable job of threading all of these things together, connecting Whedon's projects to his personal history as a lover of comics and Shakespeare and strong female characters, without ever seeming as if she's stretching toward an unnatural connection. She never psychoanalyzes or probes too deeply, letting Whedon's career mostly speak for itself.
But that's also the problem. Because the book is so straightforward, it works mostly as a readable collection of the history of Whedon's projects. Maybe that's because Pascale is writing a bio about a man who's still brimming with creative and critical successes; either way, the book suffers for being a bit sterile. It's a fitting enough tribute to a great TV writer who's still at the top of his game, but it's likely to be a hard sell to anyone who's not already aboard the Whedon bandwagon.