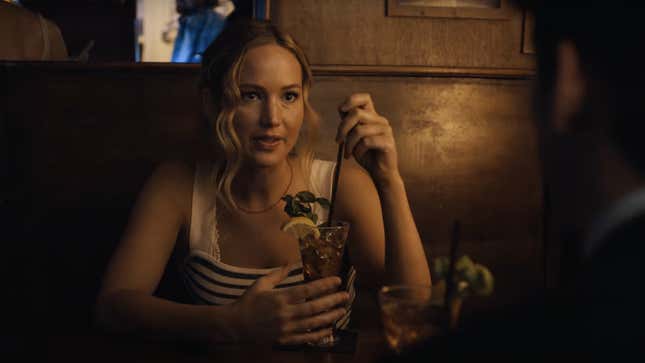 We have a new entry in the pivotal film genre of raunchy R-rated adult comedies, with Jennifer Lawrence in Gene Stupnitsky's upcoming No Hard Feelings.
Lawrence leads the film as Maddie, an Uber driver without a car who's on the brink of losing her childhood home. Desperate for a ride and some funds, she answers an intriguing ad listed by wealthy, concerned parents looking to increase their son's confidence. Maddie's then tasked with seducing their shy 19-year-old son Percy (Andrew Feldman) before he goes away to college, kicking off a series of innuendo'd hijinks.
Dating Percy proves to be a more difficult task than Maddie anticipates; by all accounts, the lad is a big dork who doesn't drink (the legally responsible thing to do at his age) and wears Roxy Music shirts (specifically, this one). This is no judgment on Roxy Music, but writing as someone who dated a Roxy Music fan at 19, there's a 99 percent chance that anyone young person donning merch from the '70s glam rock group is a nerd, and that is okay.
No Hard Feelings also stars Matthew Broderick, Laura Benanti, Natalie Morales, Hasan Minhaj, Kyle Mooney, and The Bear's Ebon Moss-Bachrach.
G/O Media may get a commission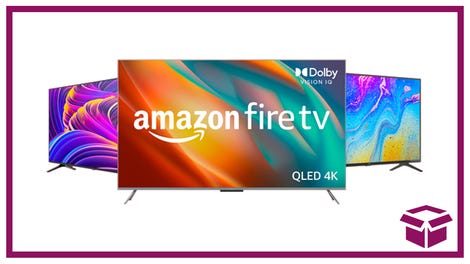 Ooh. stunning.
New Amazon Fire TVs
"I think Jennifer Lawrence is really goofy in this movie, in a way that she hasn't been in the past," Moss-Bachrach recently told Awards Radar. "The movie reminds me of some '90s comedies I really used to like. I don't want to misrepresent the movie, but there were elements which reminded me of the Farrelly brothers, or Something About Mary. There's a decent amount of physical comedy, and Jennifer Lawrence is very committed to it. It was a very funny set."
No Hard Feelings arrives in theaters on June 23.