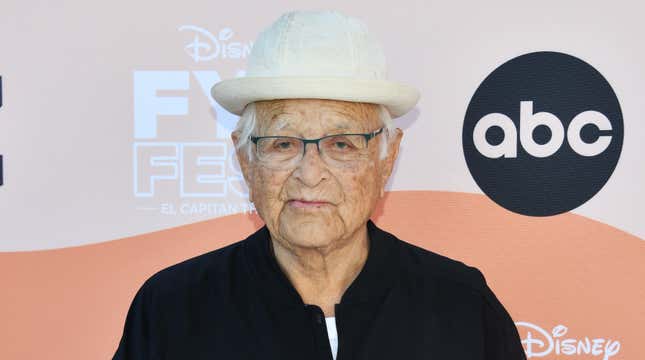 Imagine being able to say you "wrote in the very first year of television"? It's a small group of people, and frankly, there can't be that many of them still alive to speak to it. But there is one legend around who has seen the medium through every iteration—and, as such, every battle for better wages over the years. That's Norman Lear, creator of All In The Family, Good Times, The Jeffersons, and more.
The esteemed producer took to Twitter on Tuesday to comment on the ongoing strike by the Writers Guild of America. "In my almost 101 years, while I have served other posts, I have been, at my core, a writer. A writer who struggled and anguished to put words to paper that would provoke, create conversation, humanize us, help us see each other—words that would matter," he posted.
"I wrote in the very first year of television, when writers were revered. I now watch talented writers struggle to earn a living wage without the path to a career like mine," Lear continued. "The stories we tell, the stories I can now watch on any device, are the stories that connect us, engage us, make us laugh and cry together, and inspire understanding and compassion. That is something to be protected and cherished."
The evolution of the medium is, of course, the fundamental issue at hand in the writers strike. When network television ruled the day at the peak of Lear's popularity, lucky writers could land stable jobs on long-running series with 22-episode seasons and get reliable residual checks when their episodes were rerun. Now, series have fewer episodes and fewer seasons altogether, while streaming has essentially obliterated residuals.
No wonder, then, that Lear proclaimed, "I stand with writers and with the Writers Guild of America, my union. The industry is stronger when we stand together to protect our collective community. #WGAStrong." Who's going to argue with one of the first-ever television writers?