Peggle, like most so-called casual games, inspires not-so-casual obsession. The puzzler is a hybrid of a Japanese pachinko slot game and Bust-A-Move. Players aim and launch pinballs that bounce through a peg-filled playing field, scoring points and clearing a path on the way to the drain. There's tons of dumb luck involved: No mortal intellect could possibly calculate the permutations of each launched ball. And yet as the levels progress and the challenges become more fiendish, skill and strategy find a toehold in the chaos.
Many will pass over this quirky gem because, at first glance, Peggle looks like it's been crafted for 9-year-old girls. Rainbows and unicorns dominate the game's design to the point of kitsch. Latter levels morph from cute overload to brain-warping Zen oddity. The pegs take the pattern of yin-yangs, and backgrounds are illuminated with ornate golden lotuses overseen by meditating chickens, cherubic flying pigs, and a Shiva-like frog with redundant hands posed in mudra. The 11th-hour freakout is appropriate, because by this time, engrossed players have probably transcended the earthly realm of Flash games and reached a rare sort of gaming Nirvana.
Beyond the game: PopCap has earned a reputation in the game-design community for leaning heavily on others' work when designing early games like Zuma. Peggle's ingenuity and far-out presentation almost make up for prior deeds.
Worth playing for: When your ball approaches the level-clearing peg, the view zooms in tight on the action. Time slows and a timpani drum roll slaps a 50-point accent mark over the tension. As orb and target collide, the rapturous hosannas of Beethoven's "Ode To Joy" explode out of the speakers. Few games make winning feel this good.
Frustration sets in when: Score junkies can't gloat over their accomplishments on a global leader board. And the game's two-player game isn't online. Peggle begs to be played on Xbox Live Arcade.
Final judgment: Comfort food for the omnivorous gamer.
G/O Media may get a commission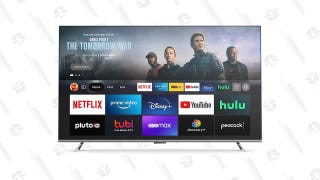 Save 46%
Fire TV 55" Omni Series 4K UHD Smart TV