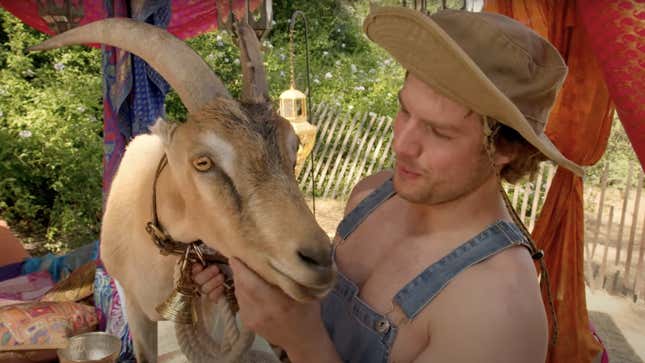 Jury Duty premiered relatively recently on Amazon's Freevee platform, single-handedly reviving a reality TV format that had been dormant pretty much ever since The Joe Schmo Show had finished its run on the network formerly known as Spike at the turn of the millennium. We're referring to reality TV shows that are based entirely—or almost entirely—on high-concept pranks. Or, you know, higher-concept than something like Impractical Jokers, which is about as low-concept as the "not" jokes that tickled Borat so much.
Roseanne Barr says Sara Gilbert stabbed her in the back and stole her money
But the thing that made Jury Duty special is that there didn't seem to be a mean bone in its body. The boys on Impractical Jokers just like making each other look like fools. Ashton Kutcher was doing the same thing to his celebrity buddies on Punk'd, and (if you buy the argument that it's a prank show) John Quiñones What Would You Do? is the exact same thing but it's about shame instead of laughs. Jury Duty was all about trying to prank a guy who just wants to be nice and friendly with everyone he meets, which effectively made it impossible, which in turn made him and everyone around him seem that much more likable.
As we wrote at the time, it was like witnessing a shift in the general level of decency among the kinds of people we're putting on TV. No longer are they weirdos to be mocked and dissected like dead piglets in a high school classroom! Now they are human beings that we can respect and relate to! It's clear from Jury Duty's success (both creatively and in viral meme-y power) that something a bit more cruel like the original Joe Schmo Show would never work today.
So it's a bit of a surprise that they're bringing back The Joe Schmo Show. And not only are they bringing it back, but it was already filmed—meaning the revival idea predated Jury Duty and the WGA strike—and its announcement trailer promises it's "coming soon." The new Joe Schmo focuses on a guy named Ben who thinks he's on a Big Brother-style "everyone lives in a house" reality competition called The Goat, when in reality all of the other contestants are actors and the challenges he has to compete in are all rigged in some way.
By design, that's meaner than Jury Duty was to its own one-guy-surrounded-by-actors, who just had to watch wacky things happen and react to them, rather than being subjected to wacky things happening to him by the wacky people around him. And that's fine. Clearly there's an appetite for that, even if it does potentially torpedo our argument that Jury Duty was reflective of a New and Nice modern society.
But why now? These kinds of prank shows are having a moment, not just with these two but with ABC's upcoming Prank Panel series starring Johnny Knoxville, Eric Andre, and Gabourey Sidibe that was teased earlier this year with a bizarre Ghostbusters-inspired commercial. That show follows the Punk'd/Impractical Jokers/Betty White's Off Their Rockers model, but the idea is that regular people pitch their friend/family member to Knoxville, Andre, and Sidibe as someone who deserves to be pranked, and then they prank that person (it seems like the meanest of all, if anyone cares to track that).
The obvious explanation for why these shows are happening now is that Impractical Jokers is the most popular show in the history of television (or, at the very least, it's part of that conversation), and you can picture the dollar signs in some executive's eyes when you say "I have an idea like that." Also, the reality TV genre has been around long enough now that the world is ready to poke fun at it again. Back when it was newer and fresher, The Joe Schmo Show seemed like a clever way to both embrace the genre and gently kick it in the shins. Now reality TV is everywhere (literally in some cases) because it's relatively cheap and easy to produce (for now) so the industry has cyclically looped back around to it being clever to both embrace the genre and kick it in the shins a little with these shows that pretend to be reality but are actually pranks.
The fact that this is all aligning with the writers strike and what will presumably be a reality TV boom is most likely a happy coincidence. That being said, these prank shows are basically the "comedy" version of reality TV (with something like the Bravo family of shows being the "drama" variant), and if these other two shows can find an adoring audience like Jury Duty did, this could become even more of a thing whether or not the strike goes on—but it seems much more likely if the strike continues. Then again, you need actors for prank shows where everyone is an actor except for one guy, and it'll be tough to find actors if SAG-AFTRA is on strike.
Maybe they could do prank shows with no writers and no actors, but we're not sure how. How about they just air highlight reels of fails like those YouTube channels do, with no host or commentary of any kind? Actually, now we feel bad for suggesting that.