Here's what's up in the world of TV for Thursday, February 4. All times are Eastern.
Top pick
Project Runway Junior (Lifetime, 9 p.m.): After a less-than-successful attempt to create a kid-themed spin-off a few years ago, Lifetime threw out the high concept of Project Runway Threads and just placed a bunch of talented teen designers into the traditional Project Runway format for Project Runway Junior. And that turned out to be a great decision: These adorable kids can handle the challenges like champs, creating genuinely stunning designs and working together far better than their adult counterparts. If there's been a weak link it's host Hannah Davis, who can't hold a candle to Heidi Klum. But thankfully Tim Gunn is there, as always, to pick up the slack. Tonight the final four designers, Maya, Samantha, Zachary, and Peytie, show off their collections at New York Fashion Week before the judges select a winner.
Also noted
The Big Bang Theory (CBS, 8 p.m.): Sheldon's much-discussed Meemaw (played by professional onscreen grandma June Squibb) finally stops by for a visit, but ends up butting heads with Amy (grandmas, amirght?). While Mayim Bialik can certainly hold her own, Kyle Fowle's money is forever and always on Squibb.
G/O Media may get a commission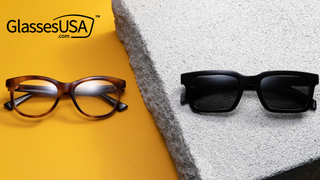 60% off frames
GlassesUSA.com Back to School Sales
30 For 30 (ESPN, 9 p.m.): Remember the 1985 Chicago Bears? Alasdair Wilkins does! So we asked him to shuffle on over to this 30 For 30 documentary about the colorful NFL champs. And while it might not translate on paper, Alasdair will definitely be writing his review in a Chicago accent. After all, there's no other way to talk about da Bears.
No, You Shut Up! (Fusion, 10 p.m.): Paul F. Tompkins and his puppet friends are back for a fourth season of current event analysis. This 25-episode season will focus mostly on the 2016 presidential election so expect Red Republican Crab and a Blue Democrat Crab to have a lot of opinions on the Iowa caucuses.
Baskets (FX, 10 p.m.): Chip tries to comfort Martha after one of her best friends is murdered. Though Vikram Murthi wasn't completely sold on Baskets' second episode, perhaps a little homicide is exactly what this show needs to liven things up. Because there's no better time to send in the clowns than during a funeral.
Regular Coverage
DC's Legends Of Tomorrow (The CW, 8 p.m.)
You, Me And The Apocalypse (NBC, 8 p.m.)
The 100 (The CW, 9 p.m.)
Elementary (CBS, 10 p.m.)
Workaholics (Comedy Central, 10 p.m.)
Portlandia (IFC, 10 p.m.)
Idiotsitter (Comedy Central, 10:30 p.m.)
Elsewhere in TV Club
The one and only Paul F. Tompkins sits down to answer our 11 Questions and discuss bison, Great Britain, and eating alligator.
Then in a brand new Random Roles, David Morse chats about his new show Outlanders, working with John Savage, and an unexpected bonus of being involved in True Detective season two:
Actually, the inspiration for the hair from Outsiders came from True Detective. When they were trying to figure out the look of the clan, there needed to be a look that, when we went into town, everybody immediately knew that we were Farrells, that we were of the Farrell clan. We needed to be identified. So I sent a picture to the producers of this hair from True Detective, and I said, "Look, if we just add stuff to the hair, bones or whatever, we can use it as the look on Outsiders." And they all got really excited and wondered about how long it took to put on the wig and all that stuff, so that's sort of the genesis for that. So I'm glad I did True Detective for a couple of reasons. [Laughs.]
What else is on?
Madoff (ABC, 8 p.m.): ABC wraps up its Richard Dreyfuss-led two-part miniseries about Bernie Madoff. Sure Molly Eichel's review called it "facile and a strange choice for ABC," but how often do you get to watch a Madoff biopic? Well, quite often actually, seeing how Robert DeNiro is also playing the financier for HBO later this year.
Madoff: After The Fall (ABC, 10 p.m.): Then after wrapping up its Madoff miniseries, ABC airs this hour-long documentary, which explores the post-scandal lives of the Madoffs and their associates.
London Spy (BBC America, 10 p.m.): Danny faces a brutal interrogation as police try to connect him to Alex's death. So naturally he does what any intelligent person would do in that situation and seeks help from Jim Broadbent.
Colony (USA, 10 p.m.): A Resistance attack brings the Bowman family closer together. Let's hope Lori and Sawyer pull through okay.
Five Day Flip (HGTV, 11 p.m.): HGTV introduces yet another show for viewers to mindlessly binge-watch on Sunday afternoons. The premise of this one is that Australian renovator Cherie Barber transforms a property and gets it back on the market in only five days.
Cool Hand Luke (TCM, 8 p.m.): Cool Hand Luke may have a failure to communicate, but we want to be quite clear that TCM is airing this 1967 Paul Newman classic tonight at 8 p.m.
Harry Potter And The Deathly Hallows: Part 2 (Freeform, 7:45 p.m.): Those making their way through Alan Rickman's oeuvre can check out one of his most heartbreaking performances here.
NHL Hockey: Islanders at Capitals (NBC Sports, 7:30 p.m.): It's cold outside (at least in places where the seasons change) so enjoy the perfect ice sport: Hockey. Okay, curling is actually the perfect ice sport, but since that isn't being broadcast at the moment the NHL will make a fine substitute.
In case you missed it
Younger: Josh learns more about Liza during a dinner date. Alexa Planje has all the details including whether or not Liza (a.k.a. Broadway star Sutton Foster) finally revealed her hidden talent for singing and dancing.