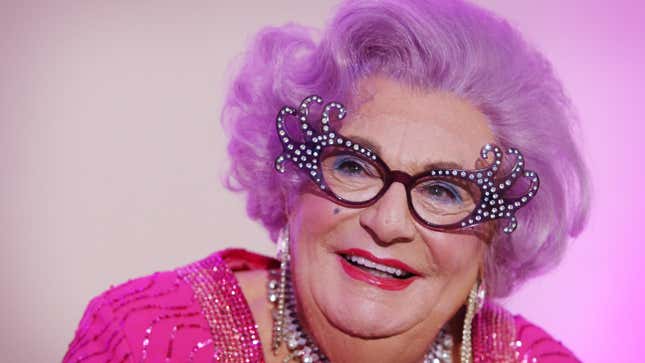 Barry Humphries has died. A veteran Australian comedian and actor, Humphries was probably best known for the six decades he spent playing the character of Dame Edna Everage, who began as a joking portrayal of Australian housewives before steadily evolving into a glamorous send-up of showbiz elites. Both in and out of character, Humphries was a prolific performer on the stage, in film, on television, and in bookstores; even discounting his Dame Edna roles, his credits include Peter Jackson's Hobbit films, Pixar's Finding Nemo, and many more. Per Variety, Humphries died this week, after suffering complications from a recent surgery. He was 89.
Dwayne Johnson on why "Black Adam" was the movie he had to make
Born in Melbourne in the 1930s, Humphries got his start on the Australian stage, where he first debuted Dame Edna (then credited as Mrs. Norm Everage) in a Melbourne University sketch show in 1955. In 1959, Humphries moved to London, where he made friends with the likes of Peter Cook and Dudley Moore (who gave him his first role, a cameo as "Envy" in their 1967 movie Bedazzled). While writing for Cook's Private Eye magazine, Humphries continued to work in the London theater, eventually refining the Edna character (she picked up the "Dame" title in 1972's Barry McKenzie Holds His Own, centered on another of Humphries' characters), adding in various touches like her distinctive eyeglasses and an increasingly sharp and satirical worldview.
Humphries' career skyrocketed in the 1970s and 1980s, as Dame Edna became a sensation on both sides of the pond, helped by a series of talk show appearances in which Humphries displayed his talent with a quick verbal rejoinder while remaining firmly in character. Although he appeared, in and out of character, in a number of films—including infamous flops like Sgt. Pepper's Lonely Hearts Club Band and Rocky Horror Picture Show sequel Shock Treatment—Humphries' truest passion remained his one-person stage shows, in which he played multiple character, with Dame Edna as the most prominent. By the 2000s, the character had achieved rare iconic status, appearing in a Tony-winning Broadway run, popping up on shows like Ally McBeal (playing a character with "Dame Edna" as the credited performer), and even getting a run of Australian stamps.
Humphries retired from regular performances in the 2010s, although he was still willing to bring Edna out from time to time. His reputation was tarnished in more recent years, though, by transphobic comments, including calling trans identity "a fashion."
Humphries died earlier today. He is survived by his wife Elizabeth, and four children.