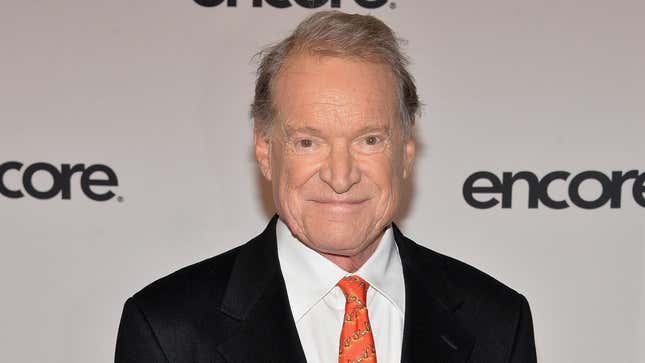 Charlies Kimbrough, the Emmy and Tony-nominated actor known for his supporting role on the long-running sitcom Murphy Brown, died last month at the age of 86. His death was confirmed by his son, John Kimbrough, who says the actor died on January 11 from natural causes at Southern California Hospital in Culver City, per The New York Times.
[We] mourn the loss of Charles Kimbrough, a client and friend for over 30 years. Whether on stage or in front of the camera he was a joy to behold," says Donna Massetti, Kimbrough's talent agent, per People.
Kimbrough appeared in 248 episodes of Murphy Brown throughout the show's ten-season run as the stony-faced, conservative anchorman Jim Dial—a role that earned him an Emmy nomination in 1990. In 2018, he reprised the role for a three-episode revival.
"Charlie is the most lovable, lanky, rubbery, sweet, adorable man," Murphy Brown creator Diane English said in a Television Academy interview in 2007. "When he came in to read for us as Jim Dial, he just brought it all there: I mean, that ramrod posture, the anchor voice, the slicked-back hair. He brought a credibility to the character. We didn't want a Ted Baxter version of this guy. We wanted the real deal, from the Walter Cronkite, Edward R. Murrow era, and Charlie brought all that weight, in addition to just amazing comic timing."
Back in 2012, Kimbrough told the Wall Street Journal of own career, "Unfortunately, I'm really good at playing jackasses of one kind or another. I've always been slightly self-conscious as an actor, and I guess that sometimes reads as pomposity."
"Starting when I was 30, I somehow gave off an impression at an audition that had them mentally put me in a three-piece suit or put an attaché case in my hand," he continued. "If there was a stiff-guy part, the director would brighten up when I came in. That wasn't the response I wanted. I was in anguish."
Kimbrough's acting career started on the stage, with his breakthrough coming in Stephen Sondheim's original production of Company. For his work playing Harry, he received a Tony nomination. He would go on to perform in other Sondheim productions, including Sunday in the Park With George, as well as Sylvia, Same Time, Next Year, Accent on Youth, The Merchant of Venice, and Leonard Bernstein's Candide. His last stage performance was in 2012, when he starred in the Harvey revival opposite Jim Parsons.
In addition to his work on stage and television, Kimbrough is also well-known for his voice-acting role as Victor the gargoyle in The Hunchback Of Notre Dame.