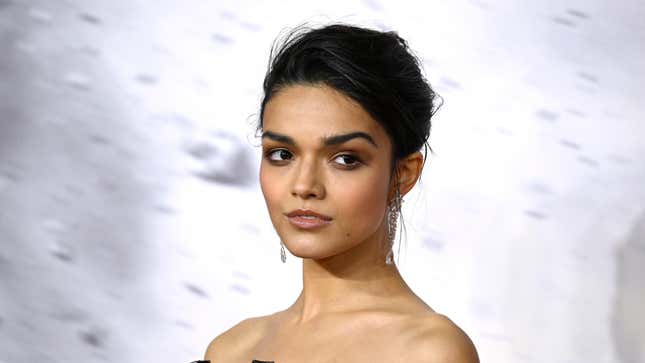 Now that Shazam! Fury Of The Gods is in theaters, Rachel Zegler is opening up about why she took the role of Anthea in the DC film. No, it doesn't stem from a passion for superhero storytelling or because the role was just so perfectly suited for her, but for the same reason many of us do the less glamorous parts of our jobs: For a paycheck.
Meagan Good on Harlem, Shazam, and Helen Mirren
"I needed a job. I'm being so serious," Zegler says on the Shazam red carpet.
"The reality is we're in the middle of a pandemic and I was not working and I couldn't get a job for the life of me, because West Side Story hadn't come out yet," she tells The Hollywood Reporter. "It was really hard to book work for me."
It's probably a similar line of logic that leads many high-profile actors to do a stint within the superhero industrial complex. In an industry that's increasingly deprioritizing non-franchise projects, taking on a role in a film of this nature nowadays feels more like "paying one's dues" or a quick cash grab that allows actors to pursue less economical, but more meaningful projects. Take Oscar Isaac, who straight after appearing in Marvel's Moon Knight (2022), has since been leading a stage production of The Sign In Sidney Brustein's Window at Brooklyn's Academy Of Music.
As Marvel and DC both continue to churn out numerous projects a year, it's no surprise that the productions have all but turned into a revolving door of one-off appearances from esteemed actors. The lucky ones manage to get in, get paid, and get out without a lengthy contract tying them down from other projects for years. With the state of DC, there's no telling if Zegler will return for another film, but it seems she had fun making this one, even if it came from a more financially desperate place.
"I loved the first movie, and the fact that they even wanted me to come in for a callback and then a camera read and then everything in between, I'm so lucky that I got this job," Zegler says. "I made some of my best friends on this job. I just absolutely adore this movie, too, so I'm excited."
Ultimately, as actors now regularly forget their involvement in MCU and DC projects, it's nice to hear a bit more honesty about how they end up in these roles, rather than waxing poetic about a character like Shazam.