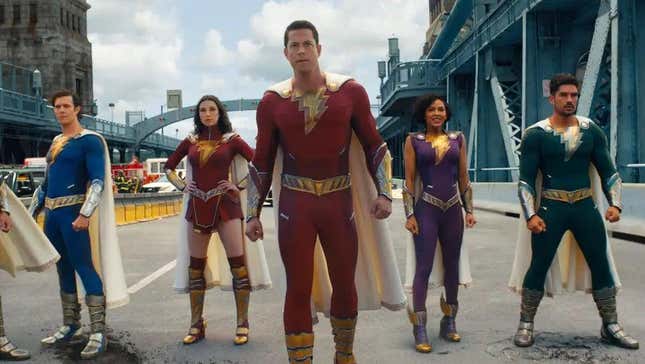 If you're a superhero fan, there's a good chance that director David F. Sandberg's Shazam! turned out to be one of 2019's most pleasant surprises for you at the movies. Though it was rooted firmly in certain superhero origin story archetypes and familiar scaffolding, there was an undeniable comic warmth and intimate sense of adventure thrown into this DC Comics adaptation that made it endearing as well as entertaining. It didn't reinvent anything, it wasn't a watershed cultural moment, but it was a film you rooted for.
Four years later, Shazam! Fury Of The Gods is here to try to foster even more cinematic goodwill with a sequel that hopes to recapture some of the original's lightning while adding more action, bigger set pieces, and even more darkness (both literal and figurative). From the beginning, there's a certain admirable sense of reach involved in what the new sequel is trying to do, and the ensemble cast certainly still crackles with exuberance. Sadly, though, lightning did not strike twice with Fury Of The Gods, a film that reaches for so many things at once that it can barely hold onto any of them, leaving a mess of a movie that serves as an underwhelming reminder of how much fun it was to watch its predecessor.
It's been a couple of years since Billy Batson (Asher Angel) was granted superpowers from a mysterious wizard (Djimon Hounsou) that allowed him to transform into a wise-cracking, muscular hero (Zachary Levi), and he's starting to feel like the other shoe will drop soon; His decision to imbue his foster siblings with the same powers at the end of the last film made him part of a cemented, unified family. But lately the other members of the Shazam! club are starting to drift apart. Mary (Grace Caroline Currey), the oldest, is preparing for a career and an academic future, while Billy's best friend and foster brother Freddy (Jack Dylan Grazer in kid form, Adam Brody in superhero gear) is starting to get interested in a solo hero career of his own. He's also interested in Anne (Rachel Zegler), the new girl in school who takes a liking to Freddy's bravery and sense of humor. As his family pulls in different directions, Billy starts to feel like his motto of "all or none" might be in jeopardy.
But family strife isn't the only thing to worry about. It turns out that Anne isn't just a teenage girl with a crush on Freddy. She's one-third of the Daughters of Atlas, a supervillain team descended from the Greek titan himself, who've set out on a quest for vengeance thousands of years after the Wizard and his friends stole the power of the gods and doled them out to their chosen champions. For sisters Hespera (Helen Mirren), Kalypso (Lucy Liu), and Anthea (Zegler), payback is long overdue.

G/O Media may get a commission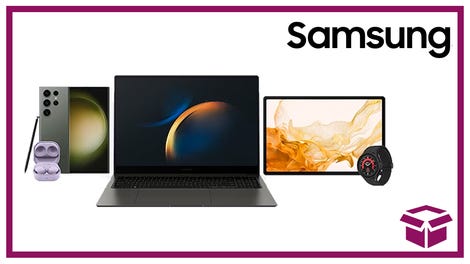 24 hour deals
Discover Samsung - Daily Deal
This all seems like the groundwork for a pretty straightforward conflict, at least by superhero movie standards. Billy is worried about keeping his family together, and now the latest villain threat is a group of women who literally want to take away everything the family has built with one swing of a magic staff. It's enough to fuel Billy's mounting anxiety that he's not worthy of the powers he was given, and the threat to the whole family provides plenty of fodder for an arc that will allow him to reclaim his courage and sense of duty and sacrifice.
Or at least, that's the theory. It might have looked good on paper, but, in execution, the plot of Fury Of The Gods is a mess of half-formed ideas and smaller character conflicts that don't contribute much to the whole of the story. Billy's rising impostor syndrome and his fear of losing his family are really only present when the plot demands it, as is the ruthless efficiency of the Daughters of Atlas, who are savage dispatchers of pain one minute and pictures of restraint the next. We're used to these movies being designed to launch us into one big final fight, and that's fine, but the craftsmanship this time is shoddy, packed with dead ends, and struggling to maintain its grasp on an emotional throughline.
The good news, though, is that the cast and crew haven't lost their sense of fun. The Shazam! films are, after all, stories about literal children being gifted the power of gods, and the various missteps and tonal contrasts that can pop up thanks to that premise. It's there that the film shines brightest, and when the movie takes a few minutes to breathe and let the heroic family just be together, it's a lot of fun. Levi's comic timing is still on point, as is Grazer's, and the film's attempts to build out the larger superhero cast a bit more are welcome distractions from the overstuffed plot. There's still warmth here, and joy, but they're crowded out by a film that just can't hold itself together.
Sadly, it's the same across the board in Fury Of The Gods. There's a feeling that the film is there narratively but not visually, as the setpieces often drift into sludgy CGI messes that lack the visual wit of the first film. It's even there in the new cast members, as Liu and Mirren give it their best shot but stick out amidst the more vibrant original cast. There's so much effort here, so many things being tried, that some of it was bound to work. It's just not enough.
That leaves Fury Of The Gods feeling like a frustrating case of sequel overreach after its more focused, emotionally satisfying, crowd-pleasing predecessor. It's not outright terrible, but it's hard to shake the feeling that we all could have had so much more fun.
(Shazam! Fury Of The Gods opens in theaters Friday)