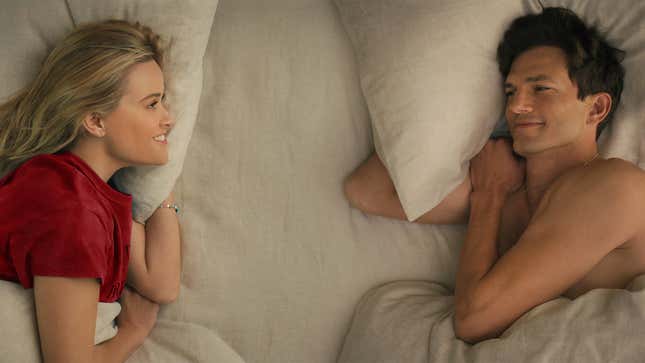 Consider 2022 the wind-up for the return of the rom-com, as 2023 has even more promising offerings from the genre. This month brings the Jennifer Lopez-led Shotgun Wedding, but just in time for Valentine's Day, Netflix is giving us Your Place Or Mine
Starring Reese Witherspoon and Ashton Kutcher, Your Place Or Mine puts a spin on a familiar premise, as two longtime friends decide to swap homes for the week. For Witherspoon's Debbie, this offers her a moment to pursue a life outside of her young son, Jack (Wesley Kimmel, the nephew of Jimmy Kimmel), as Kutcher's Peter offers to look after him at their home in Los Angeles. Jetting off to New York solo, Debbie makes friends with the outgoing and dating-savvy girl next door (Zoe Chao). There, she sparks up a romance with Theo, played by Jesse Williams.
As Peter learns more and more about Debbie's daily life, he begins to think about the hook-up that started their friendship twenty years ago. We can all see where this is going, but hey, it's a rom-com.
Rachel Bloom also stars in the film from Crazy Ex-Girlfriend creator Aline Brosh McKenna, who penned the hit rom-coms 27 Dresses and The Devil Wears Prada. Other supporting cast members in Your Place Or Mine include Steve Zahn, Shiri Appleby, and Tig Notaro.
Witherspoon's last rom-com appearance was in 2017's Home Again from Hallie Meyers-Shyer. For Kutcher, it's been even longer since he stepped in the role of a rom-com leading man, as he most previously starred in 2011's No Strings Attached.