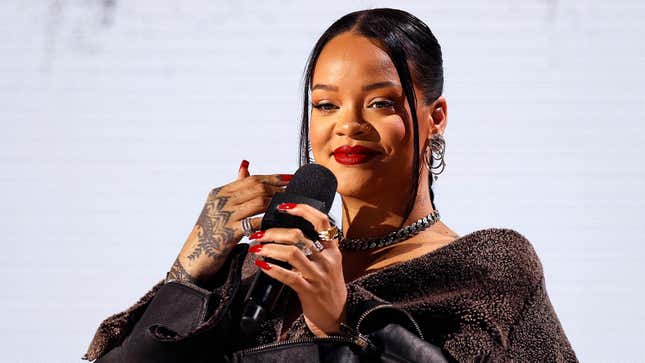 It's been seven long years since Anti, and nearly every day since then, fans have asked the same question: "Where is the album, Rihanna?" The query has become so ubiquitous that it's a meme unto itself (one even Rihanna herself participates in). Yet the fact that she has come out of musical hibernation, first for the Black Panther: Wakanda Forever soundtrack and now for the upcoming Super Bowl Halftime Show, suggests that there could be hope for that coveted ninth album after all.

And her pre-Super Bowl press conference will only bolster fans' optimism. "Musically I'm feeling open," the Grammy winner shared. "I'm feeling open to exploring, discovering, creating things that are new, things that are different, things that are off, weird. Might not ever make sense to my fans… I want to have fun with music."
At this point, won't fans just be glad to have any music at all? Actually, knowing stan culture, it's probably wisest that she does give that disclaimer. But Rihanna lovers who are devoted to her Old Stuff will always have the back catalog to which they can return. It just may not all be represented in her Halftime Show performance. "The setlist was the biggest challenge. That was the hardest, hardest part, deciding how to maximize 13 minutes but also celebrate," she said at the press conference. "That's what this show is going to be. It's going to be a celebration of my catalog in the best way we could have put it together."
"You're trying to cram 17 years of work into 13 minutes, so it's difficult," the singer continued. "Some songs we had to lose because of that, and that's going to be okay, but I think we did a pretty good job of narrowing it down. There are probably about 39 versions of the setlist right now."
Rihanna raised some eyebrows when her Super Bowl appearance was announced, due to the fact that she'd previously refused to do the show on the grounds that she'd be a "sellout." Now, she says becoming a mom has empowered her to make "scary" decisions because "It's important for my son to see that." She also cites "representation" as one of her reasons for taking on the role.
"Representing for immigrants. Representing for Black women everywhere. That's key for people to see the possibilities," Rihanna said. "It's a long way from home, right? It's a beautiful journey that I'm on. I could have never guessed that I would have made it here, so it's a celebration of that. I'm really excited to have Barbados on the Super Bowl stage."