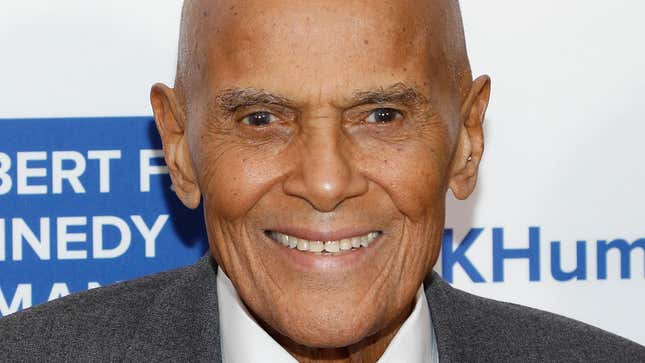 Harry Belafonte, the acclaimed singer, actor, and activist, has died. He was 96. The New York Times confirmed this morning that Belafonte died in his Upper West Side home from congestive heart failure, per longtime spokesman Ken Sunshine.
Smokey Robinson on "Gasms," Jamie Foxx, and Harry Belafonte
Belafonte was a recipient of the Kennedy Center Honors, the National Medal of Arts, and a Grammy Lifetime Achievement Award, among numerous other accolades. He released nearly 30 studio albums over the course of four decades, including 1956's Calypso, the first LP album to sell more than one million copies and whose first single, "Day-O (Banana Boat Song)," remains one of the most famous Calypso recordings of all time.
Born Harold George Bellanfanti Jr. in Harlem, NY to mixed-race parents (his mother and father were both born in Jamaica, the former a daughter of a Scottish Jamaican mother and Afro-Jamaican father, the latter a son of a Black mother and Dutch Jewish father), Belafonte spent much of his childhood living in Jamaica with one of his grandmothers. He eventually returned to NYC to attend high school, after which he joined the Navy and served in World War II. He befriended Sidney Poitier while working as a janitor's assistant after the war, the two cash-strapped theater fans routinely buying a single ticket to performances and trading seats at intermission. He soon joined The New School's Dramatic Workshop and performed with the American Negro Theatre.
Ironically, the soon-to-be-world-famous musician initially began performing as a club singer in New York School only so he could pay for acting classes. His first recordings were pop music, but soon turned to calypso, folk, jazz, and more, leading to his breakthrough single, "Matilda," which became a staple of his live shows. In addition to containing "Day-O (Banana Boat Song)," Calypso was the first million-selling full-length album in both the U.S. and U.K., cementing its place in Billboard's Top 100 Albums of all time list by spending 31 weeks at number one during its release, as well as 99 weeks total on the charts. He went on to star in a series of televised specials, including Revlon Revue: Tonight With Belafonte, for which he won an Emmy. His success lessened in the '60s with the advent of the British Invasion, but he continued to win Grammys for his albums and appear in TV specials, even spending a week in 1968 substituting for Johnny Carson as guest host on The Tonight Show. And in 1978, he appeared on The Muppet Show, which became Jim Henson's favorite episode—so much so that Belafonte was asked to reprise "Turn The World Around," which he had performed on the show, at Henson's memorial service.
Though never as involved with it as he was music, Belafonte remained a serious actor throughout his life, starring in a number of films over the years, beginning with 1953's Bright Road, featuring costar Dorothy Dandridge alongside a nearly all-Black cast. Despite several subsequent high-profile performances (including a controversial interracial romance opposite Joan Fontaine in 1957's Island In The Sun), he spent much of the next decade avoiding films, before returning to acting in the 1970s with movies like The Angel Levine and Uptown Saturday Night. He earned a Best Supporting Actor Award from the New York Film Critics Circle in 1996 for Robert Altman's Kansas City, and recently appeared as a civil rights pioneer in Spike Lee's BlacKkKlansman.
That role in Lee's film was no coincidence: Belafonte was passionately committed to social justice and activism throughout his life. A strong supporter of the Civil Rights movement and a close confidante to Martin Luther King, Jr., the musician helped finance the Freedom Rides, voter registration drives, and worked to organize the 1963 March on Washington.
Belafonte also used music as a tool for progressive fundraising. He was one of the architects behind "We Are The World," participated in Live Aid, and—as a goodwill ambassador for UNICEF—staged numerous benefit concerts, including the largest ever held in sub-Saharan Africa. Belafonte was also proudly outspoken about U.S. politics, drawing fire in the 2000s for repeatedly referring to President George W. Bush as a "terrorist" for launching the Iraq War and causing the deaths of thousands of American servicemen, as well as countless Iraqis. In addition to being a fellow at The Sanders Institute (and endorsing Bernie Sanders' run for president in 2016), Belafonte was an honorary co-chair of the Women's March on Washington in 2017.
One of Belafonte's last public appearances was at the Apollo Theater in Harlem on March 1, 2020, for a tribute event in honor of his 93rd birthday. It ended with a massive audience singalong to "Banana Boat Song." Once, during an interview with Amy Goodman on Democracy Now!, when asked what he would want on his gravestone, he replied, "Harry Belafonte, Patriot."