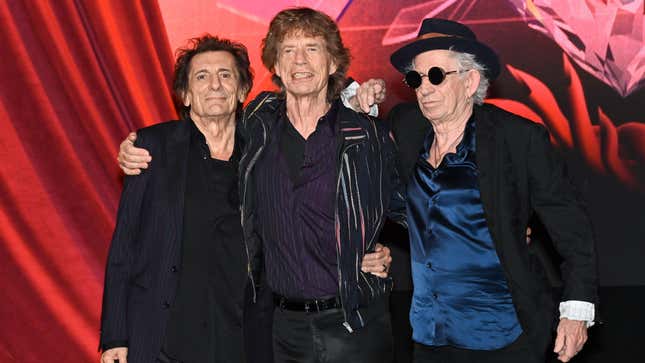 Sydney Sweeney and Lady Gaga aren't the only A-listers getting angry with The Rolling Stones on their upcoming reunion album, Hackney Diamonds.

Britney Spears hit in the face by NBA star's security team
While the "Gimme Shelter" rockers revealed in their album announcement livestream that Gaga would be lending her powerhouse vocals to track 11, "Sweet Sound Of Heaven," the band announced today that she won't be alone. The legendary Stevie Wonder is also playing keys and piano on the song, which is a real bonus treat for anyone already excited by the prospect of all these icons on one piece of vinyl together.
But if that's somehow not enough, the band also announced today some other artists getting back into the studio with Mick Jagger, Keith Richards, Ronnie Wood, and co. Elton John is playing piano on the song "Live By The Sword" and Paul McCartney is supplying the bass line for "Bite My Head Off."
As previously announced, late drummer Charlie Watts will be featured on both "Mess It Up" and "Live By The Sword," along with John and former Stones bassist Bill Wyman.
The full Hackney Diamonds tracklist is below:
1. Angry
2. Get Close
3. Depending On You
4. Bite My Head Off
5. Whole Wide World
6. Dreamy Skies
7. Mess It Up
8. Live By The Sword
9. Driving Me Too Hard
10. Tell Me Straight
11. Sweet Sound Of Heaven (ft. Lady Gaga)
12. Rolling Stone Blues
Hackney Diamonds will be The Rolling Stones' first studio album since 2005's A Bigger Bang. These collaborations, however, are right in line with the band's larger history. Throughout their career, the Stones have always made room for artists old and new to guest star and collaborate both onstage and in the studio. Lady Gaga, Stevie Wonder, and company join a crew that also includes Jimmy Page ("One Hit (To The Body)"), Eric Clapton ("Everybody Knows About My Good Thing"), Tom Waits ("Little Red Rooster" (Live)), Sheryl Crow ("Honky Tonk Women" (Live)), Florence Welch ("Wild Horses" (Live)), and even Taylor Swift ("As Tears Go By" (Live)).