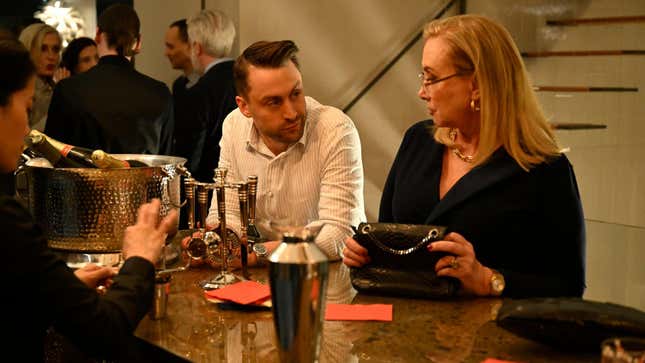 Episode seven of the fourth and final season of Succession officially blew up the series' greatest romance. No, not Shiv Roy (Sarah Snook) and Tom Wambsgans (Matthew Macfadyen), though that balcony bout between the estranged-with-benefits spouses was catastrophic enough that we can't see the couple walking away from it in one piece. (It also all but guaranteed the two actors a matching set of much-deserved Emmys.)
No, the quarreling lovers in question aren't technically lovers at all—certainly not in the biblical sense, nor in the logical one: Roman Roy (Kieran Culkin), the youngest son of Logan, a thirtysomething Jagger-Tarzan swinging through trees and clumsily sending dick pics at boardroom tables, and Gerri Kellman (J. Smith-Cameron), the 60-plus-year-old General Counsel of Waystar, forever even-keeled, excellently coiffed, and extremely dangerous. The Rock Star and the Mole Woman should never have happened, and very nearly didn't, until the palpable, oddball chemistry and real-life offscreen friendship between Culkin and Smith-Cameron prompted the writers to lean into the wonderful weirdness between their two characters.

A bit of biting banter in season one ("I've always thought of you as a stone-cold killer bitch," Roman tells Gerri in the show's second episode, to which she quips: "Who says you don't know how to flirt?") shockingly segued into shame-kink phone sex in the second season. By that season's midpoint, "Tern Haven," Gerri was locking Roman in her hotel bathroom and breathily calling him a "rotten little nothing" through the door while he beat it all over her bathrobe. He would propose marriage, or the closest version of matrimony Roman could muster ("You kill me. You chop my dick off, you know, something. I'm kidding, but you know what I'm saying: You eat me, I eat you—like they do in Germany"), by the season's end, a proposal Gerri neither outwardly accepts nor entirely dismisses.

Succession season two would prove to be the honeymoon period for the doomed duo, with their batty foreplay growing less psychosexual and more professional going into the show's third edition. (I mean, only slightly more professional. Roman does offer a not-entirely tempting proposition—"I'd lay you badly, but I'd lay you gladly"—to Shiv's godmother in the season-three premiere.) Despite the considerable age difference and the ever-shifting power imbalance (things get even messier between them when Gerri becomes Waystar's interim CEO), the two actually do work well together, regularly shielding each other from the corporate line of fire and often proving to be the only person with whom the other character can be remotely vulnerable. They're two weirdos who secretly get each other, while secretly getting off on each other.

That clandestine alliance could have actually had legs, could have cemented them into a power couple, the stuff of legend—he, all youthful bravado and snarky boundary-pushing; she, all shoulder-padded capability and quiet ruthlessness—if not for those damn dick pics. Logan (Brian Cox) is, mortifyingly, on the receiving end of the unsolicited sext that Roman meant for Gerri and, with Shakespearean scorn, disapproves of the match. ("She's a million years old; it's fucking disgusting!" Dad roars.)

Like the Bard's most famous pair, Gerri and Roman's forbidden-love connection proves to be the downfall of both characters, and season four is rife with angst for Tumblr's favorite Succession twosome (okay, second favorite, after whatever the hell you want to call Tom and Greg). In a punishing bit by Logan, Roman is tasked with firing Gerri in episode three, "Connor's Wedding," effectively having to choose between his father-boss and his mommy-domme. Still plagued with "Are you a sicko?" shame, Roman sides with the former, leaving Gerri with a lower lip trembling in rage and him clearly wishing he could drink poison instead.

Even though—spoiler alert!—Logan dies mere moments later, seemingly leaving Gerri in the clear where Waystar is concerned, the "romance" of the Slime Puppy and the Mole Woman is too tainted by tragedy, by betrayal, by reputation and responsibility to continue. There was no way these two would have ever been able to ride off on a company yacht together, Roman making jerk-off jokes to a bemused Gerri while they sailed into the sunset. When Roman fires Gerri a second time, for real, in episode six, it isn't business strategy that fuels him. It's heartbreak. Like Juliet and her Romeo, these two lovers will remain forever apart, separated by death—Logan's, sure, but also the death of what once was and what might have been.

"I could have got you there," Gerri gnashes at Roman in episode seven, taking as much cheerless solace in a martini as Shakespeare's heroine did a dagger. "But nope," she scoffs, turning her back to him and disappearing into the night. For never was a story of more woe.