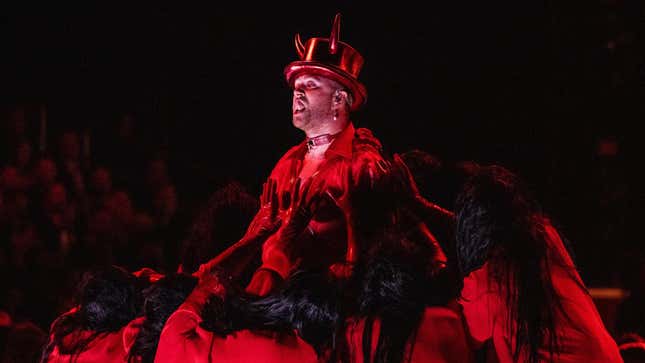 As similarly seen with Lil Nas X's devilish "Montero (Call Me By Your Name)" promotion in 2021, conservatives have their satanic panic panties in a twist over last night's performance from Sam Smith and Kim Petras. The two took the Grammys stage for a performance of their song "Unholy," which won the award for Best Pop Duo Or Group Performance.
The 3 best moments from that huge Grammys Hip-Hop tribute
In addition to Petras making history as the first out transgender woman to win in the category, she and Smith stoked the flames of controversy with a fiery, hell-themed performance—much to conservative's chagrin.
Bone-headed political abomination Ted Cruz added his two cents last night, calling the set "...evil." Majorie Taylor-Green also tweeted about the performance, fit with a Pfizer conspiracy too dim-witted to even bother breaking down.
Aside from the blatant thematic ties to "Unholy," Petras says the red-laced performance was inspired by the duo's experience with religious institutions.
"I think a lot of people, honestly, have kind of labeled what I stand for and what Sam stands for as religiously not cool, and I personally grew up wondering about religion and wanting to be a part of it but slowly realizing it didn't want me to be a part of it," Petras tells Variety. "So it's a take on not being able to choose religion. And not being able to live the way that people might want you to live, because as a trans person I'm already not kind of wanted in religion. So we were doing a take on that and I was kind of hellkeeper Kim."
Like the discussion around Lil Nas X and his striptease with the devil, conservatives love to ignore storytelling context, opting to spout off nonsense about queer and trans artists pedaling out satanism and immoral lifestyles to—oh my—the children. It all feeds into the conspiracy that Hollywood's trying to cause the collapse of society and poison the next generation, a dated but enduring theory.
Ultimately it's boring, cyclical tripe that seeks to villainize artists from the LGBTQ+ community, but it's not without its consequences. With anti-trans bills ravaging states such as the Cruz-led Texas, the anti-LGBTQ+ rhetoric of the satanic panic unfortunately motivates political repercussions. Over the last year, bills all over the U.S. have emerged looking to eliminate trans-affirming care, and even the mere existence of drag shows.
This form of political violence works on a macro and micro level. Smith—who came out as non-binary in 2019—has reflected on how it has impacted their experience with the public, citing verbal and physical harassment.
"What people don't realize with trans non-binary people in the U.K. is it's happening in the street. I'm being abused in the street verbally more than I ever have," they recently told Apple Music's Zane Lowe. "So that was the hardest part, I think, was being at home in the U.K. and having people shouting at me in the street. Someone spat at me in the street. It's crazy."