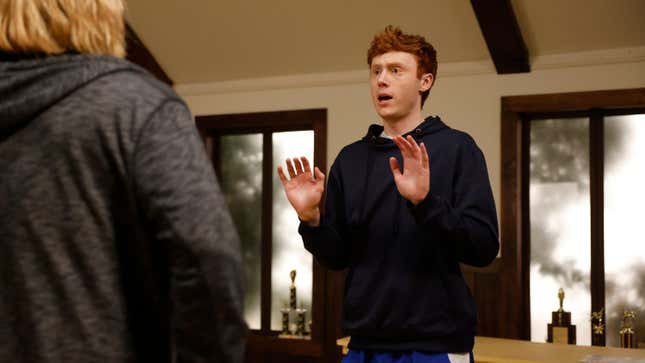 Through the Motion Picture Editors Guild, members of Saturday Night Live's editorial crew have announced their plan to strike on April 1 as contract negotiations stall.
Negotiations with NBCU via the International Alliance of Theatrical and Stage Employees (IATSE) started back in October, with union members focusing on health care benefits and pay inequity. Without a viable decision reached months later, 12 to 20 SNL editing team members threaten to halt work completely. The striking members would specifically comprise those involved in editing the pre-taped bits, such as Please Don't Destroy's sketches and the commercial spoofs.
The talking points for the contract are familiar, with employees looking for pay that closer resembles industry standards, as well as pay increases that match cost of living hikes. According to a press release from the Editor's Guild, the SNL editorial crew members are paid far below industry standards, and much less than their SNL counterparts. NBCU's offered remedies have failed to address these gaps in pay.
Additionally, NBCU has sought to implement a "two-tiered" health insurance system that could mean fewer benefits for future employees. One big stinker of proposal comes in the form of a "management's rights" clause that would allow the company to "unilaterally change workplace rules and policies" and subcontract work, weakening the union's collective bargaining power.
"Strikes are not funny, and it's also not funny that NBCU is driving us to take this step to guarantee fair pay and benefits for our members," says Alan Heim, president of the Motion Picture Editors Guild, in an official statement.
"The fact is that these workers play a key role in making SNL the comedy institution that it is and they deserve the same standards as other workers on the show have," Heim continues. "That is why we are thankful for all the outpouring of support they have received from other crafts and cast members on the show. This support is helping to ensure that management will eventually do the right thing."
While SNL has been impacted by broader Hollywood striking efforts, this would be the first time in the show's 50-year history that it would specifically be targeted in a strike. Per Variety, NBC states it is looking to reach an agreement by the end of the month.
Update (3/9/23 5:22 P.M.): The A.V. Club spoke to one of the editors from SNL about the strike on the condition of anonymity. They emphasized the cast and crew's support of their unionization efforts and the editors' hope that the situation can be resolved.
"We are extremely proud to create some of the most beloved and popular parts of the show, and like everyone else that works for SNL, we deserve a fair union contract," our source said. "We have received an outpouring of support from those who work on the show. It is a drop in the bucket for NBC. In good faith, we can't get them to agree to our terms."