"I just jazzed really good with the guys."

"I'm not an actor, I'm a [major movie, faux jazz] star!"

Ryan Gosling, here plugging Blade Runner 2049, opened up Saturday Night Live's 43rd season with the endearing combination of scene-breaking giggles, really bad cue-card reading, and a clearly amused willingness to turn himself over to whatever goofy ideas the writers have for him, that marked his first hosting gig back in 2015. Gosling's a good actor and a huge star, and the simple fact that he's obviously tickled to be here makes up for the fact that he's not a live TV guy. His monologue, where Gosling sent up both his own cool dude La La Land character and the film's depiction of a "white kid from Canada" explaining and resurrecting jazz music for all the world worked as well as it did thanks to Gosling. Rather than just referencing the "white savior" criticism of that film the slyly funny opener let the actor act. Deadpanning cluelessness is a good look on Gosling, and he picked up the comic timing as he went along, pontificating with absurd overconfidence about "Nerlins," "Chicagee," and "NYC City" until cameoing co-star Emma Stone came out to lecture him. ("You didn't save jazz. How many times have we talked about this?" "A lot.")
Gosling's a gamer, but this season-opener started out lazily and didn't give him a chance to really shine until the last three sketches of the night, when things got weird enough for him to do some more acting.
G/O Media may get a commission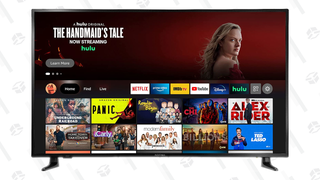 38% Off
Insignia 50" 4K UHD Smart TV
Weekend Update update
Fresh off a summer's worth of half-hour Updates on NBC (well, three, anyway) Colin Jost and Michael Che came back in mid-season form. Which is fine, as the anchors took turns teeing off on Donald Trump. (And his teeing off, Jost mocking Trump for calling residents of hurricane-ravaged Puerto Rico lazy in tweets from one of his many, many golf vacations.) Like the rest of tonight's premiere, Update went with what's expected, even predictable. There are a lot of people trying a lot of different approaches to satirizing the already too-broad nonsense issuing from the Trump White House every single damned day, and it's not an easy task making comedy out of premises that'd be laughed out of any decent comedy writer's room that also just so happen to be actual words and deeds of the actual supposed leader of the nation. So Jost and Che each have their niches, and they fill them ably, but only occasionally showing flashes of inspired comic edginess.
Still, Jost and Che make decent use of what they have to work with. At this point, all pretense of pretending that Donald Trump is an ordinary—or even functional, sane, and not-racist—leader is out the window, which frees SNL from playing the "both sides" strategy that's contributed to the show's watery reputation when it comes to politics. But Jost lands his smirking put-downs with enough force to elicit groans or gasps from time to time. (Here he ironically praises Trump for besting George W. Bush's record for incompetence, applauding him for achieving "his Katrina" in record time.) And Che can energize his jokes with no-bullshit anger, as when he lays into Trump's white supremacist tendencies (on DACA, the NFL, Puerto Rico, all in the last month) by claiming Trump lashes out at anyone "darker than his golf pants." (Ending another joke about Trump's defensive, abusive, and inadequate response to Hurricane Maria with "you cheap cracker" is especially cathartic in performance.)
But—and here comes tonight's theme—this season premiere is awfully complacent about giving the people what SNL thinks they want. New Emmy winner Kate McKinnon's Angela Merkel is always funny, and welcome. But after a summer off, a diet of pleasant and unchallenging leftover premises is pretty disappointing. Same goes for Alex Moffat's Guy Who Just Bought A Boat, a funny characterization of an incurable douchebag that sees SNL continuing its venerable tradition of running original, funny ideas right into the ground. Moffat's grown on me, and GWJBAB is a nimble, funny take, with Moffat dropping increasingly impenetrable and slimy slang on Jost in between offhand admissions of his inadequacy in the sack. Being joined by broseph Gosling as the shades-wearing Guy Who Just Joined Soho House gives Moffat someone to play off of, and Gosling does fine (shades help hide cue-card face), but it's the exact same jokes.
Best/worst sketch of the night
The episode got big, welcoming laughs for some greatest hits (see below, and above—see most places), but the show was best when it got weird. The top of the heap was "Papyrus," a fake movie trailer about a regular guy (Gosling) who reveals an obsession with the fact that billion-dollar blockbuster Avatar used the hackneyed titular font in its logo and advertising. SNL's movie parodies are usually very good, and Gosling sells the hell out of the premise here, his character's mounting mania about the film's graphic design laziness couched in increasingly specific criticism. Ranting about said designer simply highlighting and then using the Papyrus setting "like a careless child," he notes that such slackness is suitable only for Shakira merch and "off-brand teas." McKinnon's therapist and new featured players Chris Redd and Heidi Gardner both have funny bits echoing the specificity while brushing off Gosling's fury. ("Whatever the starting point, they clearly modified it!") A silly idea executed with rigor and internal logic is usually a candidate for top spot on any SNL, and "Papyrus" is just super.
"The Fliplets" similarly puts Gosling's acting chops in service of an off-kilter bit. Here, HGTV's new home improvement show features three brothers (Mikey Day, Moffat, and Gosling), two of whom have to try to rein in Gosling's troubled adult sibling as he gradually reveals the details of his much rougher upbringing. After the divorce, he reveals, he was the only brother to live with their dad, an experience that's left him prone to oversharing ("Not really the platform, buddy!," grins the desperate Day), even about that time when he was 12 and watched in fascination as a guy was creamed by a bus.
The restaurant sketch, too, made smart use of Gosling's ability to play intense when he and an equally funny Cecily Strong realize they've been duped into eating food from a certain fast food chain instead of the trendy Italian meal they'd been promised. Day, as the eminently reasonable commercial pitchman dealing with the couple's horror at being shown up as foodie poseurs, does good work maintaining an even tone while explaining patiently to Gosling and Strong that there were really a lot of clues that they were part of one of those bait-and-switch ads. ("This is a warehouse with three tables," Day appeals to them, also noting that they enthusiastically signed releases and mugged to the camera during their meal.) Funny stuff, although the double-barrelled, careful-not-to-offend product placement element of the sketch is the sort of now-mandatory SNL marketing strategy that leaves a bad taste. (The stinger of the sketch brings in yet another Italianate fast food franchise.)
Look for the episode's other successfully deployed weirdness in the ten-to-one spot below.
Proving that weirdness for weirdness' sake isn't a guaranteed winner, though, the chicken sketch film noir parody just did not work. (Don't make a "laid an egg" joke, Perkins, you're better than that.) The idea that fugitive Gosling's rogue would use his wiles to manipulate Aidy Bryant—who's playing a human-sized chicken—is the sort of premise that needs some careful tending if it's going to pay off. But this was slackly paced and played out mostly to dead air. Props, as ever, to Aidy for throwing herself into literally anything.
"What do you call that act?" "The Californians!"—Recurring sketch report
Merkel and Guy Who Just Bought A Boat were agreeably ordinary on Update. And Gosling, Strong, and McKinnon kicked off the season (after the Trump cold open and the monologue) by wheeling out the alien abduction sketch the three memorably debuted during Gosling's first hosting stint. I love Kate McKinnon, and, while Gosling's tendency to erupt in Jimmy Fallon-esque giggle-fits is, well, Fallon-esque, that first outing was completely irresistible, so he gets a pass. McKinnon does most things exceptionally well, but she's perhaps best at bringing to life damaged but undaunted women, and her eternally beleaguered-by-the-supernatural Miss Rafferty is just as eternally indomitable. You know, even when she's relating the details of, once again, being treated to a much more low-rent and suspiciously sleazy extraterrestrial experience than that of her awestruck co-abductees. (Here, the creepy little grey aliens demonstrate a relentlessly handsy fascination with her human butt.) But, for the first proper sketch of the new season, it's an awfully safe and unambitious choice. Hearing McKinnon spout ever more euphemisms for her privates gets guffaws from the cheap seats, but, again, we've heard these exact same gags before. And, yes, Gosling can't keep it together, but, as the fearless McKinnon was enthusiastically manhandling (and face-handling) his ass for an extended period, we'll, once more, let it slide. He's only human, after all.
"It was my understanding there would be no math"—Political comedy report
The first cold open of season 43 featured Alec Baldwin's Donald Trump, which was neither a surprise nor a problem, really. After winning an Emmy for skewering Trump on SNL all last season, and knowing that Trump absolutely loathes said impression pretty much ensured Baldwin's continued presence in the wig and greasepaint. And there's certainly comedic and ratings value in having an in-house Trump that will be the talk of the country (and Trump's toilet tweeting) on Sundays. But I'm on record as calling Baldwin's a serviceable impression rarely helped by the pedestrian point-scoring the show's writing passes off as satire of this (as noted) "really difficult to make more ridiculous than he is" figure.
Here, the sketch sees Trump (entering to the expected hootin' and hollerin' from the Studio 8H audience) returning to the White House early from his latest golf trip (which he's still on in actuality) to deal with that whole "an American territory is destroyed and millions of U.S. citizens are in immediate peril" thing. With Aidy Bryant's sycophantic Sarah Huckabee Sanders eager to spin this PR (as in Puerto Rico) disaster for him, Baldwin's Trump runs down the "Trump is a shitty president and human being" checklist. Fielding a call from San Juan Mayor Carmen Yulín Cruz (Melissa Villaseñor), only to insult the desperate woman's calls for aid as "nasty," and scolding Puerto Rico for owing money are all things that this jackass has done in the wake of the most devastating disaster in the island's history, so fair enough. But there's precious little spin to the jokes beyond referencing admittedly too off-the-charts awful reality of life in Donald Trump's America to elicit more than easy laughs and safe applause. Sure, it'll piss Trump off, too, but—regardless of whether or not you find Donald Trump a disgraceful, bloated cartoon of a racist grifter—the things Trump does and says are too rich for parody and mockery to just have him settle into yet another SNL recurring bit. (McKinnon, once again, livened things up, her genuinely unsettling Jeff Sessions an Alfalfa-affected evil little hate-goblin, sitting on Trump's lap and admitting, "I may look adorable, but I'm a-frightening.") Indeed.

I am hip to the musics of today

Jay-Z did two songs of of recent album 4:44, the reggae-styled "Bam" (with Damian Marley), and the self-diss track confessional title song. I'll let the A.V. Club's much more capable music critic Clayton Purdom expound upon Jay's continued relevance.
Most/Least Valuable (Not Ready For Prime Time) Player
I mean, it's Kate McKinnon in a walk, yes? (Fellow remaining Emmy nominee Leslie Jones barely appears tonight.) Aidy—as little as I liked that chicken business—is always fun to watch, and had a whole chicken suit built for her, so that counts for a lot. I was surprised that Mikey Day and Alex Moffat weren't promoted to main cast status in the opening credits, as they continue to be in heavy rotation.
Speaking of featured players, Heidi Gardner and Chris Redd got the merest chance to pop, which they did. Other new guy Luke Null—apart from joining in the mediocre "Levi's Woke" parody commercial, started the season on the bench.
"What the hell is that thing?"—The Ten-To-Oneland Report
Gosling's jazz riff came back right at the end of the episode, with Gosling, Kenan Thompson, and Kyle Mooney playing a jazz-rock trio (flute, vocals, and keyboards, respectively) whose sports-bar gig gradually devolves into a series of stranger and stranger digressions, both about Gosling's recent legal and woman troubles, and news of a break-in at the apartment he and Kenan share. With Mooney's hep cat blurting out gravelly advice for Kenan to "let it go" in time with the intermittent music, the ever odder details of Gosling's love-triangle crime entanglement ("The attorneys?" "That's how they introduced themselves, yes."), and Kenan's obsession with the safety of his good jeans, just hit that ten-to-one sweet spot.
Stray observations
Trump advises Cruz that Puerto Rico should have sprung for "FEMA Prime."

"HGTV, 'cause your house sucks!"

Che, on Saudi Arabia's recent announcement that the country's women would finally be allowed to drive cars: "Only a few short years after cars were allowed to drive themselves."

McKinnon's exasperated Merkel calls Trump "This mutter-führer."

"Officer? That's either the police or the military!"

Strong's outraged diner to Beck Bennett's disguised chef: "You should be disbarred!"

Kenan, trying to wheedle out whether or not Gosling's married girlfriend is pregnant: "I'd like to make you both a little something from Build-a-Bear!"

The show ends with a title card honoring one-time host Hugh Hefner, who died this week, and memorably sang a cringe-worthy rendition of "Thank Heaven For Little Girls" on the show.
Welcome back to the A.V. Club's continuing coverage of season 43 of Saturday Night Live. I'm Dennis and I'll be your reviewer as always. Next week—Wonder Woman's Gal Godot smashes her way into Studio 8H along with musical guest Sam Smith.