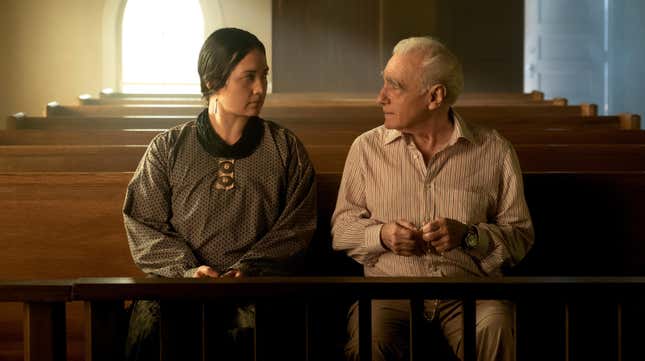 The standing ovation has taken on its own sort of mythology at film festivals over the years. Sure, Cannes and its ilk hand out actual awards at the end of each year's competition—and reviews for films like recent Cannes premiere Indiana Jones And The Dial Of Destiny roll out within minutes of a premiere screening's end. But if you want a quick, very dirty, and slightly blistered metric for the reception a film gets at one of the big fests, it's hard to deny the spectacle of a whole auditorium of people performatively clapping their hearts out while standing for minutes on end.
Why Christian Bale just can't quit David O. Rusell
All of which is to note that Martin Scorsese's latest movie, Killers Of The Flower Moon, has now been rated in the Court Of Claps, and has come away with a pretty happy verdict: A nine-minute ovation, which isn't bad, considering the movie itself is three-and-a-half hours long, and we have to assume that some of those enthusiastic applauders probably had to piss pretty pointedly by that point.
Based on the book of the same name by David Grann, Scorsese's film centers on a series of real-life killings that took place in the Osage Nation in 1920s Oklahoma, which, among other things, helped pave the way for the creation of the FBI. The film stars Jesse Plemons as a former Texas Ranger tasked with investigating the killings, and features lead performances from Leonardo DiCaprio, Robert De Niro, Lily Gladstone, Brendan Fraser, and more. Filmed primarily in the areas where the actual killings took place, Scorsese reportedly worked closely with members of the Osage Nation to depict the events of the film respectfully and meaningfully, re-shaping the film's narrative after receiving feedback from some of the families of the people affected by the killings.
Meanwhile, if you need, like, words to tell you about a film—and not the pure, unvarnished sound of two hands clapping—the reviews out of the movie's Cannes premiere have been strong, with especial praise going to Gladstone for her performance. A few outlets have suggested that 206 minutes might be stretching Scorsese's ability to keep a handle on his material—Variety's fairly harsh review accuses Killers of being better as a miniseries than a film—but the general consensus is that the director and his cast and crew have another classic on their hands. Of course, we'll know more once Killers Of The Flower Moon gets its domestic release, which is set to landin theaters on October 6, 2023 before heading to Apple TV+.