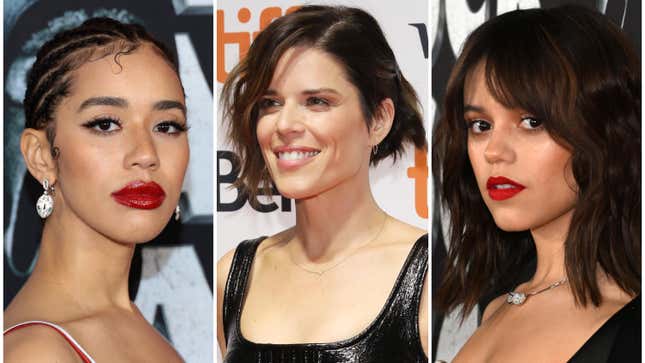 Can Scream exist without Sidney Prescott? Based on the warm early reception for Scream VI, it seems the answer is yes. Still, Neve Campbell's shadow looms large over the beloved horror franchise, so everyone whose name is still attached to the series has been asked to comment on her absence. Some veterans weighed in back when Campbell announced she was bowing out; now that the new installment has premiered, there's been another round of questions.
Jack Champion on "Scream VI" and working with James Cameron
"It was really unfortunate," new series star Jenna Ortega told Elle. "Especially because Neve is the coolest, sweetest most talented lady. The franchise wouldn't be what it is without her." However, her character left an impact on the sixth film: "It's very clear, like, there's references to Sidney, of course," Ortega previously told Entertainment Tonight.
Fellow Scream newcomer Jasmin Savoy Brown agreed that Scream VI is "absolutely always paying homage, honoring everyone who came before while giving Courteney [Cox] a new moment to shine." Cox, the series' last remaining star, told ET, "Of course, other characters are missed," referencing not only Campbell but her ex-husband David Arquette. Speaking with The Hollywood Reporter, Cox added of Campbell, "We always have different storylines but she is always missed. She's an incredible actor and girl."
Meanwhile, co-director Tyler Gillett opined to THR, "I think the only way to honor this legacy and anybody, all of the characters who have appeared in [the franchise] over the last 27 years now, is to make a great Scream movie and that's what we set out to do." To ET, he added "that there are echoes of those characters [played by Campbell and Arquette] throughout this movie. There's no Scream movie without referencing those characters."
Executive producer Chad Villella said that "we're like the biggest Neve fans in the world" (per THR), while screenwriter Kevin Williamson told Page Six, "There's always room for her to come back." Williamson went on, "You know, the door is wide open and if she ever wants to come play with us again, we're here. [Neve] is a friend of mine. We stay in touch all the time."
Fellow Scream OG Skeet Ulrich, present at the new movie's premiere, dished to People on the subject: "We were together over the weekend at a convention. She loves it; she loves what we've done. There were just business things as a businesswoman that are important to her, and we all stand behind her."
"She's the final girl, no doubt," he continued. "But yeah, I think she misses it, all of it and everything. This is new to me—I did [the original Scream] and then a big jump, we didn't have this kind of thing obviously because of the pandemic for [last year's fifth Scream], so this is like years and years' of growth. So I think she has more to miss. To me, it's new and exciting."