Halloween may seem oh so very far away in this, the season of nauseating romance and winds that are the bad kind of bone-chilling, but Waxwork Records is keeping the Samhain spirit alive even in the depths of winter. As well as reissuing deluxe vinyl soundtracks for horror classics like The Exorcist and Evil Dead 2, the label has its own comics division, Waxwork Comics, and its flagship anthology series, House Of Waxwork, has a new issue debuting tomorrow, February 2. The series—whose first issue our own Alex McLevy says recalls "a time when horror reveled in the grotesqueries of the dime store pulps, and your imagination did the rest"—draws from the same ghastly EC Comics tradition that inspired Creepshow and Tales From The Crypt, but with the added bonus of original music inspired by each story. Those come on an exclusive 7" bundled with each comic book, a package you can order on the Waxwork Records web site.
House Of Waxwork, Vol. 2 features stories from God Country and Baby Teeth writer Donny Cates ("Nowhere Wolf," about a bloodthirsty creature stalking a 1940s carnival) and Rami Sharkey ("Time Capsule," about a fireman and a young girl trying to survive a nerve-gas attack that has turned their entire town into zombies), with White Zombie bassist Sean Yseult and veteran horror-film composer Douglas Pipes (Trick 'R Treat, Krampus) soundtracking each tale.
We've got an exclusive stream of the music from House Of Waxwork, Vol. 2 below, as well as exclusive images of the comic, cover art, and colored vinyl variants. As our old pal The Cryptkeeper would say: Screaming is fundamental, kiddies!
G/O Media may get a commission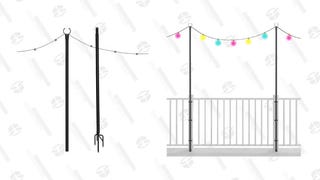 Up To 49% Off
Holiday Styling String Light Poles