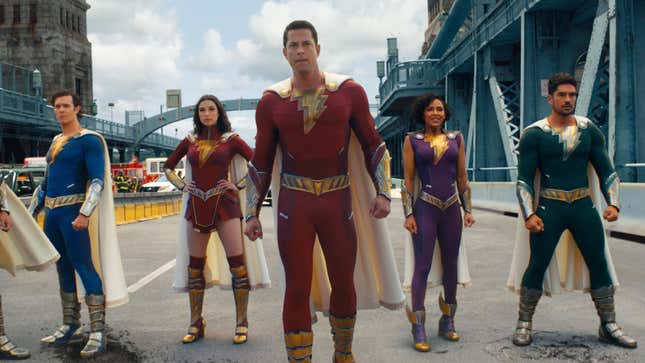 Shazam! Fury Of The Gods, the long-awaited sequel to Shazam!, is right around the corner. But it's been four years since the original film debuted, so you'd be forgiven if your memory of it is a little fuzzy. Here's a quick breakdown of everything you need to remember from the original and what to expect from the sequel.
Gugu Mbatha-Raw says Loki acts as an "origin story" for Ravonna Renslayer
Okay, remind me, what's going on with these movies?
Shazam! Fury Of The Gods has had a surprisingly difficult journey to the big screen, especially given that the first one was pretty well-received. It might sound like damning Shazam! with faint praise to say that it's one of the best movies in the DCU, given the franchise's shaky track record, but it's a genuinely charming film that nicely captures the childhood joy of superheroes. Warner Bros. announced a sequel after a strong opening weekend in 2019, though fans became concerned when the studio scheduled the follow-up for 2022. Still, director David F. Sandberg did a good job addressing concerns about the children in the cast aging faster than their characters.
That should have been the biggest hurdle Shazam! Fury Of The Gods had to clear. But then the pandemic hit, Fury Of The Gods got pushed back several times, Zachary Levi decided it was a good idea to send some cryptic tweets that sure sounded a lot like anti-vaccine sentiment, and James Gunn announced a plan to blow up the current DCU and start over.

All of this means Shazam! Fury Of The Gods is facing a much stronger headwind than the original, which is a shame, because setting aside all the real-world difficulties, there are still plenty of reasons to be excited about it. Shazam! screenwriter Henry Gayden also scripted the sequel, so we can expect thematic and tonal consistency—a strength of the first film. And honestly, it'll be nice to relax with a fun superhero movie without worrying about how it connects to 20 other films.
G/O Media may get a commission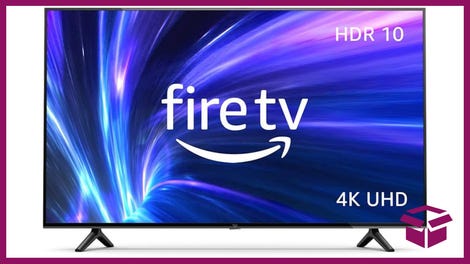 42% Off
Amazon Fire TV 50" 4K Smart TV
So what happened in Shazam!?
This is a bit convoluted, but the movie actually does a good job of explaining everything. Fourteen-year-old Billy Batson (Asher Angel) is growing up in foster care in Philadelphia. After defending one of his foster siblings, Freddy (Jack Dylan Grazer), from bullies, Billy is transported to the Rock Of Eternity, a realm where the wizard Shazam (Djimon Hounsou) resides. Turns out Shazam is looking for a new champion. He's been summoning candidates for millennia, since his last champion (that would be Black Adam) went rogue, released the Seven Deadly Sins, and killed a bunch of people. But he hasn't been able to find someone with a pure enough heart, until Billy arrives and seems to be his golden ticket. The wizard Shazam gives Billy the power to transform into an adult superhero called Shazam (Zachary Levi). This is where it gets slightly confusing: Hounsou and Levi don't play the same character. The wizard Shazam and the superhero Shazam just share the same name.
When Billy transforms into Shazam, he's basically invincible and super fast. Later, he finds out he can fly, too. Obviously this kind of power is going to attract unwanted attention, and some rich jackass named Thaddeus Sivana (Mark Strong) shows up and tries to steal Billy's powers. Turns out Sivana's salty because the wizard Shazam summoned him as a child, but ultimately decided not to make Sivana his champion. As any well-adjusted person would, Sivana spends the entirety of his adult life trying to gain magic powers. He eventually finds his way back to the Rock Of Eternity and steals the Eye Of Sin, which replaces his right eyeball and allows him to control the Seven Deadly Sins. Sound familiar? Yeah—that's what Black Adam did that got him entombed for eternity.
Okay, we know—this is getting to be a whole lot of superhero nonsense. Stick with us, though, because we're through the worst of it. Sivana's got powers, but that's not enough. He wants revenge on the wizard Shazam, and that's why he shows up to steal Billy's powers, too. This is when the compulsory third-act battle happens and the heroes emerge victorious—and yes, we're saying heroes, because Billy uses the wizard's staff to transform his foster siblings into superheroes, too.
Yeah, I'm gonna need a TL;DR for that
An ancient wizard named Shazam gives 14-year-old Billy Batson the ability to turn into a super-fast, basically invincible adult superhero, some bitter jerkoff tries to steal his powers, and Billy defeats him with the help of his foster family.
So what's going on in Fury Of The Gods?
Billy and the Shazam fam are just hanging out and enjoying their victory over Sad Thad when three women calling themselves the Daughters Of Atlas start causing chaos, and Billy and his friends have to jump in and stop them.
And who are the Daughters Of Atlas?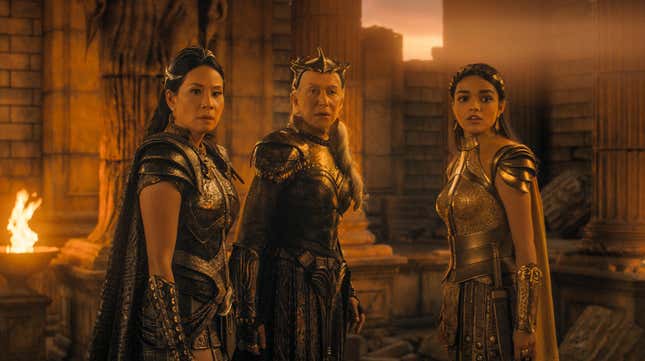 The official description from Warner Bros. says they are "a vengeful trio of ancient gods." Which is really underselling the fact that they're played by certified badasses Helen Mirren, Lucy Liu, and Rachel Zegler. The WB press release also helpfully identifies Mirren as the star of F9: The Fast Saga, in case you're not familiar with her resumé.

Are they the furious gods mentioned in the title?
They seem to be, yeah.
And why are they furious?
Apparently, they're searching for "the magic stolen from them long ago." Hespera (Mirren), Kalypso (Liu), and Anthea (Zegler) are all original characters created for the film, so we don't have any comic-book backstory to give us any more insight.
Are there any sick cameos like that headless Superman bit at the end of Shazam!?
There's at least one big cameo that Warner Bros. inexplicably spoiled in a TV spot. This person does have a head, though.
What are those demon unicorns in the trailer?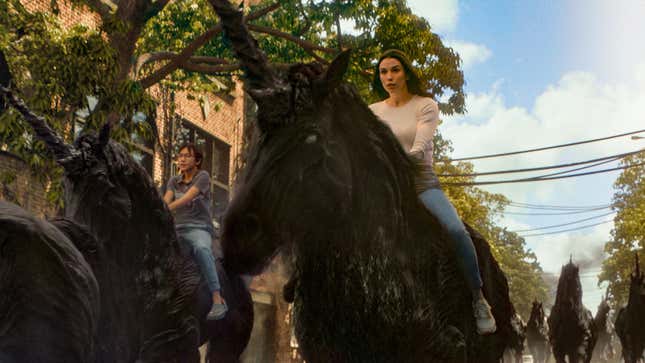 They don't seem to have any special significance, but they sure are cool.