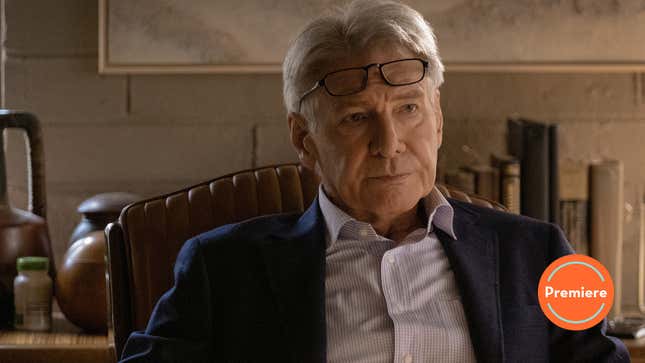 Sigh. Where to begin with Shrinking?

Maybe with its cloyingly twee title. Because get it? Shrink-ing! Because he's a shrink doing what shrinks do. But it's possibly also "shrinking," as in taking up less space, since maybe that's what the characters of this new Apple TV+ series are going to learn to do over the course of the season?
I'll admit that I had high hopes for this show. Like that streamer's most lauded comedy series (Ted Lasso), Shrinking has a pedigree that cannot be beat. And that's because it's the same one that brought us that soccer comedy series in the first place (Emmy winners Bill Lawrence and Brett Goldstein share co-creator credits with Shrinking star Jason Segel). Here, after all, is a well-meaning situational dramedy centered on yet another middle-aged guy who is eager to better other people's lives—and sure, he may not opt to go about it in any traditional way.
GRADE FOR SEASON 1, EPISODE 2: C
---
Okay. So, the premise: As the opening scene of Shrinking's pilot shows us, Jimmy (Segel) is struggling. He's all too happy to waste his nights away drunk at his pool with girls whose names he can't remember. His life's been in shambles since he lost his wife. His relationship with his daughter couldn't be worse. And while his neighbor Liz (Cougar Town's Christa Miller) is fine picking up the slack, it's clear something has to change. Especially since someone in such circumstances couldn't possibly have the grounding presence needed to do his job right. Folks come to him (and to his colleagues) to seek guidance. And it does not bode well when he's not really able to be himself. He can't even bring himself to talk to his best friend.

It's in this context that Jimmy decides that, yes, "compassion fatigue" is a thing, sure, but, what if—and hear him out here—what if he just decides to tell his patients what they should do? I mean, it's obvious. Heidi Garner's Grace is clearly blind to the emotionally abusive relationship she's in. Wouldn't she be better off being told by her exasperated therapist that she should dump her partner and move elsewhere (or else risk losing Jimmy as her therapist)? Shrinking, to its credit, doesn't blindly agree with Jimmy's unorthodox method. Or, does it? I mean, the first two episodes suggest that Jimmy's new approach (unethical as it may well, as his colleague Gabby tells him) may not be all too bad—but also maybe not all that good either.
This is most obvious in the way his advice to Grace backfires and collides with his approach to Sean (Luke Tennie), his latest patient, a veteran struggling with anger issues as she reenters society with emotional scars from his time served. The climax of those B-plots crashing into one another (where Jimmy gets beat up, which prompts newly boxer Sean to come to his rescue, landing the latter in jail and the former in hot water) is the clearest moment where Shrinking seems to want its cake and eat it, too. That is, this is a show that doesn't want to pretend that Jimmy forgoing his professional training and ethics will leave him off the hook.
But as episode two shows us, he's still very much committed to bending the rules and doing therapy a little bit differently—all while, obviously, begrudgingly working on himself and the relationships around him that have been clearly hurting since he lost his wife. That subplot at least brings in one of the joys of Shrinking. Namely, Michael Urie, who plays Jimmy's lawyer BFF whose motto "Everything goes my way!" sounds almost too much like a self-aware wink for the way in which Jimmy's "shrinking" is gonna go.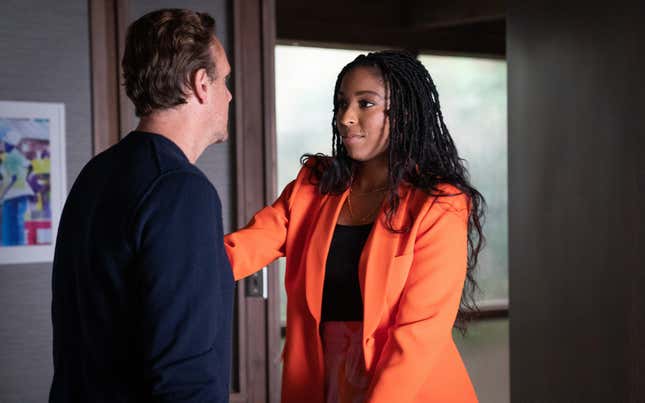 Which is, perhaps, my biggest gripe with this otherwise charming and very funny series. I mean, when you put Harrison Ford in full curmudgeon mode next to Jason Segel and Jessica Williams, there's just not denying that you've got a competently funny show on your hands. But what is it saying? I mean, other than the platitudes it seems to spout: that all of us (even therapists!) are struggling? That we're all doing our best? That we all need to understand that we can only get incrementally better with some quiet, introspective work?
Well, that final one may not be as evident, given how much Jimmy seems to value tangible, immediate results from his patients. But I have to believe that is what's underneath the desire to tell Jimmy's story and to center mental health front and center in a sitcom like this one. And yet, I can't shake off the way what was so beautifully crafted in Ted Lasso (seriously, that season-two foray into the pitfalls and perils of therapy was surprisingly nuanced) is here so flattened into caricature. Again, I know "people dutifully doing their job well" is boring at best in American television (we love us our mavericks, do we not?) but I don't know how to feel about such a topic being handled so, if not flippantly, then maybe without the care it deserves.
Does that make me a humorless shrew who can't take a joke? Quite possibly. But that doesn't mean I don't have high hopes for what Shrinking can be—even if I almost keep wishing it were focused on any number of characters other than Jimmy. Like, what would a show like this look like if it focused on Williams' banter-ey Gabby, or on Ford's no-nonsense Paul? Heck, even on Urie's Brian? Which is not to say Segel hasn't got that brooding melancholy that flutters into zany frenetic energy needed to get us to root for Jimmy. It's just that, well, we may have seen variations on that trope so many times before they've come to blunt their efficacy.
As we look toward the next few episodes, I'll be curious to see whether Shrinking's approach to its central narrative tension (meddling in other people's lives is good! emotional work requires distance and space!) can coexist in a way that allows the show's comedic and dramatic beats to live in harmony.
Stray observations
For all my kvetching, I will admit there are some nuggets of wisdom shared throughout this two-episode premiere. My favorites include mantras like "Not everyone here is a fucking idiot" and "What you resist persists."
Who is behind this amazing PR campaign for pickleball ("the fastest growing sport in America") and how can we stop it?
Michael Urie remains a comedic treasure. His delivery of "I am Atticus Finch! I am Julianna Marguiles! I am Elle Woods!" had me in stitches.
Speaking of comedic treasures, my great hope for Shrinking is that it reminds everyone what a powerhouse Jessica "Don't clap at me, I'm too grown for that" Williams can be—that is, if the show gets to give her more to play than trusty sounding board (though that scene with Christa Miller, yet another comedy pro, was a highlight of episode two, so there is hope).
Anyone else now craving sandwiches and tacos after episode two? Just me? Okay.
Arguably this is a show about grief (or so it bills itself) so I'm curious how its current sitcom-y trappings will meld when it tries to go more serious. (Again, we're basically looking to see whether Shrinking can weasel itself out of the darker beats its constructed for itself in between "hiding in the bushes" and "water-cooler pitter patter" sequences that feel more Scrubs than Ted Lasso right now).
It'll take me some time before I let go of the fact that Lawrence, Goldstein, and crew all but recycled a great Burn After Reading bit (memmoah/memoir) and made me think "Harrison Ford is no John Malkovich," which is just an unfair comparison for all involved.