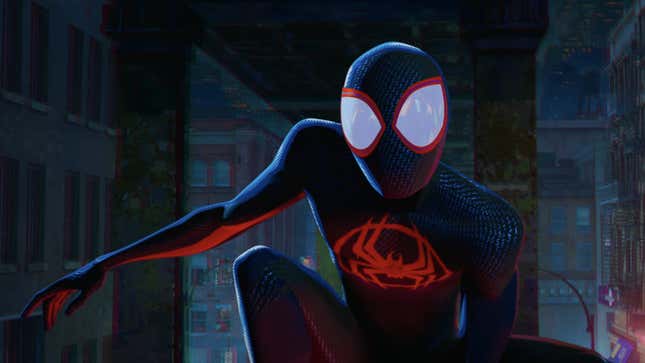 The world certainly hasn't suffered a shortage of Spider-Man sequels in recent years, but we have been waiting in eager anticipation for the sequel to Spider-Man: Into The Spider-Verse. The Oscar-winning animated feature served as beloved counter-programming to the live-action Marvel Cinematic Universe, and the follow-up has been a long time coming. Now there's finally a trailer for (part one of) the sequel, Spider-Man: Across The Spider-Verse, premiering June 2.

Since Miles Morales (Shameik Moore) and his Spider-Gang innovated the form in 2018, films with multiple Spider-Men and the concept of the multiverse in general has become old hat for Marvel. Not to be outdone, this new trailer is filled with the most Spider-Men, and they're all pointing at each other and saying, "You?"
It's called "The Lobby," and it's an elite crew "charged with protecting [the] very existence" of the multiverse. Miguel O'Hara (Oscar Isaac) is the group's strict taskmaster, but he's not all that impressed with Brooklyn's one and only Spider-Man (nor is he impressed with "Doctor Strange and the little nerd back on Earth-199999." Sorry, Tom Holland!) It seems like Miles just isn't angsty enough for this squad of sad Spiders—"Being Spider-Man is a sacrifice," Miguel tells him, as if Miles isn't already balancing lying to his parents about his secret identity with the loss of his uncle in the previous film.
Unfortunately, Miles and Miguel come to an impasse—Miguel thinks he needs to choose between "saving one person and saving every world," while Miles wants to try and do both—that pits the teen hero against all the other spiders. Even his old friends Gwen Stacy (Hailee Steinfeld) and Peter B. Parker (Jake Johnson) aren't fully on his side. No matter what, though, Miles is gonna do his own thing.
In addition to Isaac and the returning cast, Across The Spider-Verse stars Issa Rae as Spider-Woman, Daniel Kaluuya as Spider-Punk, Jason Schwartzman as the Spot, as well as Brian Tyree Henry, Luna Lauren Vélez, Greta Lee, Rachel Dratch, Jorma Taccone and Shea Whigham. The film is co-directed by Joaquim Dos Santos (Avatar: The Last Airbender), Kemp Powers (Soul) and Justin K. Thompson (Spider-Man: Into The Spider-Verse) from a story by producers Phil Lord and Christopher Miller and Dave Callaham (Shang-Chi And The Legend Of The Ten Rings). Part one of the sequel debuts June 2, while part two, Spider-Man: Beyond The Spider-Verse, is slated for theaters on March 29, 2024.