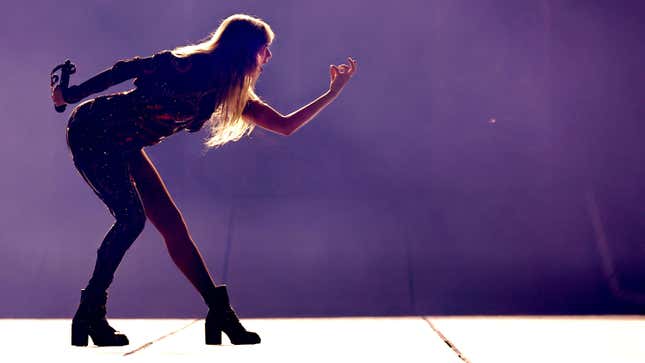 Sometimes it feels like they're just making up new records to give to Taylor Swift. According to Billboard, "Swift is the only act with nine different albums to sell at least a half-million copies in a single week," a record so incredibly specific that it's functionally meaningless. The words begin to blur, and all that's left is the conquering warlord remaking American cities in her image, the only person powerful enough to topple Morgan Wallen's reign of terror. (Speak Now (Taylor's Version) also had the biggest week of "equivalent album units earned" for 2023, beating out Wallen's One Thing At A Time.)
The FBI wants Swifties to know snitching is actually cool
With Speak Now (Taylor's Version) easily taking the top spot on the Billboard 200 albums chart, Swift becomes the first living artist to have four albums (Speak Now (TV), Midnights, Folklore, and Lover) in the top 10 at the same time since trumpeter Herb Alpert did so in 1966. The only other artist to do so is Prince, and only in the immediate wake of his death in 2016, when five of his albums soared up the charts.
Speak Now (Taylor's Version) also marks Swift's 12th number one album, making her the female artist with the most number ones in the history of the charts. She was previously tied with Barbra Streisand (as well as Drake and Bruce Springsteen). The only artists with more number one albums are Jay-Z (14) and The Beatles (19), per Forbes.
Among other nonsensical achievements, per Billboard: Swift is the only woman to achieve a number one album five consecutive years in a row (an accomplishment shared only by Drake, Jay-Z, and Paul McCartney, and topped by The Beatles' seven years). Speak Now (Taylor's Version) is the second-largest vinyl record by sales since Luminate began electronically tracking music sales in 1991, topped only by Swift's Midnights. It's the second biggest album by sales of 2023, topped only by Swift's Midnights.
Taylor's Versions are something of a cheat code to the top—she gets a brand new number one for essentially the same album she's already released. After all, only one of Streisand's number one albums was a Greatest Hits. Swift has certainly proved herself canny at repackaging an old product and selling it back to her fans for more profit. At the end of the day, though, that method wouldn't work if people weren't buying what she's selling, and they're obviously buying it to a degree that no other artist today is achieving. The Eras Tour is on track to make over $1 billion and become the highest grossing tour of all time, per CNBC. If there's a record to be broken, Taylor Swift will surely break it; if she hasn't broken it, it's just because she hasn't gotten around to it yet. If there is no record to break, then she will invent one sooner or later. It's Taylor Swift's world, and we're all just living in it.