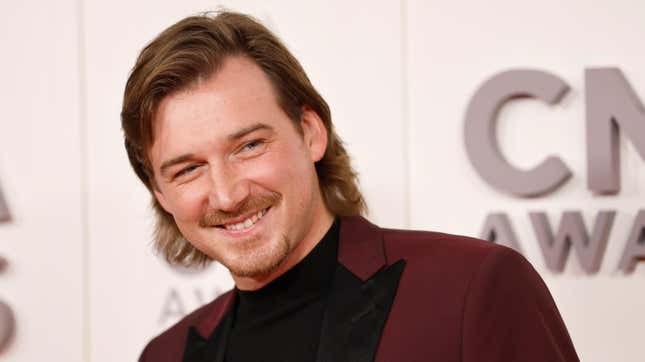 Morgan Wallen has accomplished a chart coup with his new album One Thing At A Time, which was released on March 3. On Monday, Billboard reported that the 36-track record has become the artist's second number-one album, while the single "Last Night" is his first number one track on the Billboard Hot 100. Wallen currently claims five spots on the Hot 100 chart, including "Last Night," "One Thing At A Time" (at #10), "Thinkin' Bout Me" (at #9), "You Proof" (At #8), and "Thought You Should Know" (at #7).
Kenny Loggins on "Playing With The Boys" and "Danger Zone"
Holding half the spots on the Hot 100 chart is an unprecedented success for a country artist. Taylor Swift didn't achieve the feat of five or more spots until she crossed over to pop (though of course, she's the only artist ever to hold all ten slots). Wallen is only the sixth artist to have done so at all, alongside Swift, Drake, 21 Savage, Juice WRLD, and The Beatles. He's the first to hold the #1 spot on the Hot 100 and Hot Country charts simultaneously since Swift's "All Too Well (Taylor's Version)," and the first unaccompanied male artist to do so in 42 years. Only 20 tracks in the chart's history have ever done so—that list includes songs like "Islands In The Stream," "Rhinestone Cowboy," and "9 To 5." (He's also the first contestant from The Voice to top the Hot 100 chart, which doesn't say much for The Voice's 23 seasons of churning out singers.)
In short: Wallen is without a doubt the biggest country artist in the world right now, and likely of the decade. His previous record, 2021's Dangerous: The Double Album, has spent 110 non-consecutive weeks in the top ten of the Billboard 200 chart, the second-longest streak of any album after the original cast recording of My Fair Lady, per Billboard. He's an unqualified blockbuster success at a time when it's harder than ever for new artists to break out.
Even Wallen's various and sundry scandals haven't slowed his ascent. In 2020, he was arrested for disorderly conduct and (temporarily) turned away from Saturday Night Live for violating COVID-19 protocols. He was later (temporarily) suspended from his record label and removed from the playlists of some major radio networks after being caught on camera saying the N-word in February 2021. The latter didn't put a dent in Dangerous' sales; in fact, the singer reportedly experienced a surge in sales following the incident. With One Thing At A Time proving to be similarly successful, it seems that Morgan Wallen truly can't be stopped.