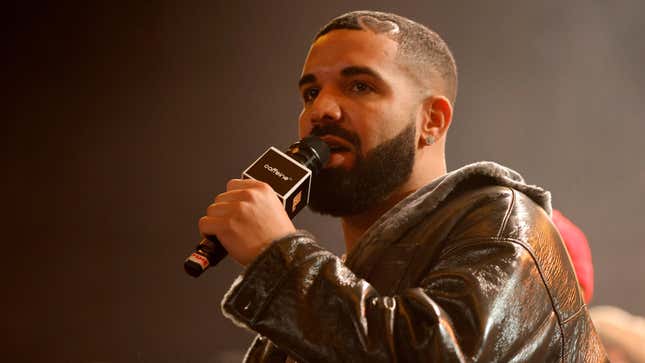 Hell hath no fury like a stan scorned. Swifties have already mobilized against Ticketmaster, the ticket distribution company that has a stranglehold on the entertainment industry. The disaster of The Eras Tour sale may have gotten the most press, but Taylor Swift is far from the only artist who has been affected by Ticketmaster's business practices. In fact, Drake fans have now followed suit—quite literally—and are taking legal action against the company as well.
Randall Park on workplace comedies, Jimmy Woo, and MCU vs. DCEU
The new class action lawsuit from a Montreal firm regarding the sale of "Official Platinum" seats for Drake's "It's All A Blur" tour, according to The Toronto Star. The suit references a fan who purchased his tickets for the show at the Bell Centre on July 14 for $789.54, only for an additional date to be added and the same seats offered "for more than $350 less." The law firm, LPC Avocat Inc., is arguing that Ticketmaster was well aware that Drake would play multiple dates in Montreal but "concealed this information" to inflate prices of the first show. The suit states that the company "intentionally misleads consumers for their own financial gain."
"Ticketmaster unilaterally decides which tickets it advertises and sells as 'Official Platinum' based on a given event," reads the application for the class action, per The Star. "The result is that most, if not all, of the tickets advertised and sold as 'Official Platinum' are neither 'premium tickets' nor 'some of the best seats in the house' and are, in fact, just regular tickets sold by Ticketmaster at an artificially inflated premium in bad faith."
Should the suit go forward, the firm is seeking "compensatory damages in the aggregate amount of the difference between the prices charged for 'Official Platinum' tickets and what their regular price ought to have been" as well as $300 per customer in punitive damages.
Although the United States Senate held a hearing about Ticketmaster in The Eras Tour aftermath, so far no substantial changes have been made. However, if the company continues to enrage fanbases for artists of the caliber of Swift and Drake, in addition to the artists themselves who have already spoken out about these issues, then parent company Live Nation's monopoly may finally be threatened. The power of fandom could change the world!