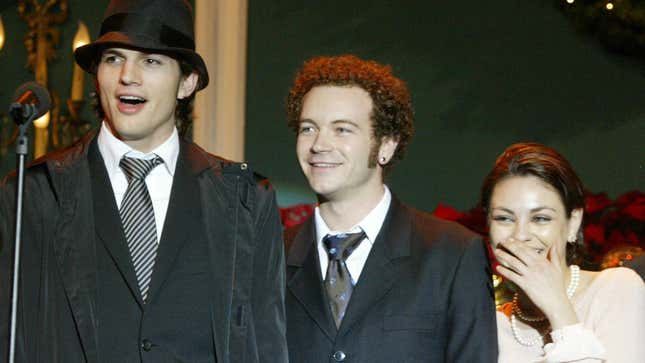 In this day and age, no one can escape their digital footprint, especially if they're a celebrity. Depending on how long you've been working, there are hundreds if not thousands of hours of footage of interviews or blooper reels or livestreams, catalogs of posts and tweets and comments on the record. The Internet has made it easier than ever for amateur sleuths to unearth old dirt, and should a celebrity step out of line, trust that the dirt will be spread around.
Food Network host Jonathan Bennett dishes on "Halloween Wars"
That's what's happening to Ashton Kutcher and Mila Kunis after news emerged that they'd written letters of support for their That '70s Show co-star Danny Masterson, asking for leniency after Masterson was convicted on two counts of rape. The married couple issued a sort-of apology after the letters went public, but the damage was done. (In fact, the awkward apology probably made things worse.) Writing a glowing character reference for a convicted rapist put Kunis and Kutcher in the crosshairs, and opened the floodgates for a wave of seemingly incriminating clips from their past that paint the pair in an even worse light.
There's a clip of the duo, not yet romantically involved, joking about how Masterson dared Kutcher to surprise Kunis with a French kiss on set when she "was a 14-year-old little girl" (in her words). There's a clip of Kutcher from his show Punk'd describing Hilary Duff as "one of the girls that we're all waiting for to turn 18, along with the Olsen twins." (Duff was 15 at the time.) A clip of Kutcher joking that he only did a '70s Show promo video because he was told Kunis would sit in his lap. Clips of Masterson and Kutcher, then in their 20s, calling a teen Kunis "hot" and "sexy." At 14 "she was even hotter, but I'm not allowed to say that," Masterson says in one clip where he's apparently being interviewed alongside Kunis.
https://x.com/koliikat/status/1700525741656482290?s=20
The relentless resurfacing extends even beyond those pals who wrote letters of support. Since Wilmer Valderrama was part of the culture of That '70s Show, his infamous interview with Howard Stern has also come back up. In it, he discusses his sex life with young celebrity women in ugly, derogatory terms, bragging about taking Mandy Moore's virginity, commenting on ex Lindsay Lohan's body, shaming Paris Hilton, and joking about using drugs to date rape women. (Valderrama has a history of dating much younger women, having dated Moore when she was 16 and he was 21, and Demi Lovato when she was 17 and he was 29.) In another Masterson clip, he jokes about asking people to "grab my balls," to which interviewee Conan O'Brien responds, "I've heard about you, and you'll be caught soon."
What can we learn from resurfaced clips?
The question is, how much stock—if any—can we put in years-old, decontextualized clips? The phenomenon is notable, or at least viral, enough to make headlines at BuzzFeed, Rolling Stone, Variety, Entertainment Weekly, and of course, The A.V. Club. But does bringing these clips back into the public eye add anything to the situation? Masterson has already had his day in court, and will spend 30 years behind bars for his crimes. Kutcher and Kunis have already revealed their priorities in the content of their letters and the failure of their flat apology. (Valderrama, not involved in Masterson's case, nevertheless gets re-outed every few years as a former sex pest, whether it's from the resurfaced Stern interview or an eviscerating takedown like Lovato's "29.")
From one angle, the resurfaced clips illuminate the culture of That '70s Show, which does come across as permissive, lewd, and objectifying. That was celebrity culture in the late '90s to early 2000s, a media atmosphere that was infamously misogynistic and hostile towards female celebrities. There is a temptation to point to these clips and say, "Of course this environment produced a rapist," or "We should've known all along." The truth is more complicated than what a handful of unrelated, out-of-context clips can illustrate. Yes, given the serious nature of the allegations against Masterson, which stretch back decades, there is value in reexamining where he came from. But an off-color joke on a talk show isn't really a smoking gun when there are actual crimes to consider.
For Kutcher and Kunis, too, their actions this week are enough to condemn on their own, even if their actions don't reach the severity of which Masterson has been convicted. Nevertheless, there's clearly some sort of pleasure, or at least vindication, in being able to revisit these moments in the past and connect them to the issues of the present. There won't be any punishment for the rest of the That '70s Show cast beyond public shaming. If that's the one outlet the Internet has, then people will take advantage, whether it's a productive addition to the discourse or not.