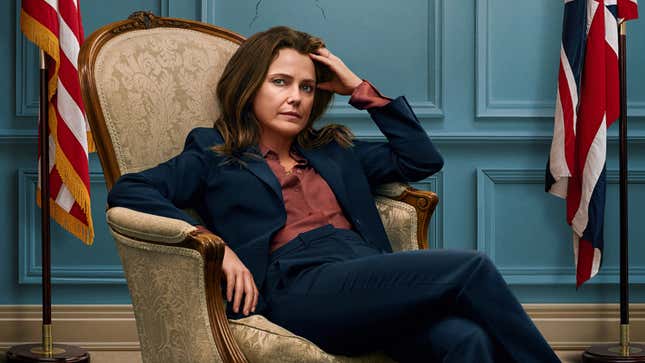 Whether it's espionage or fending off an amphetamine-happy bear, Keri Russell has a certain affinity for playing the tough who get going when the going gets tough. But the first trailer for Netflix's The Diplomat places Russell in a setting that finally makes her break a sweat: international relations.
"Jeopardy!" Slammed For Insanely Distasteful Question
In the series, Keri Russell plays Kate Wyler, a new US Ambassador to the United Kingdom who finds herself immediately inundated with putting out political and personal fires. Although Kate has experience in crisis and war zones, she's much greener when it comes to navigating parliament and rubbing elbows with the Prime Minister (Rory Kinnear). Plus, as one of Kate's embassy confidantes (David Gyasi) tells her: the house is already on fire.
The teaser also finds the weather looking stormy on the home front: although Kate's husband Hal Wyler (Rufus Sewell) has left his ambassador days behind to cultivate his political rising star, he's not exactly ready to relinquish his area of expertise. "I'm not doing this the way you would," Kate tells Hal.
"That's fine," he responds. "Just don't do it wrong."
What Kate seems most uninterested in is what she calls the "whole Cinderella thing:" Unlike a certain luminous SUNY Purchase grad, Kate isn't interested in playing Princess Diana (as her uncomfortable grin-and-wave during a photo shoot in a literal horse and carriage indicates).
Showrunner Debora Cahn, whose previous credits include both The West Wing and Homeland, clearly knows her way around a political drama. Cahn also serves as an executive producer on the series, alongside Russell and Janice Williams (Pieces of Her, The Magicians).
In her own tease, Cahn previously described The Diplomat "as a show about the transcendence and torture of long-term relationships." If it's capturing the long-term distress onscreen Cahn is after, she seems primed to deliver: the first trailer fits in roughly two dozen tortured glances in just two minutes.
The Diplomat arrives on Netflix Thursday, April 20.