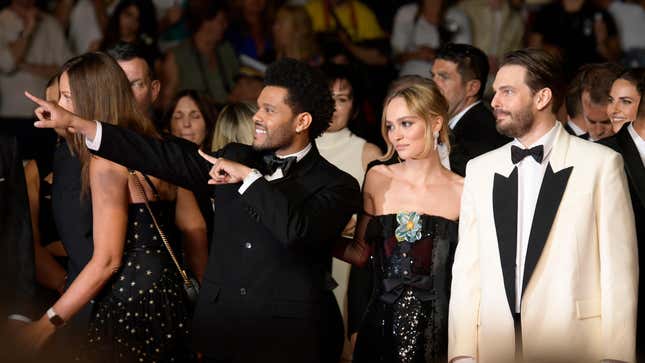 HBO's upcoming drama series The Idol has had a tumultuous development, going from an interesting premise with big-name stars (Lily-Rose Depp and Abel "The Weeknd" Tesfaye) to losing series director Amy Seimetz (who was supposed to direct every episode and had reportedly finished a bunch of them) and HBO replacing her with co-creator Sam Levinson (of Euphoria "fame") who allegedly turned the series into a misogynist "rape fantasy." The Weeknd had a gross and snotty response to those accusations, but he later explained that the behind-the-scenes drama was just part of him being a perfectionist when it comes to the art he creates, be it music or this new (for him) medium of television.
HBO really doesn't want to talk about J.K. Rowling
Well, now The Idol has had its out-of-competition premiere at Cannes, so the first two episodes have been seen by more than just the people who made them. Deadline says that the premiere earned a "five-minute-plus standing ovation," if that means anything to you (it shouldn't, everything at a festival like this either gets a performative long applause break or performative disgusted walkouts), but, perhaps more tellingly, Levinson noted to the crowd at some point during or after all the clapping that he's "incredibly proud of this show" and "proud of the way we made this show"—implying that there is something distinct about the way they made the show, or that there really was some pressure coming from somewhere and that he's happy with the way they handled it.
So the people who made The Idol continue to be happy with the way it turned out, apparently, but we won't really know if that's worth anything until the show premieres on June 4 and regular people get to see it. But, until then, Deadline does have a slightly more involved breakdown of the first two episodes that goes into a little more detail about the plot than what we've previously heard. Depp plays an aspiring pop star, which we knew, with Tesfaye playing a mysterious and charismatic nightclub owner (which we also knew) who starts to take over her life and career with twisted sexual schemes.
The original premise of the show when it was first announced that it was explicitly culty, with Tesfaye's character being an outright villain who twists Depp's character to suit his culty whims, but the trailers (and the behind-the-scenes stories) made it seem like it would be more about how Tesfaye's manipulations are actually good and that he's really turning Depp's character into a more successful pop star with this… twisted sexual schemes.
For what it's worth, Deadline's very quick rundown of what was shown at Cannes does sound more like the first thing than the second thing. Luckily, us regular people don't have to wait too much longer to see the show for ourselves, at which point we can decide if it's "five-minute standing ovation" or "disgusted walkout."