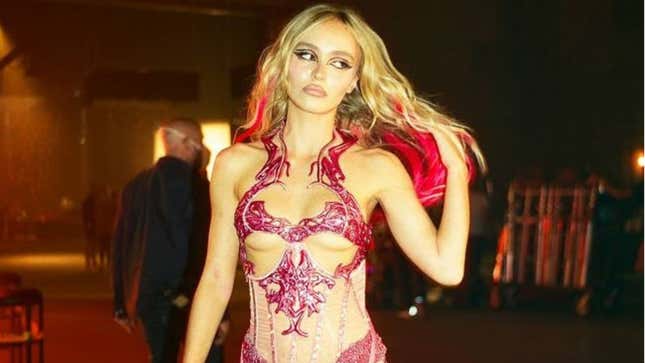 For a while there, it looked like HBO's The Idol might never amount to more than a few moodily lit, Skinemax-esque trailers. But last month, the controversial drama—created by Sam Levinson, Abel "The Weeknd" Tesfaye, and Reha Fazim—was confirmed for an out-of-competition Cannes premiere. Now, The Idol has another new trailer and an official June 4 release date. Most jarring and conflicting of all: the show actually looks pretty good.
Levinson's latest attempt at cementing himself as one of lecherousness' foremost auteurs follows Jocelyn (Lily-Rose Depp), an aspiring main pop girl who wades into depraved waters when her luminous rising star attracts the attention of enigmatic "nightclub impresario" Tedros (Abel "The Weeknd" Tesfaye). Troye Sivan, Dan Levy, Da'Vine Joy Randolph, Eli Roth, Hari Nef, Jane Adams, Blackpink's Jennie Ruby Jane, Mike Dean, Moses Sumney, Rachel Sennott, Ramsey, Suzanna Son, and Hank Azaria round out the cast.
The Idol has benefitted from serious buzz since it was announced, especially ahead of the conclusion of some of HBO's most prestigious and beloved series. But the buzz quickly turned poisonous when Rolling Stone released a report that alleged a downright disgusting creative direction behind the scenes. One source from the production team told Rolling Stone that when the Euphoria creator stepped in to replace initial director Amy Seimetz in April 2022, he started from scratch, reportedly turning the narrative about an exploited pop star navigating the darker sides of fame into "any rape fantasy that any toxic man would have."
Although Tesfaye and Depp both stepped in to refute the report, with Depp calling Levinson "the best director" she's worked with, they still cast a large shadow over the new trailers leering camera angles.
"When was the last truly fucking nasty, nasty bad pop girl?" Troye Sivan's character asks an unseen audience at the onset of the new trailer, ushering in a deliciously satisfying Britney Spears "Gimme More" needle drop, an apt soundtrack for a shot of Jocelyn rushing from paparazzi into a crowded, dimly-lit club. A flirtatious dance-floor grinding session between Jocelyn and Tedros soon leads to a scarily symbiotic relationship that involves a whole lot of forceful caressing.

"He's just, like, unlocked something in me," Jocelyn says of Tedros in the teaser—but as Rachel Sennott's character puts it, "He's brainwashed her." Jocelyn's publicity team is sympathetic to her plight; after all, it's been a hard year calcified by even harder press, who haven't exactly shown Jocelyn grace in the wake of a tour-derailing nervous breakdown. But as her behavior becomes more erratic—tear-stained Instagram videos included—things swiftly reach a fever pitch.
Maybe it's the Britney Spears of it all, or well-timed comedic relief from resident indie darling Sennott; maybe it's just all the flashing lights. Either way, each slick trailer is making actually tuning into the series an ever-more tantalizing prospect. But doing so without considering all the ugly context—and its implications on the writers, cast, and crew—seems a difficult (and frankly, misled) pursuit; and makes stanning, in good conscience, an impossible one.