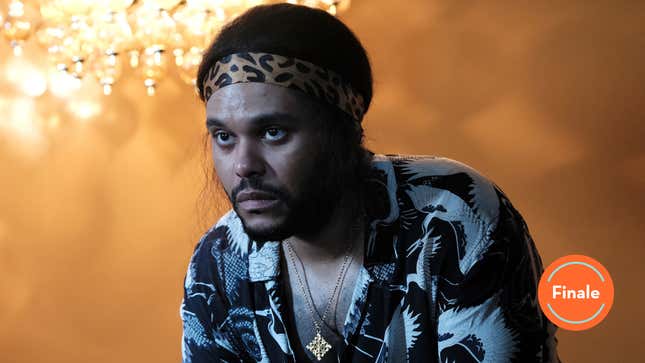 If any of us had any hope that the final episode of The Idol's first (and perhaps only?) season would find a way to redeem its own muddled, muddied storytelling, "Jocelyn Forever" was a reminder that HBO's wildly ambitious pop-star S&M fantasy was never going to satisfy that brief. Rather rushed and needlessly expository in all the wrong ways, the final hour of The Idol's five-episode run was proof that the many pompous ideas about fame and alienation the series tried to filter through its porn-ready-cum-music-video aesthetic were never fine-tuned enough to make the series an enjoyable ride.

The feud between Howard Stern and the world's smuggest man, Bill Maher, has come to a tentative ceasefire
Because mostly, even with what feels like a "gotcha" reveal of an episode, "Jocelyn Forever" was a slog more than anything else. And a convoluted one that revealed, in as blunt terms as the show has always trafficked in, that, yes, Jocelyn was in control all along. Remember how Xander had said as much? Yeah, it's unclear why the show ends up tripping over itself to establish that as a kind of twist, both trying to make Jocelyn the self-aware and self-made villain of her own story (being a sub, she reminds us, doesn't ever mean you're not in control) and yet constantly have us wonder who and how she's playing everybody—up and including the final moments of the episode.
But before we end with Jocelyn and Tedros at her tour stop in Los Angeles (what felt, at one point, no doubt, like a fitting set up for a future season) the episode begins with a clear Jocelyn vs. Tedros narrative. Hurt by the way in which he'd insinuated himself into her life, and jealous of the way she'd disposed of him when Rob came by, the two lovers set out to further try to establish their dominance. Only, it's clear Jocelyn has the upper hand. Chaim (Hank Azaria) may use the Little Red Riding Hood fable to explain to Tedros that no one will hurt his little Joss (Chaim is a hunter; Tedros but a big bad wolf that will eventually be bled to death), but it's clear that Joss is no innocent Little Red (no matter how many red scarves she wears that make her visually look like one). She needs no caretaking. And once she establishes herself yet again as the master of her own domain, lording over Tedros and playing tender mother to his own "family" of singers (which now, absurdly, includes Xander), it's clear that she's ready to dispose of him.
After all, she's gotten everything she's needed from him (namely: a number of hit singles she'll come to release). And so she sets out to humiliate him even in the face of an upcoming meeting with her team during in which she'll try to convince them to go ahead with her tour and to let the likes of Chloe and Izaak open for her. And it's during that meeting slash talent showcase that The Idol truly lost me. Or rather, lost me AGAIN.
Encouraged to really focus on the very canny mantra of "sex sells" (how novel!) Jocelyn and Tedros's "family" all but strip and writhe and solicit the exec at hand (that'd be Eli Roth, remember?) while singing the songs Jocelyn is convinced will make for a great opening act. It's all needlessly discomfiting before it becomes outright laughable—especially as it plays backdrop to Tedros being a drunken mess, and Destiny, Chaim and Nikki separately trying to vie for their next move. And it all ends with Joss going full Britney yet again and packaging her own mental health issues and past trauma into a choreographed bit of sexy-bordering-on-sexual performance that finally lets her team finally breath a sigh of relief. Alas! Joss is back! With a hit! She can now go sexualize herself for her throng of fans who'll enjoy feeling connected to her in a way that still lets them wish they could fuck her.
The Idol has long flirted with this outsized idea of the music industry as an S&M-driven environment where it's always unclear who is the dom and who is the sub—though there's always pain and there's always enjoyment. With her makeshift performance, Jocelyn announces herself as back in her element. And slowly over the rest of the episode, we see how her relationship with Tedros was maybe not as asymmetrical as we'd been led to believe. She's no wilting flower and definitely no wayward waif. (She's no Chloe, let's put it that way.) Instead, she's been pulling the strings all along. Or so the show wants us to think; as great as Lily-Rose Depp has been all season, she's kept us at a remove from what's really been going in Jocelyn's head (it's all been skin deep—even the hairbrush beatings) and so it's hard to now buy that it's all been a show to better market herself and to weaponize her own breakdown all while humiliating the man she loves in order to have the upper hand.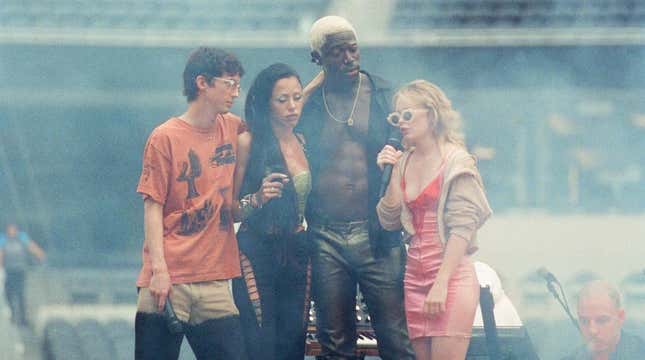 For as soon as the tour is back on and Tedros is whisked away from her life (thank you Vanity Fair for a profile that doubled as an expose on that conman slash fraud!) we're shown that on her Los Angeles tour stop Jocelyn is back on top. Because of her fans! It's what kept her going, she tells them. And why she wants to introduce them to the love of her life: Tedros, whom she's invited over and guides onto the stage. She's missed him, she tells him backstage. He's ruined now and clearly persona non grata to her team (who are aghast at his appearance onstage), but she has him where she wants him. She's Jocelyn, after all. This episode began, mind you, with her wildly singing about she wants tough love, how she wants to be choked…how, if we follow this blunt metaphor all the way through, she's inviting the very abuse she got (and thus, she's claiming a stake in what took place at her home).
Such a whimpering final moment, which all but wraps Jocelyn's own sense of agency back into a romance we've never been sure she ever really was invested in, feels like a perfect ending for such an imperfect season of television: It's all hollow emotions wrung out for our amusement but never anchored in anything remotely feeling real—just cogs in a story about how all interpersonal relations are transactional and how fame is a parasitic force of self-delusion aided and abetted by those who profit from it. It's all so banal you wonder why we needed five hours of it to get to it. I'm just glad we finally made it to the finish line.
Stray observations
At least the dialogue in this episode did a great job of calling out everyone in rightfully insulting ways: "You are a sweaty, drunken, fucking pathetic mess" (Jocelyn to Tedros) and "You are just a TikTok obsessed, fucking algorithm obsessed cunt" (Tedros to Nikki).
Getting Eli Roth to earnestly deliver a line like "as a parent figure" mere seconds after saying he wishes he had an extra pair of shorts because of how wet Jocelyn's performance had made him is The Idol in a nutshell when it comes to its tepid parody of the music industry.
What to make of Leia's card? Or of Xander's return into Jocelyn's fold? Or of Nikki going from saying she'd be Tedros' cunt to later celebrating having destroyed him? Are these narrative inconsistencies maybe leftover from the rewriting that clearly took place behind the scenes or intentionally muddled plot points that would be explained/expanded on in future seasons? (My money is on the former, obviously.)
Speaking of Leia, no one gave us better reaction shots all season than Rachel Sennott. (Da'Vine Joy Randolph came close, though I'll admit not even she could sell a line like "I haven't seen shit like this since Prince" with any kind of earnestness.)
We finally got to watch Troye Sivan sing!
Is there a more self-revealing line about the kind of project The Idol was (and thought itself to be) than "There's a goldmine in mental health!"? Probably not.