"Life Behind Larry" (season 2, episode 7; originally aired 7/7/93)
Although The Larry Sanders Show is considered a sort of parody of show business and the world of late-night talk shows, its greatest strength lies in its ability to be funny without relying on those external references. Eighteen years later, the show remains funny because enjoying it doesn't hinge on viewers knowing, in the case of "Life Behind Larry," that CBS offered Garry Shandling the 12:30 show after Letterman. Or that Tom Snyder in fact did in fact end up hosting that show.
Granted, Snyder as a punchline doesn't hit as hard 18 years later, when most people probably know little about the man or why it'd be funny, in 1993, to have him hosting the 12:30 show. More on that later. The point is, even if the real sting of the Snyder joke goes over people's heads in 2011, they can still find the humor in the desperate scheming of networks to out-maneuver each other. Larry's network stole Snyder from CBS! Kind of!
You don't need to be a television-industry insider to laugh at The Larry Sanders Show, but "Life Behind Larry" packs in myriad references to the real world. We don't have writer Peter Tolan—who scripted 25 episodes—here to explain them all, but let's see how many we can decipher.
G/O Media may get a commission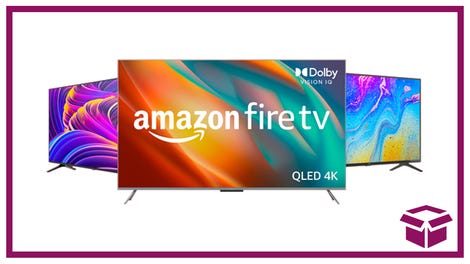 Ooh. stunning.
New Amazon Fire TVs
1. The new 12:30 world
The episode opens with Larry whining about having to meet with network executives—including recurring nemesis Melanie Parrish—about a host for a new 12:30 show to follow his. As executive producer, Larry has a lot of say in who should get the job, and he'll be the one to announce it once a decision has been made. Still, Larry doesn't want to do it, and he asks Artie if Carson ever had to do something similar. "Hell no," Artie says. "Nobody fucked with Johnny." (Well, Carson did pick Letterman for Late Night.)
With Letterman on CBS, the 12:30 slot is, as executive Dennis explains, "wide open." The only competition, he says with era-appropriate dismissiveness, is Conan O'Brien. No one knows who Dave will pick for 12:30 on CBS—and it was his decision, because Letterman's deal with the network gave him the 12:30 production rights. (SNL's Lorne Michaels was famously brought in to build the new Late Night after Letterman's departure, and as executive producer, he chose O'Brien.)
In the meeting, Parrish suggests a couple of hosting candidates that have been approved by the all-important affiliates: Bob Saget and Dave Coulier, a.k.a. Blandy McUnfunny and his cousin, Cringey McUnfunny. "You're just raiding the cast of Full House, huh?" Larry says. "Why don't you check in on the Olsen twins? I hear once their parents go to sleep, they're wild."
Larry cuts off Melanie before she can read the rest of the affiliate-approved list—presumably John Stamos was next on it—to make his own terrible suggestion: Bobcat Goldthwait. Melanie says the affiliates already rejected him, and Dennis asks, "Is he the guy who makes the animal noises?" referencing Goldthwait's signature twitchy, shouty delivery. Although Larry tries to explain "that's just one of his many colors" and that Goldthwait is really funny, Dennis dismisses him with perfect executive talk: "Larry, there's a lot of funny out there. We're just looking for the right kind of funny."
In a way, Larry shows a rare flash of brilliance here: Letterman made 12:30 the home for edgy comedy, and Goldthwait is nothing if not edgy—in network executives' eyes, he's practically a bomb-throwing anarchist. Melanie realistically notes the affiliates will never approve him, but Larry has Artie push the case: "Let's take a good look at Tomcat!" he says, clearly clueless. (Incidentally, "Tomcat" was the name adopted by Goldthwait's old comedy partner, Tom Kenny—a.k.a. SpongeBob Squarepants and veteran of Mr. Show.) Larry vows to capitalize on his good relationship with the affiliates and make a case for Bobcat, and they agree to have the comic come and do a presentation for the affiliates.
2. The power of the affiliates
That presentation ends up being disastrous. Goldthwait couldn't look less like a TV host: He has long hair, a scraggly beard, a huge potbelly, and he's wearing a backward baseball cap and shorts. His ideas are even worse: beanbag chairs and a beanbag desk, Wednesday is "no pants day" ("I don't care who the guest is—they're not wearing pants!"), occasionally skipping the show altogether and hosting via tape recorder, and—worst of all for a late-night talk show—a Nerf bat for smacking guests in face when he gets bored by their shilling. Also, despite his grating shtick being just one of his many colors, it's the only color he shows. When Larry asks him to either use his real voice ("What, are you turning on me too?" Goldthwait asks) or dial it back to a seven, Goldthwait tells him that is a seven. When Larry asks for a two, he assents, but basically does the same thing.
Through painfully forced smiles, Artie and Larry observe the awfulness opposite of the affiliates' representatives and network executives. Artie was willing to get Goldthwait an audition, but he's smart enough to know the guy will never work as a host. "Is this what you really want? Why don't you go all the way with it—get the young people's favorite, Pauly Shore!" he says scornfully. Melanie and Dennis would probably take "Hey buddddddyyyyyyyyy" Shore a hundred times over the face-bashing Goldthwait.
Artie reminds Larry that the affiliates are "the most powerful people in television," and when it comes down to late-night programming, that's most definitely the case, because late-night shows are particularly vulnerable to getting dumped for reruns or cheaper syndicated programming if they don't deliver good ratings. Schmoozing the affiliates is part of the late-night host's job, and it's one that has directly affected programming in significant ways since Carson left The Tonight Show. Jay Leno, as Bill Carter noted in The Late Shift, was an affiliate favorite, because he would happily do everything necessary to keep them happy. David Letterman, unsurprisingly, hated the phoniness of schmoozing and never did it. When it came time to choose a successor for Carson, the affiliates never wavered in their support for Leno, even when NBC nearly fired him for Letterman not long after he took over The Tonight Show. More important, as Carter documented again in The War For Late Night, affiliate revolt basically killed Conan's Tonight Show (even though Conan schmoozed the affiliates). Conan's ratings were poor, but worse were the ones for Leno's eponymous primetime show, which led to a steep drop-off in viewers for local news. That pissed off the affiliates, who soon demanded Leno get moved back to his old timeslot, even if it was just for 30 minutes. We all know how that played out.
In the Leno/Letterman spectrum of friendliness toward the affiliates, Larry is closer to Leno (though his personality hews closer to Dave). He plans to use his good relationship with them to make a case for Goldthwait, but Artie rightly understands affiliate favor is a fickle thing: "We'll see how long that lasts after Bobcat bashes Donna Mills' face in with a Nerf bat." In three weeks, he predicts, the affiliates will dump Goldthwait's show and Larry's and replace them with reruns of "McMillan & Wife and Hawaii Five-zilch." Those two also reveal a bit about Artie's frame of reference: The former went off the air in 1977, the latter 1980. Were they still in rerun rotation in 1993?
3. The American Television Awards
Before they get caught up in the 12:30 discussion at the beginning of the episode, Melanie, Dennis, Artie, and Larry discuss the American Television Awards, which have nominated Larry's show. The host goes into the spiel favored by awards-losers everywhere—he prefers to let the work speak for itself, never mind the kudos—until Dennis mentions he heard Larry has a real shot at winning. Suddenly, Larry perks up. ("What does the American Television Award look like?" he asks Artie later. "Well it's probably a statue of a guy with his head halfway up another guy's ass," Artie responds. "I already have a fountain like that," says Larry.)
It sounds like a suitably generic name for a fake awards show existing only in the universe of The Larry Sanders Show, but the American Television Awards did exist, if only for one year, 1993. George Schlatter, creator of Laugh-In and Real People (look 'em up, kids!), came up with the ATA as a sort of critically based sibling to the Emmys, which also aired on ABC. (Hogging up the awards shows unsurprisingly pissed off other networks.) Instead of an academy composed of people in the business (like the Emmys, Oscars, etc.), winners were based on a survey of 400 critics and journalists. It wasn't supposed to be as competitive as the Emmys, according to Schlatter, who told the Los Angeles Times: "Why don't we do a show that, instead of a satirical look at television, is a celebration, a congratulatory look at television?"
No one with a working understanding of satire would ever consider the Emmys (or Oscars) anything but self-congratulatory, but that was Schlatter's thinking at least. Winners weren't announced via envelopes opened by presenters or the hosts—Patrick Stewart and Lavar Burton of Star Trek: The Next Generation! Instead, winners were informed ahead of time, and announced by reading the names of the nominees who didn't win until one name remained, the winner. It didn't work so well. Bruce Westbrook of the Houston Chronicle called it "a perplexing, suspense-killing format": "No anxiously opened envelopes. No flustered speeches. No hope. And no spontaneity. The pre-informed winners emerged from backstage to recite well-rehearsed thank-yous. And by that time, any gut-level reactions to victory had long since subsided."
Other strangeness: The show was shot in a refurbished airplane hangar in Santa Monica, and stars entered the stage through a sort of tunnel. It wasn't live, either; they shot it on a Sunday, then ABC aired it on Monday. The critics-based format also produced some awkward winners: NBC's Civil Rights-era drama I'll Fly Away won best drama, but the network had canceled it by that point.
Most relevant to The Larry Sanders Show—which was nominated for best comedy—was Garry Shandling's introduction of David Letterman as winner of best variety series. Shandling apparently did a long, funny monologue, and when Letterman came out, he quipped, "Mr. Big Shot wouldn't do 12:30."
As mentioned earlier, Shandling had been approached to do the 12:30 show after Letterman, but as he says on the featurette accompanying the first season on DVD, he didn't think he could hold up doing a talk show on a daily basis. His stand-in in "Life Behind Larry," in that respect, is Richard Lewis. When Larry thinks Lewis is pestering him about the 12:30 gig—like Kevin Nealon, Steven Wright, Gilbert Gottfried, Bob Saget, Louie Anderson, Robert Klein, Sinbad, and David Brenner have—Lewis quickly dismisses the notion. "Who in their right mind wants to do a talk show five nights a week?" he says. "This 12:30 thing is really making you a different guy."
Back at the fictitious American Television Awards, Larry sulks backstage about not having won—though he would've known that ahead of time at the real ceremony—and Letterman shows up with the award, cigar in hand. They chat about how tough it is to find someone for 12:30, and after Larry mentions they're going to get Bobcat, he pesters Dave about who he's choosing. Letterman resists Larry's badgering until he finally admits they're going with Tom Snyder. "His hair is back, he's ready to go, Tom Snyder."
4. Tom Snyder
Larry doesn't buy it at first, and he has reason to be skeptical, because Letterman was definitely screwing with him (here at least): By the end of the episode, after Larry's network has paid an arm and a leg to "steal" Snyder from CBS, Artie mentions that Snyder knew nothing about a deal with CBS. Cue Patton Oswalt's wackity-smackity-doooooo theme to close the episode.
In real life, Letterman did bring Snyder on for what would become The Late Late Show. At the beginning of the '80s, Letterman inadvertently cost Snyder his job when NBC started Late Night to follow Carson. Snyder had the post-Carson timeslot with his more conversational, one-on-one talk show Tomorrow, which ran from 1973 to 1982. NBC retooled the show (calling it Tomorrow Coast To Coast with gossip reporter Rona Barrett filing segments from LA to the New York-based show) in 1980 and moved it up to 12:30, and it became a sort of precursor to Late Night. It didn't last long before the network brought Letterman aboard and offered to move Tomorrow Coast To Coast to 1:30. Snyder wouldn't do it.
Snyder and Letterman remained on good terms, so it wasn't necessarily surprising that Letterman brought him in for The Late Late Show—even though Snyder was nearly 60 by that point. (Carson was 67 when he retired in 1992 after doing The Tonight Show for more than three decades.)
Snyder would host until 1999, when a young hotshot named Craig Kilborn took over after having success on ESPN and as the original host of The Daily Show. He stayed until 2004, and a succession of guest hosts filled in until Craig Ferguson took over, where he remains.
Whew. That's a lot of information, and we still didn't cover everything. I kind of wish I had Bill Carter with me every time I watched an episode.
Stray observations:
More drama with Hank's newsletter! This time, someone snuck "penis vagina penis vagina" into Hank's Thoughts. He immediately suspects Phil, and their confrontation in the writers' room rules: "Shut your mouth, you little shit!" Hank bellows. "Well I guess we know which side of the family you get that mouth from," replies Phil. Also great: how Phil would've done the joke, which involves Hank's mom wearing a very thin dressing gown that slips open…
The show with Don Rickles that Richard Lewis was promoting was called Daddy Dearest. It lasted 13 episodes. And the less we say about Robin Hood: Men In Tights, the better.
I love that Kevin Nealon doesn't know if he's Hans or Franz.
I know the early '90s were a simpler time, when Full House could be a hit show, but Dave Coulier, seriously? Were we ever so young? Eau Claire, Wisconsin, residents can see Coulier Friday night at the Ramada Conference Center!
"What the hell is this, Hank?" "Unbelievable, isn't it?" "Well yeah, this is the same thing my mom used to say to me! What are the odds of that?"
"Four thousand on our Xerox? Paper doesn't grow on trees you know, mister!"
Darlene standing right outside the door when Hank complains to Artie and Larry: awesome.