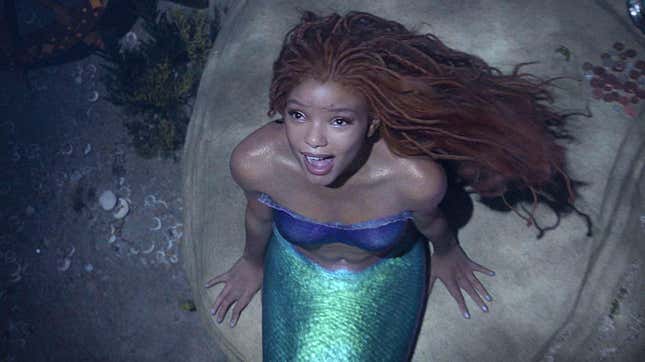 Another day, another Disney remake. The Mouse House's decade-long trend of realizing their animated canon in live action—or whatever The Lion King was—has been commented upon ad nauseum, criticized for their revisionism of stories that didn't need revising and their bland aesthetic that realizes the cartoony pleasures of the previous films in an uncannily realistic mode. Their crack at The Little Mermaid is better than many of the company's previous attempts, as many of the changes strike a decent balance between homage to the 1989 animated original and what can—and should be—realistic sea creatures. But when it comes to picking out what parts of Ariel's story to tweak for the new medium, the remake still emphasizes the wrong pieces, consequentially bloating a previously brisk story into a meandering pile of producers' script notes.

How a drag queen inspired Melissa McCarthy's Ursula
Much of the animated film's first act is preserved more-or-less intact (beat-for-beat translations of the original's script in some cases) with bits of set-up added for changes that will be explored later. As Ariel (Halle Bailey) fantasizes about the wonders of the human world, gathering thingamabobs for her neat little collection and thirsting after the first human boy she sees (Jonah Hauer-King), King Triton (Javier Bardem) tries to steer her away from dangerous land-dwellers. But when the sea witch Ursula (Melissa McCarthy) tempts Ariel with the chance to walk on land in exchange for her voice, the young merlady can't resist the chance to pursue true love's kiss.
Halle Bailey is an immediate standout as Ariel, evoking the wide-eyed innocence of a naïve, lovestruck teenager while belting out musical numbers with the gusto of a Broadway star in the making. Similarly, Hauer-King's Prince Eric is given more dimension than in the 1989 version as a wanderlusting dreamer, so he serves as a solid romantic counterpart to Bailey. However, the rest of the cast is a mixed bag. Daveed Diggs is a great choice for Sebastian and his many musical numbers, though the performance ultimately feels like a pale imitation of Samuel E. Wright's iconic take on the character. Bardem's Triton and Jacob Tremblay's Flounder feel largely devoid of the personality present in their animated counterparts, while Awkwafina's version of Scuttle is a somewhat inspired departure from the ramblings of Buddy Hackett. The biggest surprise of the bunch is Melissa McCarthy. A seemingly boring choice to play Ursula, she elevates the role with her campy commitment to the bit, even if that bit is just to do the Diet Coke rendition of Pat Carroll's famously drag-ish performance.
The Little Mermaid already has a leg up on many of Disney's remade contemporaries by virtue of being directed by Rob Marshall (Disney's Mary Poppins Returns and Into The Woods), who is comfortable with the melodrama of musical theater. "Under the Sea" thankfully ditches the literal interpretation of the lyrics in favor of colorful, faceless sea creatures that evoke wonder better than any smiling fish could, and Marshall's staging of "Part of Your World" taps into the big emotions that underpin this simple story.
Additional songs have been added to the film's back half with returning composer Alan Menken teaming up with Lin-Manuel Miranda on lyrics. These results are mixed, and none of Miranda's contributions hold a candle to those written by the late, great Howard Ashman. The musical number that fleshes out Prince Eric may be welcome but it's not a memorable addition to the soundtrack, and the less said about Scuttle's rap "The Scuttlebutt," the better.
These new songs, like most of the remake's additional content, tend to pop up once Ariel finds her way on land, which were the most briskly paced yet weakest portions of the animated version. It therefore makes sense to focus energy on making the third act feel less rushed, but Marshall and writers David Magee and story-credited John DeLuca take this ethos to an untenable extreme. A bizarre change revolves around Ariel being magically unable to remember her goal of securing true love's kiss, which adds nothing to the conflict and actually muddies her motivations. There's a lot of hemming and hawing over Prince Eric's desire for adventure being contrary to his queen mother's (Noma Dumezweni) fear of merfolk—and propensity for xenophobia—as well as the ongoing power struggle between Triton and Ursula. But none of these political machinations are in service to Ariel's story, or even to Triton's arc of learning to let his little girl go. In total, these changes contribute to the film dragging on approximately 45 minutes longer than the animated version, adding almost nothing but protracted tedium without actually addressing what made the first film feel like it was racing toward the finish line.
The Little Mermaid remake isn't without its charms. It's a colorful undersea adventure that allows for enough winking artificiality that it can sometimes feel like an overly elaborate stage production instead of an overly expensive tribute to nostalgia through a photorealistic lens. This should by all rights be a star-making turn for Halle Bailey, but that doesn't overcome the film's failure to find an artistically valid reason for its own existence. Its most iconic moments are borrowed and copied wholesale, serving as little more than a reminder of simpler days watching clamshell VHS tapes released from the Disney Vault. Maybe that's enough for some people. But maybe, like Ariel, we should want more.
---
The Little Mermaid opens in theaters on May 26