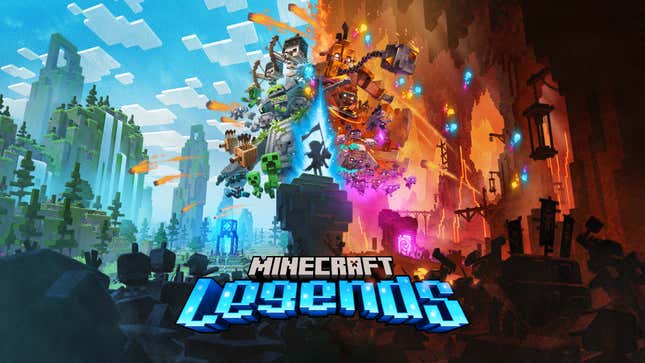 Microsoft's Minecraft franchise released a new game this week—Minecraft Legends, a kid-friendly take on the hyper-competitive real-time strategy genre. In case you'd lost track—fair!—the Minecraft franchise now has four such spin-offs to its name: Legends, plus the Gauntlet-esque Minecraft Dungeons, shuttered Pokémon Go-ish phone game Minecraft Earth, and two "seasons" of the narrative Minecraft: Story Mode. (To say nothing of Minecraft itself, and its various console and PC editions, which exist in confusing constellations of compatibility.) Not bad for a game franchise that is, more-or-less by design, about absolutely nothing at all.
Whenever, wherever, Shakira will (allegedly) commit tax evasion
That's not a dig, mind you. Minecraft has, or at least is on the verge of having, achieved exactly what Microsoft was presumably hoping for when it bought Markus Persson's Mojang Studios for $2.5 billion back in 2014. Which is to say that it's transcended mere game-ness, and become that most coveted of digital properties: "a platform." (In this parlance, a platform is kind of like a metaverse, except people actually like it, and it makes money.) Like Epic Games' Fortnite—still the industry gold standard for this stuff—Minecraft is no longer just a game that people (and especially young people) turn on and play; it's a space they can visit, and a brand they can dip into, to get their various gaming fixes, and interact with their friends.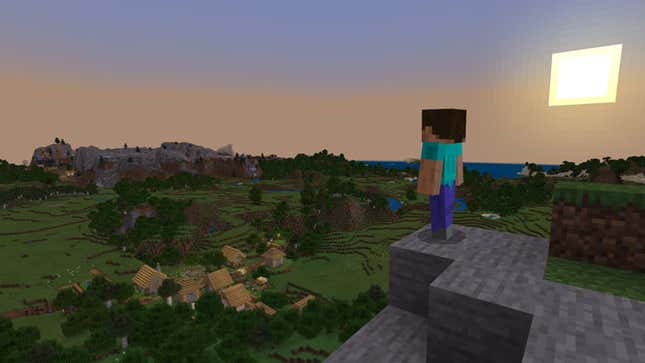 As someone who's been playing Minecraft regularly since it was still in beta—and who once, I take no pride in reporting, picked up cash in my freelancer days by shoveling out unauthorized Minecraft "novels" for what in hindsight was an extremely shady online publisher—it's been shocking to watch this franchise take over the planet like this. Certain aspects of its ascent were maybe inevitable; despite the "retro" aesthetics, the game has always had a hyper-focused, T-shirt friendly take on monster design that's helped its various Creepers and creatures take on iconic/profitable status. And Minecraft itself has always been good, bordering on great, not least of which because it is, like all really good kids' media, capable of being scary and sad and strange underneath all those bright colors.
But it's also a game with almost no story whatsoever. (To the point that the one bit of in-game writing that it does contain, a long, strange poem that plays out after beating the final boss, is now the subject of its own odd controversies.) The base version of Minecraft has no actual characters, and not even a real goal. Players are expected to bring those things to the experience themselves—which has made the franchise's forays into more narrative-focused works like Legends (which introduces brand new characters to guide players into their war with the hostile Piglins) seem strangely forced. The truth is that Minecraft has no storytelling style of its own, and so its own efforts in that direction have often felt like hodgepodges of the very online/YouTube-style strains of kid humor that've risen to prominence in its wake.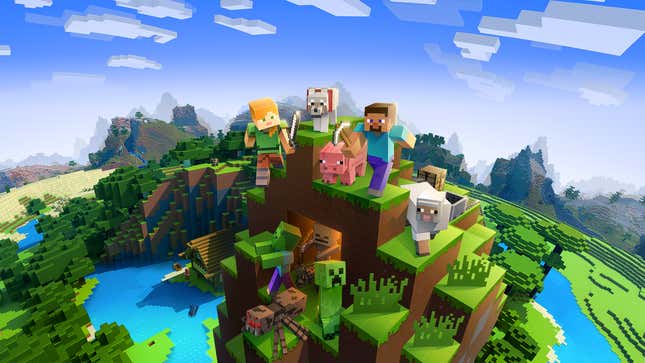 Reviews of Legends have not been especially kind; our colleagues over at Kotaku drubbed the game for its awkward controls and frustrating artificial intelligence, problems that have been hounding (and mostly been solved by) the real-time strategy genre for years at this point. (Negative reviews like this, I suspect, are why Epic has been careful not to spin-off Fortnite into sub-games, for all that it'd make them millions; when Fortnite wants to make a new game, it just jams it into the old one, which is functionally review-proof at this point, for a season or two.) But at this point, the Minecraft brand is so potent that it hardly seems like it could matter: "Playing Minecraft" is just a thing kids do now, and all Microsoft has done here is expand out what "Playing Minecraft" can mean. That's the point of the whole "platform" thing: It's the video game equivalent of getting everybody on the planet to call making copies "Xeroxing," and it's basically bulletproof once momentum has set in.

Especially because, no matter what else Microsoft pumps out, Minecraft itself persists: Still fascinating, and beautiful, and brilliant, as robust a set of gaming creation tools as has ever been adopted by the mass market. New additions are still being made to it, and not half-heartedly; the recent adding of sound-based traps and mechanisms has sparked whole new worlds of creativity for amateur designers to screw around with (and created at least one extremely harrowing new bit of encounter design, in the form of the sound-hunting, invincible Warden enemies). There's a reason Minecraft is the kind of game that can become one of these fabled platforms that the money people so desperately crave: It still has the breadth, and brilliance, to support an enormous amount of weight.