Fantasy stories typically break from reality to create spectacular worlds, but the new Dark Horse Comics miniseries, Modern Fantasy, seeks to fold relatable real-world struggles into a story inspired by Dungeons & Dragons and other fantasy adventures. Written by Rafer Roberts with art by Kristen Gudsnuk, the title features a group of roommates who fit into various swords-and-sorcery archetypes, but they're all dealing with everyday problems like unfulfilling day jobs and student loan debt.
Gudsnuk's work on her creator-owned series, Henchgirl, took a similarly grounded approach to a superhero story, and Roberts had been looking to collaborate with her since their first meeting a few years back. "Kristen mentioned that she hadn't done anything with magic, which somehow got me daydreaming about playing Dungeons & Dragons back in school," says Roberts. A good part of that daydreaming was done while at my day job, so my co-workers were getting mentally swapped out with orcs and goblins, bosses became Beholders, people used excuses like 'a gelatinous cube was blocking the highway' as excuses for being late. That got me wondering what the world today would be like if every fantasy novel or role-playing module really was our actual history, and the rest of Modern Fantasy sprung out from there. The main cast follows a traditional campaign party, with a wizard, a thief, a ranger, archer, and so on. But our ranger works a low-paying, dead-end data entry job while dreaming of adventure, and our wizard sleeps on her couch all day and sells Dank Crystal all night."
"Working with Rafer has been truly collaborative, very free and open," says Gudsnuk. "I love the freedom of the world of Modern Fantasy—anything can happen, crazy stuff does happen, and so the limit is our imaginations. Rafer's writing is full of amazing details, things that are objectively fun to draw. A wizard's face melting off. A giant floating eyeball. An Umber Hulk eating spaghetti out of a Ziploc bag. On top of that, I love spending time with the characters, this group of slacker friends who feel very real. As a writer myself, it's fascinating to see someone else's writing process in such depth, and I feel like I'm learning a lot about writing and structure."
"Kristen is a writer herself, so the collaboration has been incredible, and I think the way we approach storytelling is remarkably compatible," says Roberts. "Honestly, I look back on the completed issues and can't tell who came up with what sometimes. That said, a good majority of the background gags, storefronts, or signage either came straight from Kristen or from a flurry of late-night texts between us. One of my favorite things is just to explore the backgrounds to see what Kristen has hidden. Kristen also has a really good sense of timing, both in action and comedy, which can be incredibly difficult. Her character designs are simply wonderful, and her willingness to experiment with some stuff pushes me to step up my game. Issue three has maybe five location changes, all of which needed to be designed from the ground up. Kristen kicked ass and made it all look completely effortless."
G/O Media may get a commission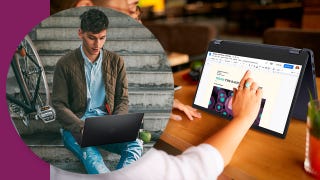 Ends August 15
Best Buy Anniversary Sale 2022
Ends August 15
Best Buy has a number of different promotions happening all for its Anniversary Sales Event. Laptops, tablets, TVs, you names it. Whether you're heading back to school or just trying to fill your home with some new tech, there is something here on sale that you've likely been waiting for.
There's considerable world-building that goes into Modern Fantasy, but the creative team is careful to keep the focus on the characters. "We do have a lot of fun coming up with fantasy parallels to real life—the endless meetings run by literal corporate harpies, the city's power is generated by unicorn tears-and the ethics of extracting them—but none of that matters if you don't care about the people," says Roberts. "And the dwarves. And lizards. I love the characters in Modern Fantasy, and I especially enjoy exploring this world through their experiences. I'm right there rooting for our ranger, Sage, as she risks losing her crappy job to prevent a prophesied apocalypse. I'm totally into her budding romance with the elf Darquin Silvermane, the aspiring actor who waits tables at the goblin bistro where Sage eats. And I'm hoping that Fentax, the thief, goes legit so that he can win back the heart of his boyfriend, the drug-dealing Lizard Wizard."
This exclusive preview of Modern Fantasy #1 showcases that intimate scope with the interactions between Sage and her roommate, and Sage's grumpy morning mood clashes with Gondra's post-coital afterglow. It's a scene that plays like slice-of-life, except for the Lizard Wizard passed out on the couch. "I've noticed in comics that letting the pace slow down will ground things in reality, and give important moments breathing room," says Gudsnuk. "Other than that, my art style can shift based on the tone of the moment. Something sillier will have looser, rounder lines, but often when things are serious they're more precisely rendered. If someone is angry or freaking out, the inks might be a little shaky, like the drawing is barely holding it together. But since the world consists of a lot of magical creatures, the fantasy and the drama intermingle."
"My number one aim is for clarity, and doing justice to Rafer's scripts," says Gudsnuk. "And when I'm sitting in front of a comic page for hours, drawing, sometimes little funny ideas pop into my head that piggybacks on some of his ideas, and I'll incorporate them into the comic. I'm a comedy fan, so usually, I just run it past my own 'is this funny?' internal taste-tester, and if she says yes, I'm good." Modern Fantasy is very funny, and Roberts and Gudsnuk make these characters endearing by incorporating humor into the relationship drama. It makes you want to spend more time with this cast and learn more about this world, and readers can get in on the action when Modern Fantasy #1 goes on sale June 27.