Here's what's up in the world of TV for Thursday, February 20. All times are Eastern.
ONLY PICK
The 2014 Winter Olympics (NBC, 8 p.m): It feels like we've been stuck in the throes of the Olympics for aeons unending, but there are in fact just a couple of nights left—including one of the Games' most anticipated events, women's figure skating. Yuna Kim, the reigning gold medalist from South Korea, is going into the competition tonight looking to hold her title with another win in the women's free skate. It looked like her toughest competition was going to be the 15-year-old Russian wunderkind Yulia Lipintskaya, but in last night's short program, the teenager fell during a triple flip. Kim has a slim lead, going into the free skate. Will it be enough to claim another medal? Sonia Saraiya has no excuse for how completely jazzed she is to be covering women's figure skating tonight. Expect fireworks, and possibly also tears.
---
ALSO NOTED
Rake (Fox, 9 p.m.): We're not really that excited about this show anymore, now that Greg Kinnear's face-novelty has worn off, but it's gamely sticking around through the Olympics, so Scott Von Doviak is gamely keeping up with it. Tonight: bigamy!
The Tonight Show Starring Jimmy Fallon (NBC, midnight): Jimmy Fallon, you may have heard, is hosting this little thing called The Tonight Show these days. We forgot to call this out on Monday, because we're not good people, and also perhaps broken and dead inside, but we do remember that Todd VanDerWerff will be reviewing the first four nights of Fallon's run to post Friday afternoon. So if you want to argue with him in the comments, as you know you must, tonight's your last night to have an opinion. UPVOTES FAVOR THE BOLD.
---
THERE'S NOTHING ELSE ON TV SO LET'S TALK SHOP
The Future Of American Figure Skating (USA, unknown): Ashley Wagner and Gracie Gold, who NBC has made so much of, currently aren't even in the medal standings—though Gracie Gold is, at least, fourth. Ashley Wagner came up sixth, and 15-year-old Polina Edmunds seventh. NBC states that this is "a very strong showing for the United States," which is sweet, but simply not true. This is a strong showing: Three out of the top four skaters hail from America, including the gold medal. This is a strong showing, too: Both the gold and silver medalists were American skaters. But not since Sasha Cohen in 2006 has America medaled in ladies' skating, and it's highly unlikely an American woman will medal tonight. We need to re-evaluate. We need to divert federal funding to figure skating.
G/O Media may get a commission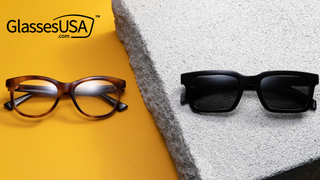 60% off frames
GlassesUSA.com Back to School Sales
In Memoriam: Michelle Kwan (Couch, marathon): Prayer circle for the tragedy that is Michelle Kwan's search for a gold medal. Presentation to follow on whether or not the dream of American figure skating died with her retirement from the sport. Group discussion on her wedding dress to follow shortly thereafter. Argumentative kvetching about what her 12-year failed quest for a gold medal means for our feelings, and whether or not she is super happy being a diplomat, to finish the night.
Carolina Kostner, The Cutest Skater (Italy, whatever time Italy is): Carolina Kostner is currently ranked in third place! Guys, guys, what if Carolina Kostner wins a medal? She's 27—which is essentially ancient for a figure skater. She's been skating before little Yulia was born. Kostner finished a disappointing 9th in Torino in 2006, after being a favorite to medal. In Vancouver, she finished 16th. But she's still skating and she is now placed third. This is a really special moment for 27-year-olds everywhere. (We're not even kidding, though we wish we were.)
Yuna Kim: Korea's Sweetheart (Korea, now): If Kim wins tonight's gold, she will become only the third female figure skater in history to win two gold medals in consecutive Olympics. And certainly the first from a country that isn't in Europe and doesn't end in "y"! A TRUE ACCOMPLISHMENT.
---
ELSEWHERE IN TV CLUB
It's David Sims' turn to bring one of his favorite episodes to TV Roundtable, so he brought a doozy: the finale of beloved British sitcom Blackadder. Talk about devastating! The entire group cried. On the inside. Where it hurts more.
And in anticipation of its premiere on Saturday, Todd VanDerWerff reviewed NBC's About A Boy, which is actually a show about nothing, and also stars David Walton.
---
TV CLUB CLASSIC
Star Trek: Deep Space Nine (10 a.m.): Zack Handlen's Fictional Space Station Support Group will be meeting at the usual time and place. Today: figure skating, and the controversial, space-only octuple axel.
---
WHY ARE SKATING COSTUMES SO WEIRD
Seriously why
---
WHAT ELSE IS ON?
The Taste (ABC, 8 p.m.): Finale? Finale. There is tripe.
The This Old House Hour (PBS, 8 p.m.): A clawfoot tub, and how to prune trees. Also, "some of Tom's favorite applications for radiant heat."
Scandal (ABC, 10 p.m.): A rerun, but remember: Next week, a new episode. Catch up if you haven't yet.
Today You Die (Reelz, 8 p.m.): Steven Seagal plays an ex-con who escapes from prison to seek… REVEEEENNGGGGEEEEEEE
Snow White And The Huntsman (HBO2, 6:45 p.m.): We read the book this was based on. It wasn't bad, but it wasn't good, either. There's some great stuff in there with the queen and how batshit she is. But like, why doesn't Snow White marry the Huntsman? Don't you want to marry the Huntsman? IT SEEMS LOGICAL. HE WOULD HUNT FOR FOOD. IN THE SNOW. THAT IS WHITE. Sometimes it feels like we're the only people who understand art.
---
IN CASE YOU MISSED IT
Broad City: As long as there's nothing on TV, we're just going to keep linking to Broad City reviews. Oliver Sava fills in for Caroline Framke tonight, and he loved last night's episode, "Fattest Asses." Also, we wore our BROAD FUCKING CITY shirt today, and we have never received so many unironic compliments.