There is a lot to cover tonight, folks, so I'm going to try to keep it snappy—I'm covering two episodes tonight, as you can see above. Top Chef aired a new episode on New Year's Day, which I didn't plan for, and though I clearly should have covered it, I didn't. So my apologies to throw "Mississippi Mud Bugs" at you a week late. It was my mistake.
But allow me a short digression: BURN IT DOWN. My favorite chef just got eliminated in the worst way possible. I have not recovered yet. While watching "Mississippi Mud Bugs," I was actually thinking to myself that Stephanie had made it farther than I had expected—her winners' cut looked at first like a losers' cut, and I was panicking. In the first several episodes, I was so enamored of Stephanie's attitude that I forgot to notice her cooking quite as much. Both episodes—and really, this whole season—have demonstrated just how great Stephanie is in the kitchen. In addition to her skill, she also has a willingness to learn and a humility that consistently make her one of the most agreeable chefs in the competition.
I am so disappointed by her elimination that I am tempted to give the episode some super-low grade, even though, honestly, "Oui Si A Challenge" is one of the more riveting episodes this season, except for perhaps "Restaurant Wars." Two reasons why: First, it requires the chefs to copy or interpret dishes that other chefs have made, which is the type of thing a chef would be doing almost all the time anyway until they were head chef, and second, it introduces the wildcard of the guest-chefs without making them responsible for the chefs' dishes. It would be too easy to lay the blame for how the challenge went down either at the feet of Dominique Crenn or Julian Serrano—and, you know, part of it lies there, because the two guest-chefs helped to create the menu. But the chefs themselves were responsible for execution. I imagine that Chef Crenn's version of a corn-silk nest with chocolate would kick ass, and Nicholas shouldn't have attempted it if he couldn't hack it.
But no: You can't really blame Nicholas, either. Because he thought he could try it, because he had immunity. And he had immunity because he won that insane Jacques Pepin challenge with Dover sole. He and Shirley were really close in that quickfire, but he edged her out. So he tried something bold. And that put his team on the bottom.
G/O Media may get a commission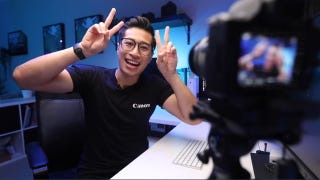 Up to 33% off
Canon Camera National Promotion
Webcam kits, lenses, & more
Since many of us adopted working from home, we've become accustomed to the crappy video quality output of our laptops' built-in webcams. Present yourself professionally with the help of a professional quality camera. Dress to impress now means set dressing and picture definition. Canon has made it easy to take your EOS camera and convert it to a webcam with the help of a variety of kits.
If this were Survivor, I'd argue that Nicholas engineered this somehow—he purposely made his dish bad so his team would lose. Maybe he was angling for Shirley, the chef most similar to him, to get eliminated. But nothing that happens in the episode indicates that—really, it indicates instead that Nicholas just didn't think anything through. He didn't think about his dish as one in his team's offerings—he thought about it as his own little art project. Which is fine, but it sucked. Should he have resigned? I don't know. But Stephanie's sense of betrayal is very hard to watch. You can see the understanding flicker across her face a few times as the judges are talking to the French team; she's immediately aware that she's the weaker chef, historically, against Shirley (even though she won the last challenge!). And Nicholas, for better or for worse, will not resign for her. It's shitty. But the game is shitty. I have nothing to say except that I, for one, will be rooting for Stephanie in Last Chance Kitchen, and I really and truly do hope she gets her post-Top Chef comedy-and-cooking gig, because she was fantastic on this show, and she did not deserve to be eliminated.
Now that I've gotten all that righteous indignation off my chest, let's talk about the rest of both episodes. On the whole, "Mississippi Mud Bugs" is generally just a middling episode; it has the advantage of being in the back half of the season, so the contestants are all known quantities and there's generally enough time to appreciate everyone. Carrie was running out of steam for the past few episodes—it seemed like she'd run out of ideas, though that could easily have been the editing. Her technique was rarely in question, but the ideas behind it often felt limited. It wasn't too hard seeing her go, given that Tom was against her flounder croquette right from the start.
The quickfire in that episode was a lot more interesting—I had to google étouffée, because I am a pleb, but it was an educational search—and in particular, it drew out an interesting tension between Carlos and most of the other chefs. Carlos is self-taught—and came into America as an undocumented immigrant!—which makes his story doubly fascinating. Seeing Nick bully him is both understandable and frustrating; I can understand the frustration over knives, but you also get the sense that the pack of chefs is forcing Carlos to the fringe because he's different. He is different. It's hard to imagine that he'll be able to make it through too many more rounds of the competition. But he's also made it this far.
Despite all my (manufactured by creative editing) affection for Nicholas a few weeks ago, I'm beginning to wonder if he is a bit of a bully. At this point, I'd be disappointed if he won, mostly because I'd like Stephanie to kick his ass. At this point, though, my money is on either Nina or Shirley. Naturally, though, my heart is with Stephanie.
Stray observations:
Actually, a few days ago, Drew Starr from Boston's local Eater alerted me to his weekly interviews with Stephanie after each episode airs (she lives in Boston). Stephanie and he have discussed the fact that she is The A.V. Club's fan-favorite. I'm a little embarrassed. Anyway, Stephanie, you're great. And I got super drunk at No. 9 Park one time, and it was lovely, so there's also that.
"One's for the mousse and one's for the broth. …I don't know how to do either."
Jacques Pepin: Let's all adopt him.
John Besh's house, also? Let's all go live there.
You know this episode was distressing because even Padma seemed upset.
And not for nothing, but where was Gail?!