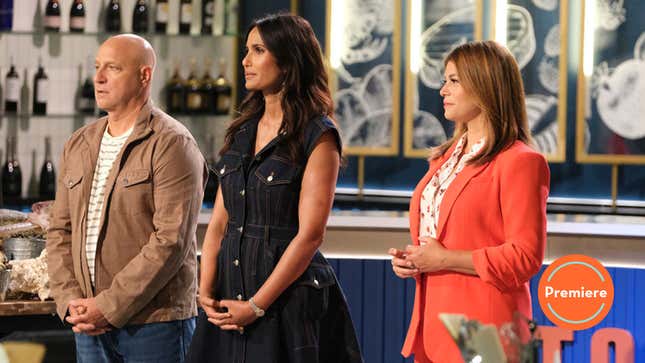 "It's the culinary Olympics," a competitor proclaims at the start of Top Chef's latest preparation, Top Chef: World All-Stars. And they're not wrong: To celebrate the twentieth season of Bravo's food bastion, our trusty trio of host Padma Lakshmi and judges Tom Colicchio and Gail Simmons isn't just going big. They're going global.
"Sixteen chefs representing 11 different Top Chef competitions around the world have come to London, one of the top international food cities, to compete in the ultimate culinary showdown," Padma announces, giving the players (and viewers) the introductory spiel, with franchise spinoffs from Thailand, Canada, Brazil, Germany, and the oddly lumped together "Middle East and North Africa'' represented, among others. "I'm representing a billion population; I'm not just representing one country," snarks Lebanon's Charbel Hayek.
And while this season's prizes are the usual—a feature in Food & Wine magazine, an appearance at the Food & Wine Classic in Aspen, $250,000 furnished by Saratoga Spring Water and the title of "Top Chef: World All-Star"—the stakes are significantly loftier for this pack of previous victors. "I want to win Top Chef and after that to get my second Michelin star," declares Begoña Rodrigo, the first-ever winner of Top Chef Spain, who already holds a single sparkler for her restaurant La Salita in Valencia. "I know the Mexican people are going to be pissed if I don't win," fears Gabri Rodriguez, winner of Top Chef Mexico season two. "I've done over 50 competitions," says Top Chef Thailand finalist May Phattanant Thongthong. "Top Chef 20 is going to be the biggest competition of my life." It's a level playing field, sure, but one set atop a pretty high peak.

That pressure is–pardon the pun–cooking in the first quickfire challenge of the season, in which the chefs have just three minutes to raid the pantry for a total of five ingredients. "There are no proteins?!" chefs yell, flinging fridge doors open with abandon. Not so fast: enter Tom and Gail rolling in a bounty of Britain's freshest seafood. But instead of merely choosing brown crab or lemon sole, the contestants must pair up with a teammate based on the five ingredients they've already selected and make a duo dish using all of the above in 30 minutes.

Some pairings materialize naturally—Mexico's Gabri and Top Chef Brazil's Luciana Berry bond over their similar flavor profiles and settle on ceviche—while others spell trouble from the beginning, including Nicole Gomes, winner of Top Chef Canada All-Stars, who is mighty concerned when her partner, Top Chef Italy finalist Victoire Gouloubi, decides firmly that they're making risotto in under half an hour. "It is raw...I'm just gonna let her do it; there's not a lot of time left," Gomes sighs at the rice disaster. "This was just a little too al dente," Padma says, kindly, later during judging.

Praise is ladled upon Gabri and Luciana's scallop aguachile, as well as the pan-fried turbot from Top Chef Poland's Sylwia Stachyra and Top Chef Houston's Buddha Lo. But it's the grilled langoustines from Sara Bradley (Top Chef season 16 runner-up) and Dale MacKay (Top Chef Canada season one winner) that get the highest marks and earn the pair immunity from elimination this week.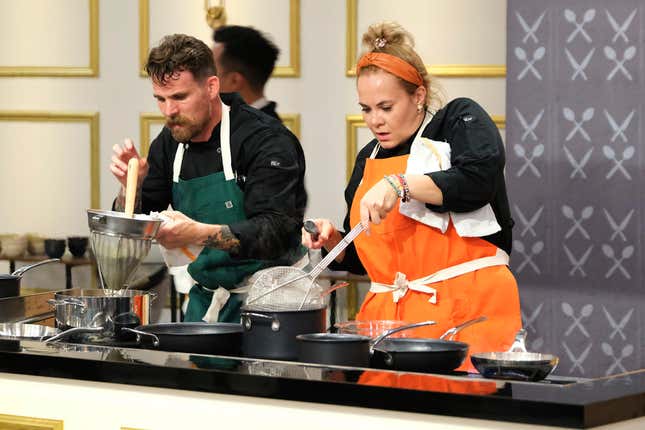 Things don't slow for a second as the gang is then tasked with heading over to Whole Foods with £250 in pocket to select their ingredients for the next day's elimination challenge, where they'll have two hours to craft a vegetable-forward dish accented with a protein for a table of distinguished guests at the Royal Botanic Gardens, Kew. Our guest judge this week is Angela Hartnett, chef of the Michelin-starred Murano London, and the rest of our diners are just as intimidating, including chef Brett Graham of London's The Ledbury, one of the top 50 restaurants in the world, and Vineet Bhatia, the first Indian chef ever to be awarded a Michelin star.

Gabri has a rough time of locating corn at the supermarket chain and the frustrations keep coming, as he not only accidentally spills water into Top Chef season 18 finalist Dawn Burrell's dish while sharing burners but also forgets the chicken emulsion that's supposed to finish his mextlapique with charcoal vegetables. Faring far better are Top Chef Germany finalist and "Carrot Houdini'' Tom Goetter, who blisters, mousses, and chutneys the root veg before dusting it in bone marrow, and Charbel, who goes all-in on onion, layering a roasted bulb with onion puree and chicken jus. "Onion is always forgotten or used as a base, so I wanted to make it the star," he says lovingly of the allium.

The judges adore Charbel's bold elevation of the "humble onion," and we officially have our first winner of the season. And despite the fact that his non-existent emulsion was one of the table's least favorite dishes, Gabri lives to see another day–thanks to one crucial kitchen error from French toque Samuel Albert who, in trying to juggle numerous high-falutin techniques, forgot to devein the shellfish in his tiger prawn carpaccio, leaving the gross little digestive tract behind. It was "one mistake we just couldn't overlook," Tom tells Samuel before he hears the dreaded words: "Pack your knives and go." (Like regular Top Chef seasons, Samuel will have a chance to reenter the competition in Last Chance Kitchen.)

"Usually it starts a couple of weeks in, but now it's starting right off the bat," says Padma of having to nitpick the tiniest details of the chefs' otherwise high-quality dishes. "Twenty seasons, to think of the first episode, this is by far the best one we've had," Tom adds. "This is gonna be an exciting season." Yes, chef!

Stray observations
It's interesting hearing the various production differences between all of the Top Chef spinoffs. "In Top Chef France, we always have the pantry decided by the judge chef. So for me, it's the first time going shopping to Whole Foods. I don't know which product I'm going to be able to find," Samuel says of his supermarket trip. "In my season, most of the challenges were in the Top Chef kitchen," Gabri says of the Mexican iteration. "Cooking outside can make it harder. You can forget a sauce in a dish, you know. And I did!"
Speaking of, it's also sweet to see the international cooks geek out at the O.G. Top Chef team: "After watching 19 seasons of Top Chef, I've been waiting to see Tom's face and him kind of shake his head while he eats things, 'cause you generally know that's a good dish," Dale says. "And I love Gail, she's Canadian…she'll be able to translate," he jokes aboot his accent.
German Tom not only knows his way around a roasted carrot but also a relatable quote: "You're trying to be cool but actually you're just trying to…not cry," he says at one tense point. Preach, freund.
Based on the upcoming previews, we have plenty of pub crawls, high teas, and–concerningly–injuries to come this season.