Totally Biased was picked up for another "cycle" of seven episodes that will be paired with the retooled (yes, that is quite the ironic descriptor) Brand X With Russell Brand to form the burgeoning late-night, quasi-talk-show lineup on FX. It's going to be a curious hour, but right now Totally Biased doesn't really have to tinker with its formula, since it largely plays to W. Kamau Bell's strengths as a comedian and social commentator, and his personality isn't nearly as grating as Brand's can be.
Back when Totally Biased premièred, I was impressed by the first step the show took in its initial standup commentary segment, and I still like the first segment in the studio with Bell's prepared material best. Over the past several weeks he landed some astutely observed jabs at people who criticized Gabby Douglas' hair at the Olympics, Todd Akin's defenders, the Republican National Convention at large, and especially Mitt Romney. Bell has done a good job of skewering Romney in his own way, with the video clip that opens tonight's episode a great cold open, cutting directly to Bell's shocked look, and his bit on "dog whistling" when Romney made a crack about Obama's birth certificate, stating that nobody would care about Romney's birth certificate "unless it's stapled to [his] tax returns." Bell keenly observes racial issues, but isn't forcing them over other material he finds blatantly ridiculous, like infringement on women's rights.
Bell is a fine interviewer, and it's funny to watch how uncomfortable he gets when talking to various people at a gun range in New Jersey, but most of those segments in this first batch of episodes didn't have a driving point or a story to tell, just some curious man-on-the-street observations hoping that someone would happen to say something hilarious. An earlier recorded segment clumsily tried to make points about anti-Islam sentiment among One Direction detractors, that tried to wring comedy out of Bell reciting Islamic teachings to young girls who had no idea what they were hearing. These bits could be great, but they need some fine-tuning to really home in on what it is Bell wants to say about these issues.
Janeane Garofalo is the guest on the Totally Biased's sixth episode, which makes for some fiery political discussion, since Garofalo doesn't hold back when it comes to her political opinions. After all, she's more than a comedian now, having delved into liberal political activism. Bell basically sits back and lobs some starter questions to Garofalo and lets her run with theories about how poor Republicans often vote against their own interests or women who say they aren't feminist are against equality and social justice. While I may agree with some of the foundational truths in Garofalo's statements, she delivers them with such venom that it's hard not to find it extreme. Bell tries to keep up, with his line about the Republicans as the Yankees—"They're going to win anyway, might as well buy the hat"—but too often he either doesn't have the handle on the conversation, or doesn't have the ability to liven up an interview with a less-notable guest.
Bell isn't Dave Chappelle, and he's not Chris Rock; he's not the guy who lives on the edge or consistently comes up with shocking material. These first six episodes have often hewn toward easy jokes, shaded with a personal voice and cultural commentary from a different perspective than Jon Stewart or Stephen Colbert. Bell is married with a kid, those young rambunctious days are already over for him, and he's since moved on to a quieter, more nuanced cultural commentary that suits him. The most encouraging aspect of Bell's show is how he appears to have grown more comfortable standing in front of an audience and delivering his bits over the course of the past six episodes—which is why leaning on the weekly progression of studio, prerecorded segment, and interview makes each episode feel so top-heavy. The few episodes that didn't have full location interviews ending up being the strongest, and the rare bits where Bell brought out other comedians for some commentary—including tonight's segment on the Kate Middleton photo scandal—were decidedly the weakest bits of material.
G/O Media may get a commission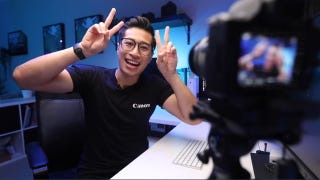 Up to 33% off
Canon Camera National Promotion
Webcam kits, lenses, & more
Since many of us adopted working from home, we've become accustomed to the crappy video quality output of our laptops' built-in webcams. Present yourself professionally with the help of a professional quality camera. Dress to impress now means set dressing and picture definition. Canon has made it easy to take your EOS camera and convert it to a webcam with the help of a variety of kits.
Totally Biased has positive progress to build on going forward. It's certainly in better shape than Brand X, especially when it just lets Bell do his thing in the opening segment. But the longevity of the show will depend on the star finding a way to shape the out-of-studio segments into something more compelling and growing as an interviewer so he isn't just deferent to any high-profile friend who did him a favor to appear on the show.
Stray observations:
A favorite line from the first six episodes, after the Todd Akin disaster: "If women can't get pregnant from legitimate rape, then how come there are so many light-skinned black people walking around Alabama?"
Another favorite, from that Akin episode as well: Bell describing a "Circle of Jerks" that goes from Akin to Dr. John Wilke to Romney to Paul Ryan back to Akin. They're all interconnected, which is why I'm flabbergasted that voting numbers for women aren't closer to the polling numbers for black voters.
You know what? That Todd Akin episode was probably the best of the season, since it also had the bit about anti-Obama sign makers making idiotic spelling and grammar mistakes.